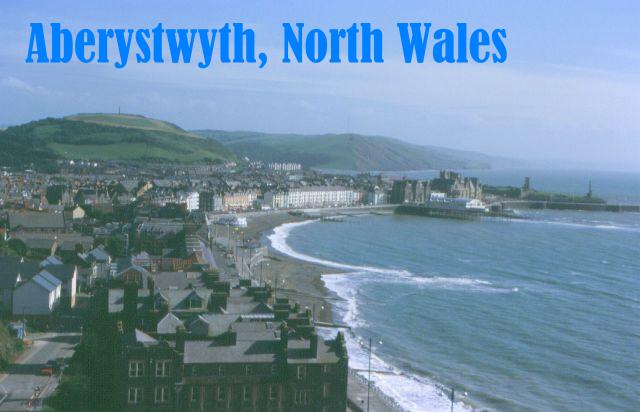 Well, it's really on the coast of mid-Wales, but we got to it from the north, arriving by bus from Rhuthin. In Rhuthin (or Rhythin) we met Tom Brush (so called because of his former occupation as a streetsweeper), and a resident of the almshouse behind the church. When we told him we were travelling on to Aberystwyth, he said, "Ahh, they're very Welshy down there!" He went on to describe with great disdain the activities of the Welsh nationalists who would burn the summer homes of wealthy English folks to drive them away.
The buildings in the foreground were once the home of the University College of Wales, which has since relocated away from the center of town. With the departure of the University, many of the buildings along the promenade remained vacant until recent years when some restoration has occurred. The nearest building was purchased by a wealthy English industrialist with the unfortunate last name of Bliss (no immediate relation), who put advertisements in Midlands papers suggesting that people "on the dole" could live much better in Aberystwyth than in Manchester. You can imagine what the locals felt about that. The building was boarded up during our visit, while the adjacent building, having suffered a major fire, was being restored as a posh hotel.
In the distance is the Brendan Guest House, part of the row of pink buildings set back from the promenade, the arcade on the pier, the local coast guard buildings, and the remains of a castle built by the English to subdue the unruly Welsh.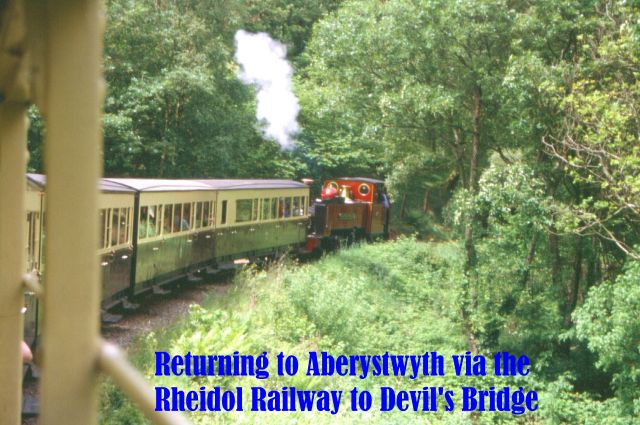 The Rheidol Railway, which originally served a mining operation, now operates daily service to the tourist attraction of Devil's Bridge and its waterfall, 11 3/4 miles from Aberystwyth. The line features great views of the Welsh countryside (and the local experiments in forestry for those interested in such things). Below is a view of the Rheidol Valley from the train, not far from Aberystwyth. Note the thick hedgerows.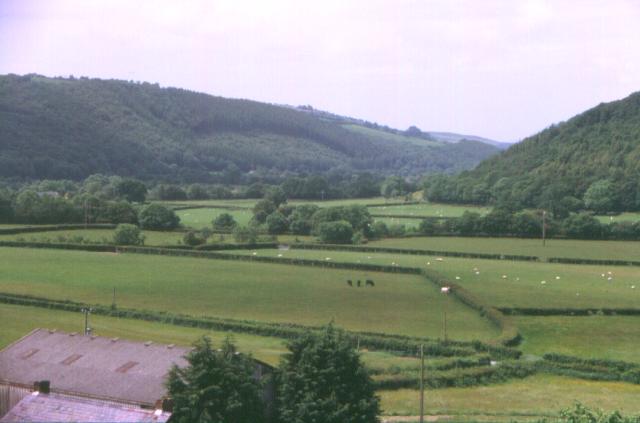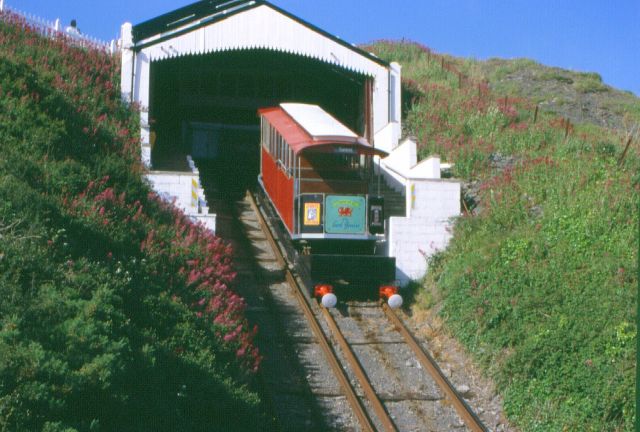 This cable tram, dating from 1896, takes its riders to the top of Constitution Hill overlooking Aberystwyth from the north. Two cars operate as counterweights for each other, and an electric winch at the top keeps them going. (Not to mention the volunteers who restored and care for the tram.) The electric motor is actually a "recent" innovation, added in 1921 -- the tram originally operated on the "water balance system," whatever that means. The hilltop attractions include the world's largest camera obscura (which wasn't open during our visit) and a restaurant. Several trails lead back down the hill to the town.
And, finally, a view of downtown Aberystwyth, looking towards the train station from near the waterfront.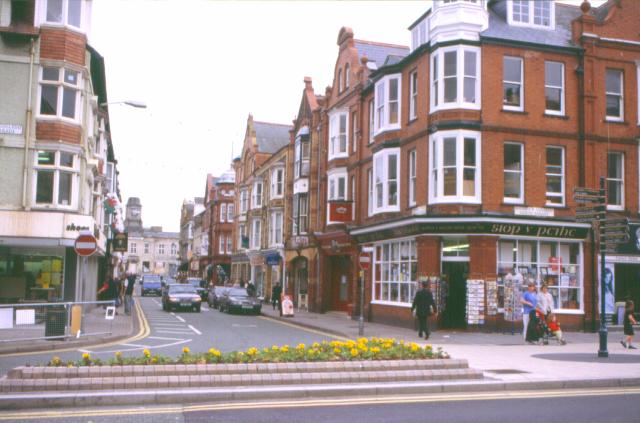 | | |
| --- | --- |
| | We chose the Brendan Guest House out of a guide book with no idea what we would find. What a delight to find this cozy B&B right on the waterfront promenade! The guest house is run by Anne and Ivor Williams (19 Marine Terrace, Aberystwyth, Ceredigion SY23 2AZ, Wales, UK; Tel. 01970 612252). We could have spent many days just sitting at the little table watching the sun set as ferries plied the waters between Wales and Ireland. Once a thriving tourist destination, the university town of Aberystwyth has been in decline for many years as other places have proven more appealing to tourists for some reason. During our stay, a couple on holiday cancelled their reservation when they discovered the local shops were not up to their standards -- imagine that! We'd love to return. |
Click on the Welsh flag to go to the Ceredigion County Council's page