2006 KOLIBABA ROMANIA TRIP JOURNAL
By Mike Kolibaba
The idea for the 2006 Romania trip took root at the August 2005 Kolibaba Family Reunion at Sellwood Park in Portland, Oregon.
Judy Kenyon-Burness, Barbara Drew, Dick Imper, Carol Nieman, Phyllis Weber and myself are all descendants of George and Theresia Pankratz Kolibaba, originally from the town of Radauţi, in the Bucovina region of modern-day Romania. They and their children emigrated to Portland, Oregon in the first decade of the 20th Century.
Judy Kenyon-Burness and Barbara Aldrich Drew did the initial work in organizing the trip, soliciting suggestions from other members of the group. Pat Flood of Pat and Mike's Travel Co. in Portland served as our travel agent.
Our 9-person group consisted of the following people:
Judy Kenyon-Burness and Bruce Burness (Pasadena, California)

Barbara Drew (Augusta, Georgia)

Dick and Kathy Imper (Sunriver, Oregon)

Phyllis Weber (Olympia, Washington)

Mike Kolibaba and Neal Skibinski (Portland, Oregon)

Carol Nieman (Portland, Oregon)
Following is an informal journal that I kept during our 10-day visit to the Kolibaba family's ancestral homeland.
Thursday, 05/18/06
We departed Portland about 1:30 p.m. and flew for 10 hours to Frankfurt, Germany — we arrived at approximately 9:30 a.m. local time on Friday.
We flew on Lufthansa, on an Airbus A340, which is an enormous aircraft. The flight attendants were all German, of course, though they spoke English well. The service on the flight was quite good — we liked the food and drink (they offered free beer and wine!), and there were numerous entertainment offerings, including many audio channels (Neal especially enjoyed the classical music offerings) and movies that were projected on screens that dropped from the ceiling.
We also enjoyed watching the computer-generated flight map, which displayed a slow-moving icon representing our airplane, its current position on the map, our flight speed, distance remaining to the destination, etc. It helped give a sense of our location, time spent in the air and time left until landing.
One of the more amusing moments on the flight occurred when the flight attendants brought the beverage cart with beer and wine. Carol was sitting next to Neal. When the attendant asked what she would like to drink, she requested (in German), "red wine."
When it was Neal's turn, he said "weiss wein." The male flight attendant then asked Neal a question in German. A flabbergasted Neal replied "pardon?"
The attendant then said (in English): "I'm sorry, you have no accent!" He evidently thought Neal was German.
While waiting for our connecting flight, my wristwatch battery died, leaving me without a timepiece (Neal did not bring a watch). We later took to carrying our new, folding Sharp travel alarm clock with us on the bus and everywhere we went — it served well as a wristwatch substitute.
The Frankfurt airport, which was the first place Neal and I ever set foot in Europe, was an interesting study in contrasts when compared to Portland International Airport. It was odd, smelling cigarette smoke in the terminal — when I walked through the concourse for a brief stroll, I walked near a Marlboro cigarettes kiosk. Two or three customers stood nearby, smoking. Joining them was the Marlboro employee, also puffing away.
There were posters throughout the terminal for the upcoming World Cup soccer tournament, which is being held in Germany this year. The flight to Bucharest was delayed for approximately 45 minutes.
Friday, 05/19/06, approximately 2:45 p.m.
We arrived at Otopeni Airport in Bucharest, met by a driver with a 9-person "maxitaxi." He took us to the Howard Johnson Grand Plaza hotel in downtown, through Friday afternoon rush hour traffic.
My first impression of Bucharest, while we slowly drove to the hotel, was one of utter chaos. As I said to Neal, it seemed as if all of the car-owning citizens of the city were on the road, all at the same time. I heard more car horns beeping in 30 minutes than I would probably hear in a month in Portland.
We arrived at the hotel, the Howard Johnson Grand Plaza, in the early evening. After being unable to decide (with the others) on a restaurant for dinner, Neal and I decided to strike out on our own and explore the neighborhood around the hotel. We purchased "mini-pizzas" (whose toppings included what appeared to be ketchup, applied in a grid pattern) and two other small, savory pastries at a storefront shop. They were quite tasty!
The other members of our party, except Carol (who went to bed early), had an expensive dinner at the hotel restaurant. The next morning they told us they spent about $30.00 per person; in contrast, our "street food" cost us a total of perhaps $3.00.
After this "dinner," we strolled around the neighborhood, admiring the architecture and taking note of the deteriorated state of some of the buildings. We were glad to see evidence of restoration efforts for some of the historic structures.
We were out for about 90 minutes. Neal exchanged $40.00 for new Romanian bank notes. The tiny currency exchange office was located in an office building storefront, around the corner from our hotel. The woman behind the counter worked in a space literally located under a staircase. I expect that her petite size was part of her qualification for the job.
Saturday, 05/20/06
We had a great breakfast in the Avalon Restaurant of the Howard Johnson Grand Plaza. We were met in the lobby by Chris, our tour guide for the day. We left with him and the driver, Romeo, in our 16-seat Mercedes Sprinter bus (which Chris would later refer to as "the cage").
We first went to Revolution Square, where Chris showed us the Romanian Atheneum, the University Library and the former Royal Palace, which is now the National Art Museum. We saw the buildings from the outside only, as we did not have an opportunity to tour them.
We were there for probably 15 minutes, as the others asked Chris questions about the 1989 revolution, recent Romanian politics, etc. We also saw the balcony where Nicolae Ceaucescu made his last speech, before he and his wife fled by helicopter to Targoviste.
We left there and drove to the Casa Popului (the "People's House"), now known as the Palace of Parliament. Chris said Romanians call it "the Monster." According to the travel guides, it is the second-largest office building in the world — only the Pentagon is larger.
The large, lower-level tour entrance area didn't look very appealing, with worn carpets and broken, cheap-looking wooden trim around the doorways and a few broken door handles. Once the tour began, however, we saw many ornate rooms and public areas, including two grand staircases designed specifically for dramatic entrances by the Ceaucescus at state events. By the end of the tour we were able to step onto the enormous balcony, where Neal took numerous photos.
Our handsome tour guide, Mihai, told us that while the Palace was Ceaucescu's brainchild, he never got to speak from the balcony — he was overthrown before it was finished.
We traveled next to the Cotroceni Palace, which was wonderful. The architecture and decoration are all first-rate, and our guide was a knowledgeable and charming young woman.
Because the Romanian president lives in part of the Palace, photography is not permitted, not even on the grounds. We also had to surrender our passports before entering, which did not occur anywhere else in Romania — they were returned to us at the end of the tour.
After leaving the Cotroceni Palace, we ate lunch at a fast food restaurant called "Spring Time" — we had shawarma (or shorma) sandwiches, which we liked. Neal and I got to try out our Romanian language skills when ordering, but Chris had to assist us.
When we drove through the country over the course of the next week, we saw many business signs written at least partly in English, and signs with the words "Fast Food" were quite plentiful. In our experience, what the Romanians refer to as "fast food" is much better than what we call "fast food" in the United States.
We drove next to the Mogosoaia Palace, which is located about 30 kilometers northwest of Bucharest. It is historically significant, as it was the palace of Constantin Brancoveanu, an important ruler in Romanian history. The architecture of his period is known as "Brancovonesc". This style was revived in the late 19th century and was a popular Romanian architectural style through the 1930s. This "neo-Romanian" style of architecture is unique to Romania.
We returned to the hotel, quickly ran back to our rooms to freshen up, and traveled to the Parc Herestrau Restaurant (& Disco), in Herestrau Park. We had dinner on a "balcony" next to Herestrau Lake.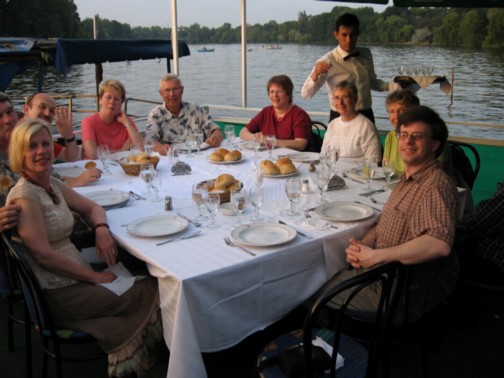 Clockwise from left: Judy Kenyon-Burness, Bruce Burness, tour guide Chris, Kathy Imper, Dick Imper, Carol Nieman, Barbara Drew, Phyllis Weber, Mike Kolibaba.
Photo: Neal Skibinski
We were each served a glass of "ţuica," which is Romanian plum brandy — Chris referred to it as "the national drink of Romania." It was a strong drink, but pleasant. We did not know it at the time, but we would drink many more glasses of ţuica in the next 9 days!
We were served appetizers (chicken livers, sausage, fried cheese and a pickle), plus dinner: pike filets and roasted potatoes — all of the food was quite tasty. Neal said the pickle was the best he'd ever eaten in his life. In fact, nearly all of the food we ate throughout the country was delicious.
We were also treated to a "folk show," which consisted of six dancers: three young men and three women, all of them wearing native costumes. They performed five dances, the last of which included audience participation. I was dragged onto the dance floor to participate by one of the young women dancers (Neal was asked first, but he declined).
She laid a handkerchief on the ground and motioned for me to kneel opposite her. She pretended to kiss each of my cheeks, then stood and motioned for me to take her dainty hand.
We started a dancing circle, which was eventually joined by Judy, Carol and Romeo. This continued for several minutes — I didn't know if I was supposed to drop out of the circle or not, so I continued to hold the girl's hand. I figured that she would let go if she wanted me to drop out, but she never did.
Shortly after that, we left the restaurant, returned to the hotel and said goodbye to Chris.
Sunday, 05/21/06
We had breakfast at the Avalon Restaurant once again. We checked out at 8:00 a.m. and met our new tour guide, Marian Popescu. We boarded the bus and left Bucharest, driving north to the mountain resort town of Sinaia.
We first toured the stunning Peleş Castle. The craftsmanship on display throughout the palace was amazing. I said to Neal: "it's official — San Simeon is a dump." After that, we walked up a small hill to the Pelisor Castle. This Edwardian palace was also very beautiful, though somewhat more restrained in its decoration than its Victorian neighbor. The word "Pelisor" means "little Peleş."
The highlight was the Gold Room, designed by Queen Marie. The house featured a number of items designed by her (Cotroceni Palace also displayed pieces she designed).
We next drove to the charming town center of Sinaia, where we stopped for lunch and also made a quick visit to the Sinaia Monastery, founded in the 1600s.
After that, we drove to Bran and toured medieval Bran Castle, which is also known as "Castle Dracula," though it has virtually nothing to do with him. Following World War I, the citizens of the nearby town of Braşov presented the castle as a gift to Queen Marie, in recognition of her accomplishments for Greater Romania at the Versailles Peace Conference.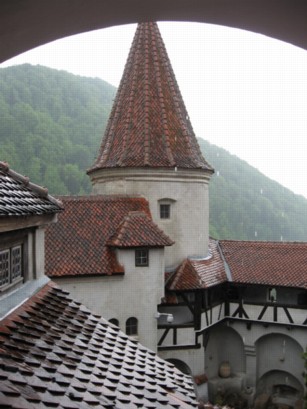 Bran Castle courtyard
Photo: Neal Skibinski
She lived there part of the year and added her unique decorative touches, as seen in photos on display. It was very interesting place and I'm glad that we visited there. It rained a lot during our visit, but that added to the experience.
We drove next to Braşov, in Transylvania — it's a beautiful city, full of many distinctive old structures. One of the travel guides describes it as "the Prague of Romania."
We checked into the Aro Palace Hotel, which the Rough Guide to Romania describes as the finest in the city. It's a very nice hotel, with a more appealing room than the Howard Johnson Grand Plaza in Bucharest.
We took a brief walking tour, but unfortunately, our camera batteries died only a few minutes into the walk. I had to run back to our room to get fresh batteries, which took about 10 minutes — Neal waited for me, but the others kept walking. When I caught up with him, we couldn't find the others, so after sightseeing around the town, we returned to the hotel, as we were to leave at 7:30 p.m. for dinner and a "medieval music" show.
The restaurant, called "Cetate" (fortress) is in a 16th century castle. It's located in the hills above the town and can be reached by winding roads that reminded us of Portland's West Hills. When we walked up the drive to the fortress, a trumpeter seen in a high window played the triumphal march from "Aida."
While still outside we were greeted next by a waiter and a hostess, who served us pastries and small cups of ţuica, the plum brandy.
We then had dinner, wine and dessert, while an ensemble of perhaps 8-10 musicians played a variety of songs, mostly "American songbook" tunes.
We prepared to leave, but were told to wait for the start of the music show. The musical ensemble backed a collection of singers (two tenors, one baritone and two sopranos), plus four women dancers.
They performed an interesting assortment of selections, ranging from arias from the opera "Carmen" to Gershwin's "Summertime," from "Cabaret" to a duet from Lehar's "Merry Widow". Overall, the performances were good.
Monday, 05/22/06
Neal and I awoke early and watched the sun rise over the eastern half of Braşov. We strolled through the city park across from the hotel. Neal photographed the beautiful homes on the north side of the park, plus the handsome City Hall and Post Office as well as other structures. Following a filling breakfast in the hotel dining room, we boarded the bus and drove north.
We later figured that we traveled for approximately 13 hours, including stops. We stopped for lunch at Lacu Rossu (Lake Red), where we dined at a small lakeside restaurant. Neal and I had ciorba taranesca — pork soup, which we enjoyed.
Due to a landslide that occurred in the early 1800s, the lake has many tree trunks,many of which project above the waterline. Judy shared the goat cheese she bought at the folk market at Bran on Sunday — we also drank from a bottle of palincă (double-distilled plum brandy — stronger than ţuica), also purchased in Bran. We next drove into the Bicaz Gorge, situated in one of the national parks. It is absolutely beautiful — Marian said it is about 15 km in length.
Romeo drove about a half kilometer ahead while we walked along the road, taking photos and browsing through the small roadside stands that offered goods ranging from well-made linens and carved wooden pieces to tacky items such as snow domes titled "Romania."
We continued north, driving through many small villages, many of which contained attractive homes; some even had brand-new satellite dishes.
We spent the rest of the afternoon visiting four monasteries:
Secu

Sihastria

Agapia

Varatec
All of them were appealing but I liked Agapia and Varatec best. At Agapia, a very kind young nun showed us the church and the carpet weaving and icon-painting workshops.
Running late, we reached Varatec in the early evening — the setting was beautiful, as were the church and buildings (we also saw two playful cats wrestling in the grass).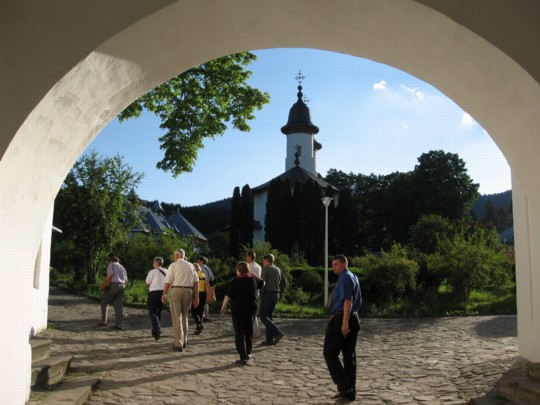 Varatec monastery
Photo: Neal Skibinski
We drove to Suceava, where Marian picked up his car at his home — we saw his wife and daughter speak with him briefly. As we approached Radauţi, we saw the "welcome to Radauţi" sign and started cheering.
We arrived in Radauţi quite late — I borrowed Marian's telephone to call Mihai Colibaba. He had been in town all day, but unfortunately no one from the Romanian travel agency had called to let him know we would not arrive until evening. I apologized for the mix-up.
Marian had spoken earlier with Florin Colibaba, but he was in Vatra Dornei, on his way to a trade show in Germany. No one had called to let him know of our visit to Radauţi. Florin arranged for his mother to meet us at the Ethnographic Museum at 10 a.m. on Tuesday. We arranged to meet Mihai at the museum at that time.
We checked into the Amnar Hotel, where we had a room on the second floor. Following dinner, Neal and I took a brief walk around the neighborhood with Carol.
We went back to Carol's room, where we drank palincă, ate snacks and spoke with our driver, Romeo. His English is not strong, but we understood him and he understood us. He told us that his dream is to come to America and to drive the length of Route 66. We had a great time and Neal and I did not go to bed until 1:30 a.m.
Tuesday, 05/23/06
We were awakened at 6:00 a.m. by a crowing rooster. We took a short, pre-breakfast walk in the surrounding neighborhood — we saw a mother cat chasing her wayward kitten, who seemed to want to explore the neighborhood as well.
We had breakfast with the others, in the hotel. Romeo drove us to the Ethnographic Museum in downtown Radauţi. Carol began to cry as she and I approached the doorway leading into the "Atelier Colibaba." I think that she said "I can't believe that I'm really here again." She had visited the town, and the local Colibabas, in 1993.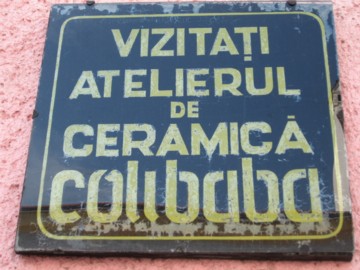 Colibaba ceramic studio sign
Photo: Neal Skibinski
We met Maria Colibaba and her granddaughter, Anca, in the pottery studio.
It was a wonderful experience, and one of the highlights of the trip for me. We were in the studio for probably 90 minutes. Neal took many photos and Mihai shot video. He promised to eventually edit the video down to a few minutes, convert to a digital file, and post it on his website. He'll e-mail us the link — we will be able to either download it or view it online. He told us later that he will post the file to the Google Video website.
All of us purchased some of the pottery. Neal and I spent 276 RON (new lei) — approximately $92.00. We purchased six or seven pieces.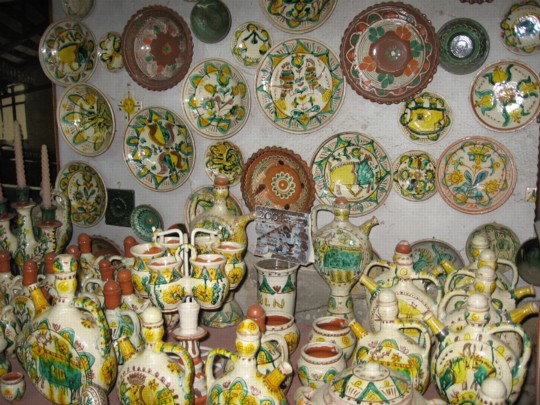 Colibaba pottery studio
Photo: Neal Skibinski
I had an interesting experience when I decided to go across the street from the studio and exchange dollars for lei, so that we could purchase pottery.
As I stepped onto the sidewalk outside the studio, I had to wait for a number of other pedestrians to finish crossing my path. A young family strolled past, and their son (a boy of perhaps 12) wore a T-shirt with large letters printed across the front: "OREGON TRUCKERS." I wish that I'd had a camera with me at that moment!
Mihai then arranged for us to meet the mayor of Radauţi, at the beautiful City Hall. The meeting occurred in the early afternoon, for approximately 20 minutes. The mayor does not speak English, so Mihai interpreted. The mayor made some statements about the town and some of our group asked questions. We then posed for photos with the mayor and his aide (we later saw her in Marginea).
We had lunch with Mihai at a nearby restaurant called "Restaurant Antique." Neal and I ordered ciorbe radauteana, the local version of the ciorba soup we ate at Lacu Rossu.
We got back in the bus and drove to the local Catholic church, where Phyllis asked the priest if the church possessed any records of her mother's baptism in 1904 — unfortunately, it did not.
We drove next to the former home and workshop of Constantin Colibaba, the "folk master Colibaba" described in the book "Sweet Bucovina."
We traveled next to the local Christian cemetery and searched for Colibaba grave markers — we found many, but not for anyone we knew. Neal and Mihai took many photos.
We returned to the hotel to freshen up before dinner. Mihai bought a bottle of Murfatlar wine and shared it with Neal and me, while the others enjoyed their own "cocktail hour" and drank a different bottle of wine. Mihai told us about his school and work life — he goes to school until about noon, and then works at his newspaper job (he is a reporter) into the evening. On top of that, he is also a video producer. Suffice it to say that he is a very busy young man!
We had a Romanian dinner at the National Restaurant in Radauţi, where the food was excellent — we bought Mihai's dinner. The restaurant opened in 1924. We all had a pleasant time.
Mihai asked me to start a Yahoo! Group with him and the other members of our party as members — everyone expressed interest in the idea.
Wednesday, 05/24/06
Mihai met us at the hotel at 10:00 a.m. We drove to town and Romeo dropped us off near the cathedral. We took photos outside the cathedral (including group photos and some of us posing with the Destinations section of The Oregonian newspaper) and went inside as well. Marian and Romeo left us with Mihai, who led us on an informal walking tour of Radauţi — this took perhaps 90 minutes.
We walked through the main city park and then toured the Bogdana Church, where my great-grandfather (and probably grandfather) were baptized. It was a moving experience for me.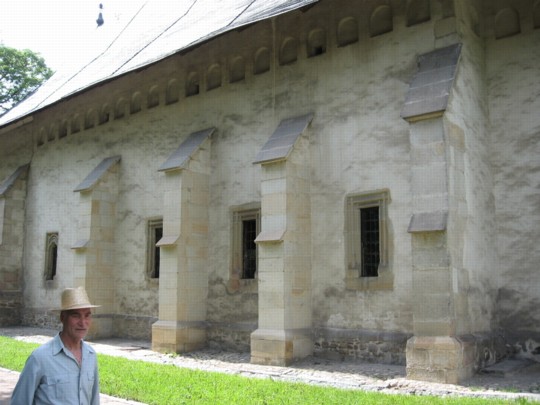 Bogdana Church
Photo: Neal Skibinski
It was a hot day, so we stopped for cold drinks and ice cream. Mihai had forgotten his cell phone at home, so Neal, Carol and I accompanied him to his apartment — unfortunately, he couldn't find the phone. We next walked to the area near the synagogue where we were to meet Romeo with the bus, but he was not there. We eventually found them.
Marian suggested we drive to Putna to visit the monastery — we did so and it was beautiful.
When driving there, Marian told us at one point to look to the right — we were able to look into Ukraine, which was a few kilometers in the distance.
On the way back from Putna, we stopped at the "entering Radauţi" sign we saw on the edge of town, and posed there for photos.
We returned to Radauţi, where we visited the Ethnographic Museum and Colibaba pottery studio once again. We spoke with Maria Colibaba, gave her gifts for Florin and Marcel (Marcel is in the hospital and is not well). We bought several more pieces of Colibaba pottery (total cost: 49 lei) and she gave each of us a pottery cross as a gift.
We met up with Mihai, who took us to his apartment, where we met his mother. We visited with them for maybe 90 minutes — they are very nice people and very gracious hosts.
We drove to Suceviţa, where we checked in to the Hotel Casa Lina.
Thursday, 05/25/06
I was awakened by flashes of lightning and rumbles of thunder at about 4:15 a.m. There was a tremendous storm outside, much more intense than storms we experience back home in Portland. I started counting the flashes, but quit at about 40 — the storm lasted for at least a half an hour, so my best estimate is that there were at least 75-100 flashes.
Neal woke up and watched the storm with me — we stepped onto our balcony and watched together for a few minutes. Unfortunately, I'd mixed my liquors at dinner the night before, so I had a splitting headache. I took some Tylenol and felt better, but the sun came up soon after the storm ended, so I wound up getting little sleep.
We had breakfast at the hotel and boarded the bus. We drove first to Marginea, where we visited the workshop where the famous black pottery is made. We saw a potter make a large, handled pot. He did his work tremendously fast — it seemed like it took him only about 10 minutes to complete the pot.
After leaving Marginea, we visited the following places:
The Maison de Bucovine, located near Humor Monastery, is a combination bed-and-breakfast and handicrafts shop, featuring fabrics, clothing, rugs, painted eggs, etc. Neal purchased a decorated fabric table runner and I bought eight wooden decorated eggs to later give to my co-workers. The owner, Mihaela Albu, served each of us a small glass of ţuica.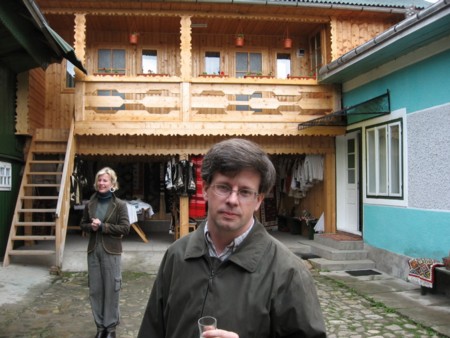 Mike at the Maison de Bucovine
Photo: Neal Skibinski
In Vama, we visited another bed-and-breakfast, called Veacurile Bucovinei. It is owned by Letiţia Orşvischi, who creates beautiful decorated eggs. Letiţia met us outside, carrying a tray of bread and salt, which is a traditional greeting in eastern Europe. She served us a delicious lunch, which included ciorba and sarmale, the cabbage rolls that all of us Kolibaba folk remember from our childhoods.
Following lunch, Letiţia gave us an egg-painting demonstration. We were each given one painted egg and the opportunity to buy additional eggs. Neal also made friends with a chocolate-brown kitten that lived at the house.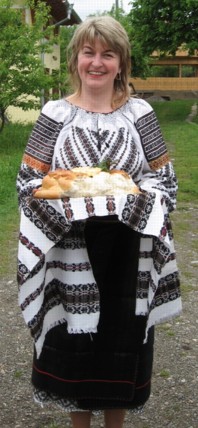 A traditional greeting from Letiţia Orşivschi
Photo: Neal Skibinski
Arbore, Humor, Voroneţ and Moldoviţa are among the world-famous "painted monasteries" of northern Moldavia. Their fame is due to their exterior frescoes, which were painted in the 16th and 17th centuries. All four monasteries were very attractive, especially Voroneţ and Moldoviţa, which contained some of the best-preserved frescoes.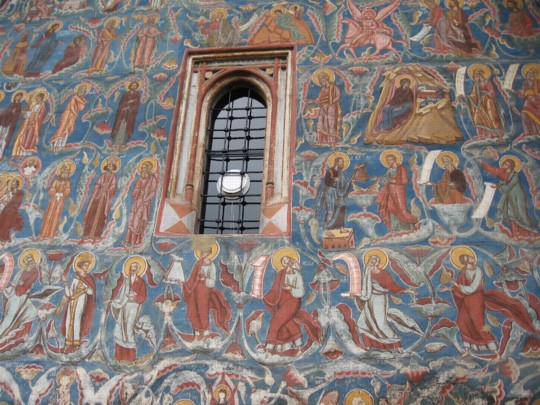 Moldoviţa monastery frescoes
Photo: Neal Skibinski
Neal and I were the last to leave the Moldoviţa monastery. As were leaving, we met a friendly Orthodox nun. She asked, in Romanian, if we were tourists. We confirmed that we were tourists and added "we are Americans" ("Cint American"). She smiled and said "ah, American!"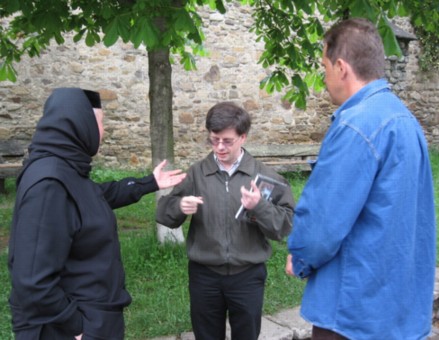 The nun, Mike and Marian Popescu
Photo: Neal Skibinski
We attempted conversation with her — using her hands, she outlined my face and we believed she said I have "a Romanian face." She also told us that she spoke French, German and Italian — Neal tried to speak French, but this effort at communication was unsuccessful.
She asked if we had a guide — when we replied we did, she strode toward the entry gate. We walked to our bus and I asked Marian to translate. Before she could say much, however, her cell phone rang (!), she made hurried apologies and ran off. Everyone on the bus, and us, found this very amusing.
Later at dinner, Neal told Marian what we thought the nun said about my having a "Romanian face." Marian pondered this for a moment and said "No...you look...German." Given all of my German blood, on both sides of my family, I guess it's not surprising.
Friday, 05/26/06
We traveled first to the Suceviţa Monastery, which is a "fortified monastery," located behind massive walls. Suceviţa was perhaps the most beautiful monastery — the painted walls are better preserved than the other monasteries we've seen. Neal paid the "tax foto" and took a number of pictures.
We drove next to the Dragomirna Monastery — to do so, we had to drive through Radauţi, which I had not expected to see again on this trip. The church at Dragomirna is unusually tall and has a famous ornate tower, which was unfortunately hidden behind scaffolding.
Neal took photos there as well. Between our visits to the two monasteries, we bought three multimedia CD-ROMs about Bucovina and the monasteries — they cost about $10.00 each.
We next drove to Suceava, where Marian took us to lunch at a local restaurant — the entrée was a sort of schnitzel, which was tasty. Following lunch, we toured the ruins of the Suceava citadel and Neal, Carol and I also visited the adjacent Bucovina Village Museum. We met a guide at the museum who spoke very good English. We learned that she knows Florin Colibaba through her connections with the local crafts community.
We traveled next to the Suceava History Museum. It was interesting, but unfortunately I became very sleepy, so I think that a lot of what I saw in the museum didn't register very strongly in my memory (I also became ill later, but I'll spare everyone the details). If we ever visit Suceava again, I'd like to go back to the museum.
One of the things that I do remember was being shown a life-sized diorama, with full-sized mannequins dressed as Stefan cel Mare (Stefan the Great) and his court.
Saturday, 05/27/06
We left the Casa Lina early, driving to Campulung Moldovenesc. We visited the fascinating Wood Museum, which featured amazing examples of household objects, and decorative objects, made almost entirely of wood. We left there and drove through the Borgo Pass and stopped at the Dracula Castle Hotel — Bruce and Judy were the only ones to leave the bus, as there was a persistent downpour. The rest of us decided to skip the tour of the catacombs created there, as they sounded too "touristy."
I'd barely slept the night before, so I tried to nap on the bus, but with limited success. The bus would often hit potholes, or rough patches in the road, and my head would bang against the window, waking me up.
We stopped at the Golden Crown Hotel in Bistriţa for lunch. While eating our meal, we kept hearing a persistent sound of small engines, which became increasingly loud, then faded out. When we left the hotel and went outside, we discovered there was a go-cart race on the streets of the town. We watched it for a while before leaving Bistriţa.
We drove through Targu Mureş, a very attractive city, but did not stop. We traveled to our final destination for the day, Sighişoara, where we spent the night. We checked into the Casa Cu Cerb, an elegant hotel built as a house in the 16th century.
Sighişoara is a beautiful medieval town — we stayed in the hilltop citadel of the old town. The group took a quick walking tour and Neal and I later went out on our own for a while, walking up a large hill with a high school and medieval church atop it. We walked down a covered staircase dating to 1642.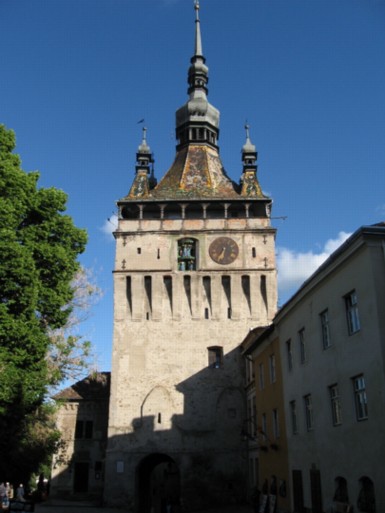 Sighişoara clock tower
Photo: Neal Skibinski
We had dinner at Casa Vlad Dracula, where the food was hearty and I was well enough to eat the entire meal. It was a pleasant restaurant, with barrel-vaulted ceilings and beautiful carved furniture. It was built in the 15th century and is famous as the birthplace of Vlad Tepeş (aka "Dracula").
Everyone else went to bed, but Neal, Carol and I had a beer in the town square with Marian and Romeo. A young gypsy boy entertained other tourists in the square by singing a song that lasted for several minutes.
We slept well in our comfy beds, in our charming garret-level room.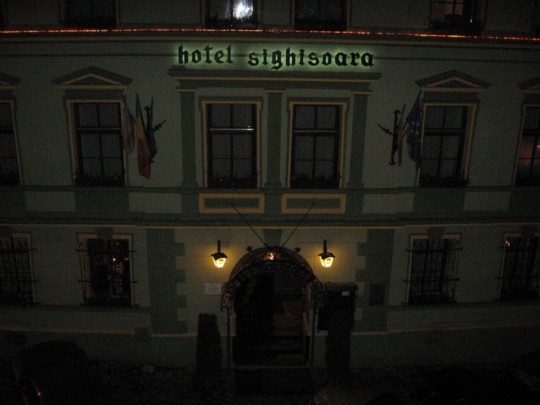 View from Casa Cu Cerb room
Photo: Neal Skibinski
Sunday, 05/29/06
Neal and I got up early to take photos. Following a pleasant breakfast in the hotel restaurant, Neal, Carol, Kathy and I climbed the clock tower, which also contains the local museum and had interesting exhibits. The views from there were beautiful and Neal took quite a few photos.
We boarded the bus and drove south to Bran, where we had lunch at the Popasul Reginei restaurant. At Marian's recommendation, I had fish — it was a complete trout, with tail, head and bones. Suffice to say, I didn't care for it!
We continued to Bucharest, where we stopped at the Village Museum, at Judy's request — she wanted to buy some clothing items and painted eggs — she'd seen them at the Museum when we visited on our first day in Bucharest. But she couldn't buy them on this day, as they were offered for sale only at a one-day fair.
Neal, Carol and I toured the Moldova section, which we hadn't seen on our first visit. Judy did discover Colibaba pottery in the Museum gift shop, however, though the three of us did not have time to tour the museum.
We drove to the Howard Johnson Grand Plaza, where we checked in and said goodbye to Marian. Neal and I went for a quick walk to the Calea Victoriei (one of Bucharest's primary avenues) to photograph the architecture — we found many beautiful buildings.
At about 7:15 p.m., we were met in the lobby by Anamaria, our guide for the evening, a lovely young woman who was quite charming. She accompanied Romeo and us to the Count Dracula Club for our farewell dinner. Despite some kitchy décor, the food was quite good and there was not (to my relief) any sort of a "cabaret" show.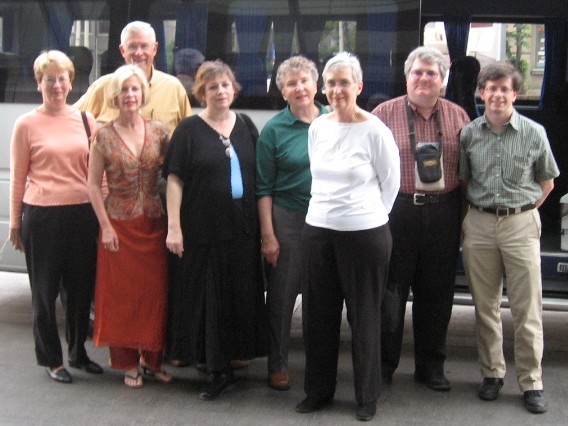 Leaving for the farewell dinner
We returned to the hotel, where we said goodbye to Romeo and Anamaria. We went to bed at 10:00 p.m., with the alarm set for 2:00 a.m. Neal was able to sleep briefly, but unfortunately I could not. By the time we reached Portland on Monday evening, I figured that I had been awake for at least 48 hours.
Monday, 05/29/06
We left the hotel at 3:30 a.m., boarding a "maxitaxi" in a steady rain. We left Bucharest at 6:00 a.m., arriving in Frankfurt at about 7:30 a.m. local time.
---
More Photos
Neal took more than 1,500 photos on our trip. We have posted 369 of them, in 2 albums, on our Flickr page. Here are the links to the albums:
---
We had a wonderful time in Romania, a beautiful country with warm, friendly people, stunning scenery, an amazing array of architecture and a rich history. We traveled to Romania again in 2007, and hope to return in 2008!
©2006 Mike Kolibaba
Photos ©2006 Neal Skibinski
This page created with Taco HTML Edit (v1.7.2).
Return to Mike Kolibaba's home page