---
Brand New Day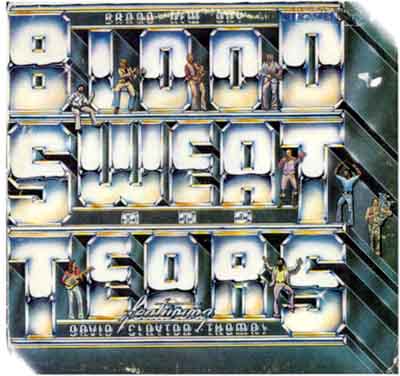 1977
Track Listing:
Somebody I Trusted
Dreaming As One
Same Old Blues
Lady Put Out The Light
Womanizer
Blue Street
Gimme That Wine
Rock and Roll Queen
Don't Explain

---
Lineup:
David Clayton-Thomas: Lead Vocals
Dave Bargeron: Trombone, Bass Trombone
Larry Willis: Keyboards
Tony Klatka: Trumpet, Fluegelhorn
Bill Tillman: Alto, Tenor, Bari-Sax, and Flute
Mike Stern: Guitars
Danny Trifan: Bass
Roy McCurdy: Drums
Bobby Colomby: Percussion, Vocals
Chaka Kahn: Vocals on "Dreaming as One."
Willie Smith: Vocals, Organ
Paul Shure: Strings
Pete Jolly: Mussette
Tommy Morgan: Harmonica
Roy Halee: Lead Trumpet, the first "D" on "Same Old Blues."
Misc. Musicians: Paul Stallworth, King Errison, Bob Payine, Peter Graves, Stu Blumberg, Tom Peterson, Ernie Watts, John Rosenberg, Mike Altshul, John Gross, Ray Reed, Glen Garrett, John Mitchell, Nenetta Fields, Brenda Bryant, Mike Finnigan, Carl Graves, Tish Smith.
Produced by Roy Halee
Produced by Bobby Colomby
Arranged by Tony Klatka
Engineered by Roy Halee
Dedicated to the Memory of Jeremiah Howard Bargeron

---

Chart History:
Released in November of 1977 (ABC 1015). I do not believe it charted. However, it did garner some positive reviews. David Clayton-Thomas constantly refers to "Gimmie That Wine," as a "Grammy Winning chart by Anthony Klatka." I think he means, a chart by either Grammy winner or Grammy nominee Tony Klatka, not that the song won one. I am not aware of any singles. The album is out of print and as far as I know, the only track from this album that appears on any compact discs, is a live version of "Gimmie That Wine," which is on the Rhino Live 1980 album.

---

Billboard Magazine's November 12, 1977 review read:
A long time coming, but well worth the wait as this premier group of musicians delivers one of its finest efforts. David Clayton-Thomas is particularly expressive with rich, earthy vocals on the well balance assemblage of uptempo and ballad material. The music, with plenty of horns, strings, keyboards, bass, guitar and percussion, is a fusion of rock, R&B, and Jazz elements all skillfully and tastefully orchestrated. Best cuts: "Somebody I Trusted," "Dreaming as One," "Lady Put The Light Out," "Blue Street, and "Gimmie That Wine."

Jeremiah Rickert Writes:
This is one of my favorite BS&T albums, and again I am dumbfounded as to how the critics can give such a positive review to it, but the record company didn't seem to do anything to promote it. This album is also chock full of trivia items! For example, current film composer, and former rock pianist, Randy Edelman (Brisco County Jr., Dragon: The Bruce Lee Story, Gettysburg, and others) wrote "Blue Street." (The track also appeared on his solo album, Farewell Fairbanks). Contemporary Christian Artist, and Trumpeter Phil Driscoll (who may or may not have played with BS&T, I've heard conflicting stories) wrote the track "Rock and Roll Queen" which was a tribute to Janis Joplin. Also, "Somebody I Trusted," was a track on Three Dog Night's Hard Labor, who at the time were label mates of BS&T. I have written to ABC records, hoping that they would re-release this album on CD, but they wrote back, saying that it wasn't commercially feasable at this time. I also wrote to Rhino Records, asking them to attempt to get the rights to the album, as they'd done with Nuclear Blues, and I never heard from them. Perhaps if more of us write in, they'll get on the ball!

---
Return to the BS&T Discography Page