---
Original BS&T
1967-68
---

The original lineup from a promo picture. I believe they are, from LtoR: Randy Brecker, Jim Fielder (sideways), Freddie Lipsius (in back), Al Kooper, Dick Halligan (in back), Bobby Colomby, Jerry Weiss, and Steve Katz.

---
Another promo pic, this time with a beach motif. (heh.) This was was pretty small, so it's going to be hard to spot the faces, but my guess is from LtoR: Al Kooper, Freddie Lipsius (laying down), Steve Katz, Dick Halligan (in back), Jerry Weiss, Randy Brecker (w/umbrella), and Bobby Colomby. I couldn't see Jim Fielder anywhere, unless he's buried or something.
---
This pic was inside the Japanese Import LP called History Of BS&T
---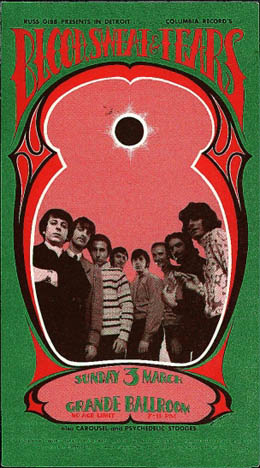 Even though this is a concert poster, I put it on here because of the shortage of pics for this era. This has to be one of their first concert posters. From LtoR: Katz, Fielder, Weiss, Lipsius, Colomby, Halligan, Brecker and Kooper.
---
Note: This is all I have for the original lineup. If anyone has anything, especially concert pics, I'd really appreciate it if you coud send me scans or whatever.