---
Blood, Sweat, and Tears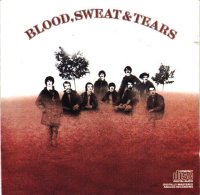 1969
Track Listing
1. Variations On A Theme By Erik Satie (2:30)
(1st and 2nd Movements, Adapted from "Trois Gymnopedies")
2. Smiling Phases (5:10)
3. Sometimes In Winter (3:08)
4. More and More (3:04)
5. And When I Die (4:05)
6. God Bless The Child (5:56)
7. Spinning Wheel (4:07)
8. You've Made Me So Very Happy (4:19)
9. Blues-Part II (11:45)
10. Variations On A Theme By Erik Satie (1:37)
(1st Movement, Adapted from "Trois Gymnopedies")

The following Tracks were added with the newly released remastered CD version:

14. More and More (Live 1968)
15. Smiling Phases (Live 1968)
Produced by James William Guercio
Engineered by Roy Halee and Fred Catero
Arranged by Dick Halligan, Fred Lipsius, and Al Kooper
---
Lineup
David Clayton-Thomas: Vocals (Except "Sometimes in Winter")
Steve Katz: Guitar, Hamonica, Vocals (Lead on "Sometimes in Winter")
Bobby Colomby: Drums, Percussion, Vocals
Jim Fielder: Bass
Fred Lipsius: Alto Saxaphone, Piano
Lew Soloff: Trumpet, Fluegelhorn
Chuck Winfield: Trumpet, Fluegelhorn
Jerry Hyman: Trombone
Dick Halligan: Organ, Piano, Flute, Trombone, Vocals
BS&T Soul Chorus: Dick Halligan, Bobby Colomby
Alan Rubin: Trumpet on "Spinning Wheel."
Lucy Angle: Footsteps

---

Chart History:

According to Al Quaglieri in the What Goes Up! liner notes, this record was released December 11, 1968 (Columbia 9720). All Music Guide lists it as January of 1969. Three top five singles came from the album, "You've Made Me So Very Happy," (Columbia 44776) released 2/15/69 was the first gold single, peaking at #2. The next single, "More and More/Spinning Wheel," (Columbia 44871) released 6/07/69 also peaked at #2 and went gold. Finally, released in September of 1969, the third gold single from the album, "And When I Die/Sometime's In Winter" (Columbia 45008) was released 10/25/69 and also made #2 by November. It was the first time since the RIAA started certifying gold records that an album had spawned three gold singles. The album peaked at #1 on the U.S. Charts, staying there for seven weeks, going double platinum by the end of 1969, and stayed on the top 40 for 66 weeks. It is also available in a Mobile Fidelity Labs Gold Disc, which has recently gone out of print.

---

The Grammy's:
March 11, 1970 saw BS&T win Grammy's for Album of the Year, Best Arrangment (Fred Lipsius for "Spinning Wheel") and Best Contemporary Instrumental Performance. ("Trois Gymnopedies On A Theme By Erik Satie.") Despite their pop success, it should be noted that Chicago has only won Grammy's for a record cover (Chicago X) and Male Pop Vocal (If you leave me now)

---

David Clayton-Thomas says:
"You've Made Me So Very Happy was one of those songs where I flew into New York from Toronto and it was the first thing I recorded with Blood, Sweat, and Tears. We walked out of the recording studio and every band member knew we'd just cut a hit record. It was just magic from the first note to the last."

Bobby Colomby notes that
"Guercio really didn't stick around for a lot of that record. He left before the thing ws really done, he lost interest; he hated David, he hated Steve, it was like "these guys are prima donnas, I can't stand it, I gotta get outta here."

It should also be noted that James William Guercio only produced the album because Columbia promised him they would sign and release the first album by the Chicago Transit Authority.

---
William Ruhlmann of the All Music Guide writes:
Arguably, the BS&T that made this self-titled second album, consisting of five of the eight original members and four newcomers, including singer David Clayton-Thomas, was really a different group from the one that made the debut album, Child is Father to the Man, which was largely under the direction of singer/songwriter/keyboard player/arranger Al Kooper. BS&T Mark II had certain similarities to the original: the musical mixture of classical, jazz, and rock elements was still apparent, and the interplay between the horns and the keyboards was still ocurring, even if those instruments were being played by different people. Kooper was even still present as an arranger on two of the tracks, notably the initial hit "You've Made Me So Very Happy." But the second BS&T, under the aegis of producer James William Guercio, was a less adventurous unit, and, as fronted by Clayton-Thomas, a far more commercial one. Not only did the album contain three songs that neared the top of the charts as singles--"Happy," "Spinning Wheel," and "And When I Die"--but the whole album, including an arrangement of "God Bless The Child" and the radical rewerite of Traffic's "Smiling Phases," was wonderfaully accessible. It was a repetoire to build a career on, and BS&T did exactly that, although they never came close to equalling this album. [(c)1996 All Music Guide]
---
Return to the BS&T Discography Page.