---
BS&T3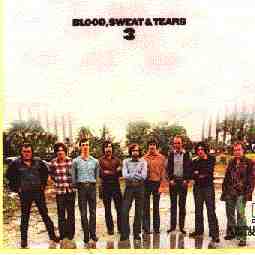 1970
Track Listing
Hi De Ho (4:25)
The Battle (2:43)
Lucretia MacEvil (3:03)
Lucretia's Reprise (2:35)
Fire and Rain (4:02)
Lonsome Suzie (4:35)
Symphony for the Devil/
Sympathy for the Devil (7:49)
He's A Runner (4:15)
Somethin' Comin' On (4:33)
40,000 Headmen (4:40)

---
Lineup:
David Clayton-Thomas: Vocals
Bobby Colomby: Drums, percussion
Jim Fielder: Bass
Dick Halligan: Keyboards, Flute, Trombone
Jerry Hyman: Trombone
Steve Katz: Guitars, Vocals
Fred Lipsius: Sax, Piano
Lew Soloff: Trumpet, Fleugelhorn
Chuck Winfield: Trumpet, Fleugelhorn

---

Chart History:
Was released June of 1970. (Columbia CK-30090) It was one of the most pre-ordered and anticipated releases of its time and was guaranteed a gold record practically the day it was released. It spent 19 weeks in the top 40, reached #1 and stayed there for two weeks, eventually going platinum. On the singles front, "Hi-De-Ho"/"The Battle" (Columbia 45204) peaked at number #14 by August 29th. David Clayton-Thomas' "Lucretia MacEvil"/ "Lucretia's Reprise" (Columbia 45235) peaked at #29 on November 7th, 1970. The album is in print in the U.S. on CD as a Columbia Legacy Collector's Choice release. However, the CD seems to be mastered poorly and the Japanese Import has superior sound and better liner notes.

---

Billboard Magazine's July 11, 1970 Review said:
Chalk up another big album for one of today's most popular groups, Top 40 and underground. The material is good and varied ranging from the extended "Symphony for the Devil/Sympathy for the Devil" to "Somethin' Comin' On," which has the group's hit style. In addition to David Clayton-Thomas on vocals, other members of this talented nine-man group are featured with a large chorus helping in "Hi-De-Ho."

William Ruhlmann of the All Music Guide writes:
Blood, Sweat, and Tears had a hard act to follow in recording their third album. Nevertheless, BS&T constructed a convincing, if not quite as imporessive, companion to their previous hit. David Clayton-Thomas remained an enthusiastic blues shouter, and the band still managed to put together lively arrangements, especially on the Top 40 hits "Hi-De-Ho" and "Lucretia MacEvil." Elsewhere, they recreated the previous album's jazzing up of Laura Nyro ("He's A Runner") and Traffic ("40,000 Headmen"), although their pretentiousness, on the extended "Symphony/Sympathy for the Devil," and their tendency to borrow other artists' better-known tunes (James Taylor's "Fire and Rain") rather than generating more of their own, were warning signs for the future. In the meantime, BS&T 3 was another chart-topping [platinum] hit. (c)1996 All Music Guide

Steve Katz says:
"We were self-conscious. When you put out a record and you have fun doing it, like we did with the second one, all of a sudden it's like this huge album. And you're compared to all these big bands, and you need to put out a better album next time, to sell more records and you get lost in it. You lose the fun. As soon as it's not fun anymore, it starts sounding like the third album sounded, like 'Sympathy for the Devil,' which is, like, ridiculous. And that's when the fun started to leave the band, as far as I was concerned."

---
Return to the BS&T Discography Page