---
BS&T 4



Track Listing
Go Down Gamblin' (4:17)
Cowboy's and Indians (3:10)
John The Baptist (3:38)
Redemption (5:14)
Lisa Listen To Me (3:03)
A Look To My Heart (0:54)
High On A Mountain (3:16)
Valentine's Day (3:59)
Take Me In Your Arms (3:30)
For My Lady (3:25)
Mama Gets High (4:12)
A Look To My Heart--Duet (2:09)
Produced by Don Heckman, Bobby Colomby, and Roy Halee
Engineered by Roy Halee
---
Lineup:
David Clayton-Thomas: Vocals, Guitar (Go Down Gamblin')
Bobby Colomby: Drums, Percussion
Jim Fielder: Bass, Guitar (Redemption)
Dick Halligan: Keyboards, flute, trombone
Steve Katz: Guitars, harmonica, mandolin.(Lead vocal on Valentine's Day)
Fred Lipsius: Sax, Piano, Organ, Clarinet
Lew Soloff: Trumpet, Fleugelhorn, piccolo trumpet
Chuck Winfield: Trumpet, Fleugelhorn
Dave Bargeron: Trombone, Tuba, Bass Trombone, Baritone Horn, Acoustic Bass ("For My Lady," and "Valentine's Day.")
Don Heckman: Clarinet and bass clarinet on "Valentine's Day" and "For My Lady."
Michael Smith: Congas on "Redemption.'

---

Chart History:
Released June of 1971 (Columbia CK-30590), BS&T 4 peaked at #10 on the U.S. Charts two months later in August. It was in the top 40 for 11 weeks. Two singles were released, "Go Down Gamblin'"/"Valentine's Day," (Columbia 45427) which peaked at #32, and "Lisa, Listen To Me"/Cowboy's and Indians," which peaked at #73 on the U.S. Charts.

---

Billboard's July 3, 1971 review wrote:
Their first album for the year, two months or so in the making, is worth waiting for. Strong new material includes a David Clayton-Thomas special, vocal and guitar, "Go Down Gamblin'." Other heavy cuts include "Cowboys And Indians," Steve Katz's "Valentine's Day," Thomas' "Lisa, Listen To Me," and a wild redoing of the Isley Brothers "Take Me In Your Arms. (Rock Me A Little While.)

William Ruhlmann of the All Music Guide writes:
Having relied largely on outside song writing for its last two wildly successful albums, Blood, Sweat, & Tears decided (as many groups had before) to bring some of that song publishing income into the family by writing their own material. Singer David Clayton-Thomas contributed the Top 40 hit, "Go Down Gamblin," and he and keyboard player Dick Halligan collaborated on another chart entry, "Lisa, Listen To Me." Ex-bandleader Al Kooper even contributed a track, "John The Baptist (Holy John." But side two was given over largely to songs by guitarist Steve Katz that were substandard, and the band's cohesion seemed to be disintegrating. Although the alum scraped the Top 10 briefly and went gold, it marked the end of BS&T's period of wide commercial success on records. By the next outing, Clayton-Thomas had quit and the band's heyday was behind it.
(c) 1996 The All Music Guide.

Rolling Stone's Al Meitzer wrote:
"The best...Blood, Sweat, and Tears album since the first..."

Producer Don Heckman writes:
Blood, Sweat & Tears. Vitality, energy and inspiration. That's what it's all about--channeling the powers of nine gifted performers into a dynamic blend of song and spirit, of melody and rhythm.
We recorded in San Francisco, with its glorious light, clean air, and brilliantly sparkling Bay. A good place to make music. Some of the guys were already there. Fred Lipsius rambling around his house, doing a marathon piano-playing trip, 24-hours a day, non-stop. Jim Fielder, lean and laconic, impatiently waiting for a new place near Muir Wood, and David Clayton-Thomas, writing new tunes in his ultimate bachelor's digs--perched like an eagle's aerie high in the hills of Marin Country. Roy Halee, master engineer and co-producer, was just glad to be living in San Francisco, and enthusiastic as a cherub about the bright new studios and spaceship recording console Colombia had built for him. Dick Halligan commuted from Los Angeles, flying in through the smog almost daily, usually carrying a new arrangement.
The rest of us moved West, en masse, from cold and amp December New York City. Chuck Winfield and Dave Bargeron--the quiet ones--came like a gypsy caravan, trailing wives, children, and assorted pets. Bobby Colomby and Steve Katz reluctantly left their houses and basketball courts and pool tables, and Lewie Soloff somehow managed to convince an airline that his 14 trumpets and flugelhorns really were part of his hand luggage.
Two months had been cleared from our schedules by the most stringent methods--only one or two bookings for the band, and for me, some midnight hour moonlighting to keep up my writing commitments. Two months to produce an album that might match the electric energies of previous Blood, Sweat, and Tears recordings.
We decided to go for as many original pieces as possible. Given the range of backgrounds and skills in the band, it seemed to me that the album should be a kind of seed-bed for the future--a garden of music that would bloom with brightly colored perennials. "Lisa, Listen To Me" came first, flowing with such good vibrations that we knew the Karma was right. On "Go Down Gamblin'," David holstered up his trust guitar (for the first time with BS&T) and ripped out solo lines raunchy enough to quiver the walls in the adjoining studio (no mean feat, considering that Santana was recording there).
"Redemption" came in a sudden, almost magic rust. Everything jelled--the rhythm's furious drive, a roaring, shouting horn section, and David's powerful vocal. There never was a question of making another take. Steve's "For My Lady" and "Valentine's Day," called for particularly sensitive treatment. In both cases--Dick's arrangement of "For My Lady" and Freddie's chart on "Valentine's Day"--the textures are richly impressionistic, filled with the sounds of woodwinds and fluegelhorns. (And, on "Valentine's Day," Lew finally got his long-awaited chance to play piccolo trumpet.)
"Cowboy's and Indians" was a Halligan surprise; he just showed up with it one day. (The unusual sound at the end, by the way, is made by Dave Bargeron, playing a low note on his tuba and singing another note at the same time.) It took at least two or three metamorphoses before we found the right frame for 'High On A Mountain," and again it was Halligan's extraordinary scoring--almost symphonic in character--that created the perfect setting for David's vocal. "Mama Gets High" developed out of a half-joking conversation that Steve, Dave Bargeron, and I had about the possibilities of a Dixieland-rock tune, and "A Look To My Heart" celebrates Freddie's pleasure over the sense of peace he has discovered since moving to San Francisco.
Two pieces came from outside the band. Al Kooper and Phyllis Major's "John The Baptist" stimulated some of Freddie's finest scoring, and the gutsy rhythm-secion surge on the Isley Brothers' "Take Me In Your Arms," lets David get down to the basics.
The old labels--Jazz-rock and the like--are gone, replaced by the simple straight-forward idea of making music. With nine players who share individual and common experiences that include everything from Ars Nova to Bluegrass how can any other description be adequate? (Taken from the sleeve of BS&T 4)

---
There also exists, a bootleg, put out by the "Trademark of Quality" group. It seems to be a concert from the BS&T 4 era, around 1971, and is said to have been recorded in Las Vegas. Here is a scan of the cover, I'll work on getting a page up for it later.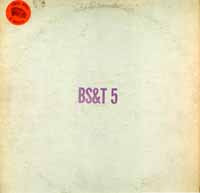 ---
Return to the BS&T Discography Page