---

Child is Father to the Man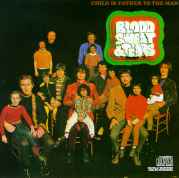 1968
Track listing
Overture (1:33)
I Love You More Than You'll Ever Know (5:58)
Morning Glory (4:15)
My days are Numbered (3:18)
Without Her (2:41)
Just One Smile (4:37)
I Can't Quit Her (3:39)
Meagan's Gypsy Eyes (3:24)
Something' Going On (8:00)
House In the Country (3:04)
The Modern Adventures of Plato, Diogenes and Freud (4:12)
So Much Love/Underture (4:43)
The Following Demos, recorded 11/11/67, appear on the Sony MasterSound Gold Disc
I Love You More Than You'll Ever Know (6:09)
Refugee From Yuhupitz (3:45)
I Can't Quit Her (3:01)
Morning Glory (4:13)
Somethin' Going' On (5:19)
The Modern Adventures of Plato, Diogenes and Freud (5:03)
Lyrics are on the lyrics page

Produced by John Simon
Engineered by Fred Catero

---
Lineup
Al Kooper: Organ, Piano, Ondioline, and Vocals
Steve Katz: Guitar, Acoustic Guitar, Lute, and Vocals
Bobby Colomby: Drums, Vocals
Jim Fielder: Fender Bass
Fred Lipsius: Alto Sax, Piano, and Good Judgement
Randy Brecker: Trumpet and Fluegelhorn
Jerry Weiss: Trumpet and Fluegelhorn
Dick Halligan: Trombone
BS&T Soul Chorus: Valerie Simpson and Melba moorman
BS&T String Ensemble: Gene Orloff, Leon Kruczek, Paul Gershman, Harry Lookofsky, Julie Held, Manny Green, Anahid Ajemian, Harry Katzman, Manny Vardi, Harold Collett, Charles McCracken, and Alan Schulman.

---

Chart History:
Was released in February of 1968 (Columbia 9619), one single was released, I Can't Quit Her/House In The Country, which failed to chart. The album peaked at #47. The poupularity of the second BS&T album helped "Child" go gold. The album is currently in print on CD on Sony/Columbia records. In addition to the regular album, there is a Sony MasterSound Gold disc, which features several of BS&T's demos before they were signed. As of 1999 there's also a Mobile Fidelity Labs 24karat Goldisc available that doesn't include the demos.
---

William Ruhlmann of the All Music Guide, writes:
This is keyboard player/singer/arranger Al Kooper's finest work, an album on which he moves the folk-blues-rock amalgamation of The Blues Project into even wider pastures, taking in classical and jazz elements (including strings and horns), all wihtout losing the pop essence that makes the hybrid work. this is one of the great albums of the eclectic post-Sgt. Pepper era of the late '60s, a time when you could borrow styles from Greenwich Village contmerporary folk to San Franscisco acid-rock and mix them into what seemed to have the potential to become a new American musical form. It's Kooper's bluesy songs, such as "I Love You More Than You'll Ever Know" and "I Can't Quit Her," and his singing, that are the primary focus, but the album is an aural delight. This is the sound of a group of virtuosos enjoying themselves in the newly open possiblities of pop music. Maybe it couldn't have lasted, anyway, it didn't. (Copyright 1996, All Music Guide).

Jann Wenner of Rolling Stone writes:
"Blood, Sweat, and Tears is the best thing to happen in rock and roll so far in 1968"

Steve Katz explained that the band was formed to pay Al Kooper's way to England, so he and Kooper, Colomby, Fred Lipsius, and Jim Fielder rehearsed these songs of Kooper's and put on a show at the Cafe Au Go Go. Unfortunately, only five people showed up or so and Al had enough money to get to the airport, but that was about it. The rest of the guys said that he might as well stay here and try to make it here with the material. Steve says "At the time we were listening to a record called Time and Charges by the Buckinghams, and Electric Flag of course, but Time and Charges featured the horn section of the Chicago Symphony Orchestra. We thought it would be a neat idea to be able to take a horn section like that on the road with us and play. We found Randy Brecker and Dick Halligan and Jerry Weiss, and originally had them on salary, but after a couple of weeks we couldn't afford their salary so we just made them part of the group. (Laughs) That was the beginning of that band."

---