---
Owl and the Pussy Cat Soundtrack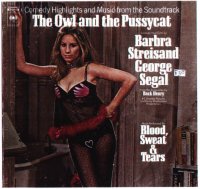 Track Listing:
The Confrontation
The Warmup
The Seduction
The Morning After
The Reunion

---
Lineup:
David Clayton-Thomas: Vocals
Steve Katz: Guitars
Dick Halligan: Piano, Keyboards, Trombone, Flute
Jerry Hyman: Trombone
Lew Soloff: Trumpet, Flugelhorn
Chuck Winfield: Trumpet, Flugelhorn
Fred Lipsius: Saxaphone
Bobby Colomby: Drums
Jim Fielder: Bass
Composed and Arranged by Dick Halligan
Lyrics by Blood, Sweat, and Tears
Producer: Thomas Z. Shepard
Engineer: Arthur Kendy

---

Chart History:
Was released December of 1970 (Columbia S-30401). It peaked at U.S. #186.
The album is not in print anywhere in the world, as far as I know. There is an extremely rare 45 that features one of the vocal songs from the film without the interference of the jabbering. It's a cool song! Just hard to find.

---

William Ruhlmann of the All Music Guide writes:
The movie represented a comeback for Barbra Streisand after the big-budget disasters of Hello, Dolly! and On A Clear Day You Can See Forever. But the soundtrack album is the lowest charting record of her career, perhaps because she doesn't sing! What she does do is talk--the album consists of dialogue from the movie, endless bickering between Streisand and George Segal, accompanied by snippets of background music played by Blood, Sweat & Tears in their characteristic jazz-rock style. (c)1996 All Music Guide.

Jeremiah Rickert writes:
I bought this mainly to complete my BS&T collection, and after watching the movie, I was actually excited to get it. However, instead of being comprised only of the music from the film, instead, there's snippets of dialogue and scenes between George Segal and Barbra Streisand. A lot of the music seems to have been cut as well. There are some good pieces, though, particularly the even more up-tempo instrumental version of BS&T 4's "Redemption," which features a ripping guitar solo by Steve Katz. On the record, there is only one song with vocals, and it's at the end, however, I remember there being two in the film. One of them sounded a lot like DCT's "Children of the Wind," which appeared on the What Goes Up! Compilation.

---
Return to the BS&T Discography Page