---
No Sweat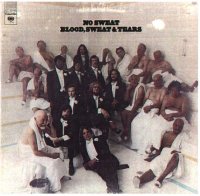 (1973)
Track Listing
Rollercoaster
Save Our Ship
Django (An Excerpt)
Rosemary
Song for John
Almost Sorry
Back up Against the Wall
Hip Pickles
My Old Lady
Empty Pages
Mary Miles
Inner Crisis

Produced by: Steve Tyrell
Recorded at Electric Lady Studios, New York City
and Trident Studios, London England.
Engineer: Ralph Moss
Recordist: Lou Waxman

---
Lineup:
Jerry Fisher: Lead Vocals, background vocals
Bobby Colomby: Drums, percussion, and background vocals
Jim Fielder: Fender bass and rhythm guitar
Larry Willis: Acoustic, Electric Piano, clavinet, organ, Moog
George Wadenius: Acoustic and electric guitars, bg vocals.
Lew Soloff: First trumpet and flugelhorn
Dave Bargeron: Tenor and bass trombone
Lou Marini Jr.: Soprano, Alto, Tenor and Bari-Sax, flutes.
Tom Malone: Second trumpet and flugelhorn, tenor trombone, tenor saxaphone, flute, alto flute, fender bass.
Steve Katz: Rhythm Guitar on Rollercoaster
Jimmy Meaulen: Percussion on Rollercoaster
Frank Ricotti: Conga on Almost Sorry and Inner Crisis
Paul Buckmaster: ARP on My Old Lady
Steve Tyrell: Percussion on Empty Pages
Chuck WInfield: French horn and flugelhorn on Mary Miles
Soul Chorus: Valerie Simpson, Joshie Armstead, Maeretha Stewart

---
Chart History:
Released August of 1973 (Columbia 32810), it peaked at #72 on the U.S. album charts. As far as I know, there was one single, "Save Our Ship"/"Rosemary," which failed to chart. The album is not currently in print, although some of the tracks appear on the European compilations and one on the What Goes Up! CD set. Note: The Cassette version has the songs in a different order (most likely to balance time between sides) and an alternative vocal track on "Empty Pages." (click here to listen to a real audio clip of the different version, RealAudio 3.0 or later is required)
---

Ross Boissoneau of the All Music Guide writes:
The second recording without David Clayton-Thomas, it may be the jazziest BS&T ever.
Surprisingly, most of the material comes from outside the band, with the exception of two tracks by
Lou Marini, Jr., two co-written by Wadenius (the featured guitarist in the band following Steve
Katz's departure), and the concluding "Inner Crisis" by Larry Willis. Jerry Fisher is more integrated
into the band in his role as lead singer, and the band shines throughout on material ranging from
Traffic's "Empty Pages" to John Lewis' "Django." The highlight is "Almost Sorry," which features
Bobby Colomby's rock-solid drumming and solos from the entire horn section: Dave Bargeron on
trombone, Lew Soloff and Tom Malone on electric trumpets, and Marini on alto flute.
(c) 1996 All Music Guide

August 4, 1973, Billboard Magazine Wrote:
Jerry Fisher's vocals propel the band into happy pop waters. His voice has the gravely, gutsy quality that represents a pop/blues situation, and it it works well within the structure of this quasi-jazz band. The LP was recorded in New York and London, adding an international quality to the band's scope and influence. Horns and reeds bristle, the rhythm is consistently driving, but not obnoxious, an electric piano adds soft fills and powering chord blocks. The LP is a matched effort in terms of vocal attacks and 'instrumental' skills. The band roars with all its magnificence, but switches gears easily on the slow "Django" excerpt. Ther are no surprises here for BS&t buffs; the music remains on the high level of proficiency that has marked its point position of being a leading contemporary big band. Best cuts: "My Old Lady," Rollercoaster," "Save Our Ship."
(c) 1973 Billboard Magazine

Jeremiah Rickert writes:
Although for the most part, I prefer Clayton-Thomas' vocals to those of Jerry Fisher, this album simply rocks the pants off other albums on the whole. Most BS&T albums have hard driving cuts on them, but this one has seven of them. The horn section is probably the most virtuoso of the bunch as well, including Lou Marini Jr., Tom Malone, Lew Soloff, and Dave Bargeron. Tom Malone is practically a horn section in himself, playing Trombone, all the saxes, flute, and Trumpet. They're extremely tight, and I'm lucky to have video of that group in the studio and on the German show The Beat Club. This is my overall favorite BS&T album. I was disappointed that the What Goes Up! compilation only included "Rollercoaster." I would have like to have seen at least "Rosemary" and "Back Up Against the Wall." However, "Empty Pages," "Save our Ship," and "Hip Pickles" deserved to be heard as well.

---
Return to the Discography Page