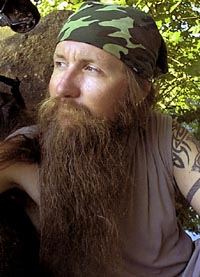 Personal Information

My name is Lars. In some circles, I am known as Glacier. My given name is Kevin, but I use that name only in business. I describe myself a hippie tree hugging biker eco-radical computer nerd. I live in a yurt on an organic farm in Western Oregon.
I stand five eleven at one hundred sixty pounds. I was born in 1960. I am lean and muscular, although nature and age are conspiring to "thicken my skin" in my midsection. My beard is very long; I shaved only once in my life. I do not believe in cutting my hair or suppressing scents my body naturally produces. My pony tail hangs to the middle of my back. I have several tattoos on my left arm. Each of them symbolizes aspects of my personality. I have plans for many more tattoos.
I make my way in the world as a consulting software engineer. I travel frequently, working for large corporations that I do not trust. I love the process of programming. There is great joy in inventing elegant data structures. My graduate thesis in Computer Science was entitled "Object Oriented Techniques in Genetic Algorithms for Optimization of Parametric Equations."
I also run an Internet based business selling rose bushes. The Uncommon Rose specializes in hard to find and unusual rose bushes.
I believe that acceptance, tolerance and love are the only really moral ways to live my life. Conflict is never really resolved by fighting. Violence and war are the only true obscenities. I have no patience for jealousy, hidden agendas or lies (or clearcuts or creamed corn).
I'm a biker, I ride a motorcycle. I really enjoy the feeling of freedom cruising down the highway. My bike and I become one in a way that I can hardly describe. It's as if we are a single animal whose sole purpose is to run. While I ride a Harley, I am not interested in brand bigotry - I'm not going to participate in discrimination based on motorcycle manufacturer. The most important thing is to be in the wind.
My nickname, Glacier, comes from the time I lived in a small cabin South of Glacier National Park in Montana. Those were both the best and worst times of my life. In that isolation, I learned to accept myself. Sometimes I think that the name is appropriate because I seem to change so slowly. Others have told me that the name is appropriate because I leave a big impression where ever I go.

| | | |
| --- | --- | --- |
| St. Mary Peak | Motorcycle Trip | At home |

Copyright ©1999 K Lars Lohn

Comments? Queries? Send email: glacier