nidula niveotomentosa
Class: Gasteromycetes
Order: Nidulariales
Family: Nidulariaceae
Beautiful things in small packages
Just a few days after the reappearance of leocarpus fragilis in January 2004, Glacier mentioned he'd seen what he thought was another slime mold. Investigation revealed that it was a variety of jelly fungus. The real find, though, was just a foot and a half away: a sizeable cluster of the cup fungus nidula niveotomentosa, colloquially known as bird's nest fungus. His partner Paul was intrigued by them, and took the photographs on this page.
Here's a happy little family of four mature specimens, with a fifth maturing on the right.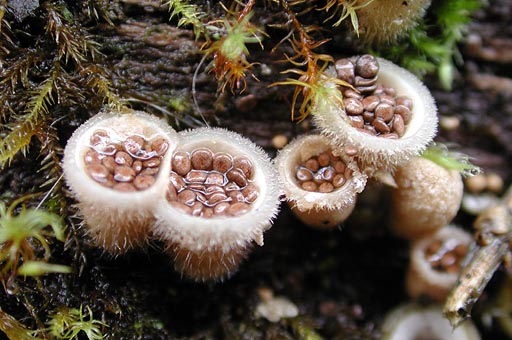 The fruiting bodies develop with a covering, which cracks open to reveal the spore cases (peridioles) within. This photo shows several developmental stages: new, with cover intact (center); open; and old & empty (bottom). Note the light-colored spots on the wood; they will develop into more fruiting bodies.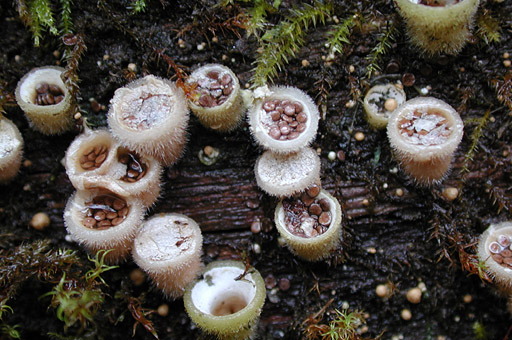 The peridioles are splashed out of the cup by water. Each peridiole trails a sticky cord, which helps it adhere to where it lands. In this detail, note the gelatinous substance in the middle left.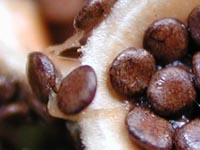 That image is a detail of this, which is too good not to share.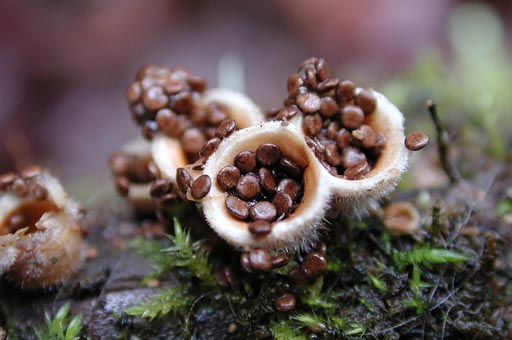 Notes
Images on this page are scaled. Specimens are approximately 5mm wide.

These specimens were found on a damp wood (an old porch, to be specific) in Oregon's Willamette valley, during a rainy January. The weather was cloudy and cool. There hadn't been freezing temperatures for several weeks.

This species is common in the Pacific Northwest of the USA.

Take this information with an appropriate amount of salt; much of it came from the Internet.
---
Last updated 2 July 2004
http://www.rdrop.com/~half/General/nature/nidula.niveotomentosa.html
All contents ©2004 Mark L. Irons except photos ©2004 Paul Barden.