---
Blue Plate Special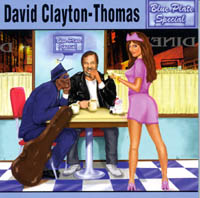 (1997)


Track Listing
Dirty Dishes
Suzy Got Her Big Hair On
Hard Times
Lucretia MacEvil
Drown in My Own Tears
Hoochie Coochie Man
Woman Across The River
The Danger Zone
We Were The Children
Wish the World Would Come To Memphis

---
Lineup
David Clayton-Thomas - Lead vocals, Guitar
Doug Riley - Keyboards
Matt King - Keyboards
Glan McClelland - Keyboards
Larry DeBari- Guitars
Andy Aledort - Guitars
Rob Paparozzi - Harp
Mike DuClos - Bass
Jonathan Peretz - Drums
Mark Quinones - Percission
Steve Guttman - Trumpet
Craig Johnson - Trumpet
Charlie Gordon - Trombone
Dave Reikenberg - Tenor Sax

---

The Following was on the Jam! Webpage

The Return of David Clayton-Thomas
By Karen Bliss--Jam! Music

Blood, Sweat, and Tears frontman David Clayton-Thomas recorded his first solo album in a dozen years in just four days. Blue Plate Special, a true blues album, began as a late-night jam session at his friend, saxman Ornette Coleman's new recording studio in Harlem, NY, which was designed by one of Clayton-Thomas's touring engineers. "Ornette was in Europe and gave us the keys to the studio, give it a test drive, see how it works," relates Clayton-Thomas, the Candian singer behind such classics as You've Made Me So very Happy and Spinning Wheel.
"So I went in with some of the guy sfrom the Blood, Sweat, and Tears rhythm section with no plans on making an album. And what happens when a bunch of musicians get together to jam? You play some blues."
He forgot about the session for a month, then the engineer called to say COleman had heard the tapes and loved them. "It was a little jam at night, how good can it be?" questioned Clayton-Thomas.
With a little prodding, he decided to finish it off the following week. He assembled some musicians, among them Toronto's Doug Riley, an old friend who had been urgin Clayton-Thomas to do a blues album for 20 years.
"Most of the stuff was cut live, very few overdubs. All of the vocals were done live, many of them first-takes," says Clayton-Thomas. "It was a very spontanous album."
In fact, there was no preparation in terms of the track listing, which includes Albert Collins's Too Many Dirty Dishes, Ray Charles' Hard Times, Willie Dixons Hoochie Coochie Man, plus five Clayton-Thomas originals.
"One of the best tunes on the album, Wish The World Would Come To Memphis, was written on the session," says Clayton-Thomas. "Doug was literally writing down piano licks on the back of his cigarette pack and I was in the control room scribbling down lyrics as we played."
It's been a productive recording year for Clayton-Thomas, who has a writing studio at home in the Catskills, but spends 150 nights a year touring with the latest Blood, Sweat, and Tears incarnation, performing with symphony orchestras, ast jazz festivals, casino showrooms, and theaters.
"There's been a real flurry of recording activity going on in the last year, where there hasn't really been in the last 10 years," says Clayton-Thomas.
He is currently mixing Blood, Sweat & Tears On Tour, a live in concert album recorded last year in Scandinavia and due early in '98. In February, he'll be recording an alumnus album, tentaively titled Bloodlines, with the current Blood, Sweat, and Tears line-up plus many of the musicians who have served in the band over the years.
While Blue Plate Special is available on Stony Plain, Clayton-Thomas will sell the Blood, Sweat, and Tears On Tour album primarily in the Internet.
"Why should I go to a record company who's going to give me 12-cents for an album when I can press it up myself, sell it myself in the Internet, sell it in concert, and make $18?" he says.

---

This is from the liner notes to Blue Plate Special:
Everyone knows the voice of David Clayton-Thomas, the unique instrument that propelled all those amazing Blood, Sweat, and Tears hits. It's a voice that's soaked in the blues--which is why it's amazing that it's taken so long for him to emerge with a full-scale, full-tilt get-down blues album.
Better a little late than never, that's for sure. This is not a BS&T album in the mold of those hit-filled multi-million selling records--although it must be said taht nayone who loves that classic music will be just as comfortable with the music here.
The reason, of course, is that David has always been singing the blues, this music has always been the touchstone that has influenced every vocal he's ever poured into a microphone, from the days of club gigs on Toronto's tough Yonge Street strip to international smash hits like "Spinning Wheel."
You have to go back to his early teens--Toronto, mid 50's--to understand this continuing, ongoing story. Boy, was this guy ever a rough diamond in his early days--a street kid, a brawler, and, eventually, a boy in a reformator with every chance that he'd "graduate" to a full-time life on the wrong side of the law. By the time he was 21, though, he'd figured out that playing the guitar and singing in a band offered a far more promising path.
By 1967, he had cetainly figured out how the blues needed to be sung, he learned sitting knee-to-knee with Sonny Terry & Brownie McGhee, Lightnin' Hopkins, Muddy Waters, Will DIxon, and John Lee Hooker. And it was JOhn lee who asked David to come to New York; when he arrived, he had a single afternoon to rehearse a band to cover a one-night club gig in Greenwich Village. Thus began an international career that continues to this day.
The story of Blood, Sweat, and Tears' success is still the stuff of music business legend. Introduced to bandleader Bobby Colomby by folk singer Judy COllins, David joined what was, in fact, a rapidly disintergrating situation. The first BS&T album had been released, most of the players weren't talking to each other, and several members--including singer Al Kooper--had quit. With the new singer on board, the band's second album sold 10 million copies, had three stone smash singles ("You've Made Me So Very Happy," "And When I Die," and "Spinning Wheel.") and won an unprecedented five Grammy awards. The Clayton-Thomas version of Billie Holiday's "God Bless The Child" became a classic, five more succesive gold albums hit the charts, hit followed hit, ("Lucretia MacEvil, "Hi De HO," and "Go Down Gamblin'"), and the band juggled a fierce perfomance schedule, playing the Metropolitan Opera, the FIllmores, Carnegie Hall, the Newport Jazz Festival, The Hollywood Bowl, Woodstock... David was fronting the band that was, without question, the hottest ticket in AMerica. If there was any band that played "American Music," it was BS&T, armed with the strains of the blues, the instrumental wizardry of jazz, and the sheer power of rocka nd roll.
Blood, Sweat, and Tears is very much a going concern. The band performs with North America's most prestigous symphony orchestras, headlines major jazz festivals around the world, and sold-out audiences pack the group's concerts. BS&T still takes American music--which inevitably includes the blues--everywhere it goes.
Which brings us to Blue Plate Special--a whole album of blues-drenched material. It was somethign David always wanted to do, and the songs he chose will resonate with a new generation of blues fans as well as the people who remember the BS&T hit years.
This album actually began as a late-night jam session at Ornette Coleman's studio in Harlem and the first runthoughs sounded so good that david called up an old friend and collaborator from Toronto, Doug Riley, who is probably one of the best Hammond B2 players on the planet.
The repertoire came from David's own musical heroes--men like Albert Collins, Ray Charles, Willie Dixon, and Freddie King provided downhome blues; Henry Glover and Percy Mayfield (two of the best songwriters in the history of Black American music) are also represented here. And david himself provided four of his own tunes, including a revised version of "Lucretia MacEvil," and a new song, "Wish the World Would Come To Memphis," that deserves to become a classic.
The Clayton-Thomas voice is as rich and powerful as it ever was; the musicians (many from the current edition of BS&T) are as tough and direct and on the case as are the songs themselves. This is no period piece, no exercise in nostalgia. This is one tasy exploration of the blue colors of American music palette.
And it would be hard to imagine any other pop music singer in the last 40 years who could deliver these songs with the authority, passion and power that David Clayton-Thomas brings to a very special blues session.
--Richard Flohil

---
Return to the Discography Page
Return to the DCT-Solo Page
Return to the BS&T Main Page