---
David Clayton-Thomas
Solo
---
Before He was the voice of BS&T, David Clayton-Thomas had a rather successful singing and recording career in Canada with groups such as the Bossmen and his band the Shays. Really BS&T was only a fraction of his long resume. The following page includes a detailed history, followed by a discography.
---
David Clayton-Thomas Biography
In the spring of 1962, David Henry Thomsett walked out of Millbrook Reformatory with twenty dollars and a battered old guitar, and he never looked back. He was twenty-one and had been in and out of such institutions since age fifteen. As a homeless young runaway, he had been jailed a half-dozen times for vagrancy, parole violations, petty theft. While other teenagers in suburban Toronto were attending high school proms, David was a street kid, a loner, sleeping in parked cars, stealing food and clothing, learning how to survive and fight behind bars. He might have been trapped in the endle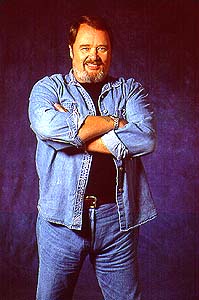 ss cycle of recidivism but for that old guitar. It had been left behind by an outgoing inmate, and David claimed it. He began to learn to play, practicing alone, late into the night, and for the first time in his life he had a dream, a plan for the future.
He left Millbrook tough and determined, vowing never to return. He came to Toronto, to Yonge Street, a rough, brawling strip filled with sex shops and bars, hookers and hustlers of every kind. Rhythm and Blues was the music of choice on "the strip". It migrated up from Chicago and Detroit and was adopted by the musicians of Toronto. The king of "the strip" was Ronnie Hawkins. The Arkansas-born rocker and his band "The Hawks" ruled Yonge Street. David would hang around the clubs just for a chance to sit in with "The Hawks" or to sing the Blues with Robbie Robertson and Levon Helm. Soon he was leading band of his own, "The Shays" and "Bossmen". To put some distance between this new life and his past, he changed his name to David Clayton-Thomas and soon began to attract attention in the fledgling Canadian music industry.
His first venture into the recording studio produced "Boom Boom", a John Lee Hooker blues which rode to number one locally. He then wrote "Walk That Walk" and "Brainwashed". Both rocketed to number one nationally. A top-selling album, numerous TV appearances, and hundreds of club and concert dates followed, and David Clayton-Thomas was known across Canada. Paul Anka, Canada's biggest international star, invited David to New York to guest NBC's "Hullabaloo". After this nationally televised appearance, David returned to Toronto. But New York had changed him forever. He took his band out of the lucrative bars on "the strip" and into the coffee houses of Yorkville, hangout for the artists, writers, and musicians of the Bohemian set. The money was lean, but here David could play along side the great blues men he worshipped: John Lee Hooker, Lightnin' Sam Hopkins, Son House, Muddy Waters, Willie Dixon, Sonny Terry and Brownie McGee.
His band soon drifted away. There was simply not enough money in Yorkville to support them. But David hung in, doggedly playing for whoever would listen, learning the music form the masters. John Lee Hooker took the young singer-guitarist into his band, and when he came to New York to play a Greenwich Village club, David came with him. When that gig ran out, Hooker left for Europe and David stayed on in the Village.
It was 1967, and the Village was a hotbed of creative activity. David roomed with other hungry young musicians, playing for pizza money, hanging out in all-night cafes, arguing music, politics and philosophy with the young active firebrands of the era, sharing gigs with Richie Havens , James Taylor and Jimi Hendrix, playing "basket houses", (play a few songs then pass the basket). Scuffling to survive was nothing new to David.
Word got around about the white blues player from Canada who sang and played with such conviction. Genuine stars began to show up wherever he played. One night folk singer Judy Collins dropped in and was deeply moved by the intensity of the young mans music. She told

her friend Bobby Colomby about the experience, and the next night they returned together. (Bobby was trying to hold together his faltering band " Blood Sweat and Tears". Even though the band's first album, "Child Is Father To The Man", had been released. The band was already torn by infighting over direction and leadership. Singer Al Kooper and several founding members had already left.) BS&T's drummer was stunned by what he heard that night, He immediately asked the young Canadian blues singer to help reorganize his failing band, and an American music institution was born.
BS&T's first album with David sold an amazing ten million copies and launched three gold singles, "You've Made Me So Very Happy", "And When I Die" and "Spinning Wheel". The album won an unprecedented five Grammy awards, including album of the year and best performance by a male vocalist. David's rendition of Billie Holiday's "God Bless The Child" became a classic. Five successive gold albums and three more gold singles, "Hi De Ho", "Lucrative MacEvil" and "Go Down Gamblin'" followed, and by 1972 BS&T's was at the very top of the music industry.
Blood, Sweat and Tears, daring and innovative, a fiery fusion of jazz and rock, blues and the classics. . . This superb band defied all boundaries, performing with consummate artistry in front of a symphony one night thousands of rock fans the next. BS&T played the Metropolitan Opera, the Fillmores, the Newport jazz Festival, and Caesar's Palace--all in the same year. It was the first contemporary band to break through the iron curtain with the historic 1970 tour of Eastern Europe, and of course headline at Woodstock, Madison Square Garden, Carnegie Hall and the Hollywood Bowl . . . Blood, Sweat and Tears was the hottest concert ticket in America.
From the beginning, BS&T was a strange hybrid. The Julliard graduates, with their classical training, felt the band should aspire to loftier musical goals, and Bartok and Satie became a part of the repertoire. The Berkeley grads were jazz purists, and long improvised solos became a part of the show. Others were pure rockers whose experience included "The Blues Project" and Frank Zappa's "Mother's of Invention".
Then there was David Clayton-Thomas. He prowled the edge of the stage, that big blues-drenched voice, totally unique, filled with raw naked emotion that no audience could resist. He drove the band relentlessly. Without him it was academic perfection. With him it came alive.
Yes in spite of the success and accolades, the old tensions and rivalries still existed in the band. Here lies the magic - - and the eventual downfall - - of the early band. The Julliard types, embarrassed by the hype of pop stardom, tried to steer the band in a more classical direction, disdainful of both jazz and rock. The Berkeley boys resented the structure of the classics and the simplicity of rock and pushed towards a more complex improvisational style.
David was the center of this musical tug-of-war. He possessed neither classical training nor a jazz background. But he was undoubtedly the star of the show, attracting most of the media attention and composing most of their hit songs.
Singer and songwriter David Clayton-Thomas had recently parted with Blood, Sweat and Tears, the U.S. band that had brought him international fame, and returned to Canada to star in three half-hour programs for the BCC. A filmed opening, shot by Ed Long, showed Clayton-Thomas being driven to the studio in a Rolls Royce, and seemed to demonstrate the production's attitude toward its star. The shows, each divided into studio concert, jam session, and production number segments, concentrated on Clayton-Thomas as a working performer instead of simply using him as the host to a number of guest performers. The show's band comprised both U.S. and Canadian musicians, including Ken Marco (guitar), William Smith (keyboards), Paul Stalwart (bass), "Spider Web" Rice (drums), Pat Rico, Sr. (alto saxophone), Keith Jollier and Steve Kennedy (tenor saxophones), Dave Cal dwell (baritone saxophone), Bruce Casey (trumpet), Ruses Little (trombone), and Bill Richard's (strings). Marco, Smith, and Kennedy had all worked in Motherhood; Jollier, Casey, and Little had all played in the horn section of Lighthouse; and Kennedy and Diane Brooks, the only other vocalist featured in the series, in a duet with Clayton-Thomas, had been part of Doug Raleigh's ensemble, Dr. Music. The show's arranger and conductor was Trevor Lawrence. The David Clayton-Thomas Show was created by writers George Mendeluk and David Slabotsky, and produced and directed in Toronto by Athena Casts.
By the mid-70's, BS&T was submerged in a wave of its own creation. Every record company had its horn bands: Chicago, Earth Wind And Fire, Tower of Power . . . Even the Rolling Stones carried a horn section. The founding members of BS&T began to drift away to pursue their own musical ambitions. The classical musicians went on to film scoring and teaching fellowships. The jazz players left to play pure jazz. One by one they were replaced with an illustrious lineup of renowned musicians: Joe Henderson, Jacob Pastors, Mike Stern, Larry Willies, Don Alias, Gregory Herbert. In concert, the band was a musical powerhouse, but inwardly it was in turmoil.

The unique creative team was gone, so the band took to the road, playing 300 concerts a year through the 70's. David left the band twice, exhausted by the brutal tour schedule and frustrated by the lack of creative time. In 1976, even Bobby Colomby, the sole remaining founding member, left to become a music executive, and David was the only one left from the glory years.
In 1983, David teamed up with hard driving young manager, Larry Door, formerly a tour manager with he band. Larry convinced David that there was still life in the once proud name Blood, Sweat & Tears, and that with the right musicians, good management, and strong leadership, it could once again be an attraction on concert stages around the world.
They recruited musical director/trumpeter Steve Guttman, graduate of Overlain Conservatory of Music, former musical director for the 70's recording stars Gloria Gainer and Eleven "Champagne" King, and alumnus of the Tit Punt and Machete big bands, and he assembled an exciting lineup of top New York musicians. With Steve conducting, Blood, Sweat & Tears began performing with prestigious American symphonies like the Detroit, the Houston, the Oklahoma City Symphony Orchestras.
Larry Door was right. A revitalized BS&T under his direction and David's leadership came storming back to the concert stages of the world, playing international jazz festivals, symphonies, concert halls and casino show rooms. David never sounded better. The personnel of the band stabilized, and BS&T once again delivered the same exciting diverse sound that made it such a welled part of America's musical heritage.
David Clayton-Thomas has returned to the studio and has completed his first solo album in a decade. Recorded live at Ornate Coleman's Harlem studio, David produced "Blue Plate Special" himself. A blazing collection of new original songs and classic blues tunes, it is music straight from the heart. This is David Clayton- Thomas as he should redirect and honest. The production is "Right in Your Face", with David's powerful vocals front and center.
Recently, David Clayton-Thomas was induced into the Canadian Music hall of Fame, where he tales his place along side his country's musical giants: Oscar Peterson, Join Mitchell, Neil Young-- artists of legendary stature around the world.
---
David Clayton-Thomas
LPs and CDs
David Clayton-Thomas & The Shays A Go Go (1965)
Sings Like It Is (1966)
(Click Record Covers for Album info)



David Clayton-Thomas!
(Deco 1969)


David Clayton-Thomas
(Columbia, 1972)


Tequila Sunrise
(Columbia, 1973)

Harmony Junction
(RCA 1974)

Clayton
(ABC 1977)


Blue Plate Special
(Stony Plain, 1997)
---
Singles
Barry Lee (CDT & the Shays) 1964
Walk That Walk (CDT & his Quintet) 1965
Take Me Back (CDT & the Shays) 1965
Out Of The Sunshine 1965
This Hour Has Seven Days (CDT & the Fabulous Shays) 1966
Brainwashed (CDT & the Bossmen) 1966
No, No, No 1969
Say Boss Man 1969
Father Dear Father 1970
Sing A Song 1972
Magnificent Sanctuary Band 1972
Yesterday's Music 1972
Anytime . . . Babe 1974
---
Return to the Solo page
Return to the BS&T Maniple