---
David Clayton-Thomas (Decca)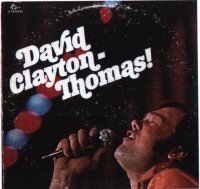 (1969)
Track Listing
I Got A Woman (4:35)
(Ray Charles)
Say Boss Man (3:05)
(Earl McDaniels)
Who's Been Talkin' (2:33)
(D. Clayton-Thomas)
Call It Stormy Monday (4:53)
(Aaron T. Walker)
Done Somebody Wrong (2:30)
(D. Clayton-Thomas)
Tobacco Road (5:07)
(John Loudermilk)
Boom Boom (2:35)
(John Lee Hooker)
Good Lovin' (2:10)
(L. Kirland/Danny Taylor-Jesemet)
Poison Ivy (2:10)
(Lieber and Stoller)
Howlin' For My Darling (2:32)
(Willie Dixon/Chester Burnett)
---
Lineup:
David Clayton-Thomas: Vocals
The Rest is Unknown
Chart History: Released in 1969 (Decca DL-75141)
---
At a recent BS&T concert, I asked David Clayton-Thomas about this record, and he told me that it was a fraud. Apparently about the time that BS&T was becoming popular, after the second album was released, a producer scoured Canada for unreleased Clayton-Thomas tracks and dubbed over them with a horn section, thus making them sound like Blood, Sweat, and Tears. I still like the album, checkered past and all, but that's an interesting tidbit of information.
---
Jeremiah Rickert writes:
I found this on 8-track and vinyl, and I love it. DCT's vocals are strong and rich, and the songs are a selection of some of the coolest blues songs out there. His takes on "Tobacco Road," and John Lee Hooker's "Boom Boom" are incredible. He's backed by a ripping horn section as well...excellent album.
---
Return to the DCT solo page.