---
Clayton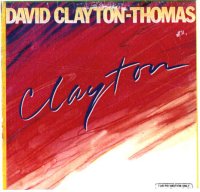 (1977)
Track Listing:
Laying Down Rock and Roll (3:59)
(Clayton-Thomas)
Fooled Ya (4:57)
(Clayton-Thomas/Smith)
Homeward Bound (4:03)
(Paul Simon)
Sweet Sixteen (4:20)
(Clayton-Thomas/Riley)
I'm A Free Man (4:23)
(Clayton-Thomas/Riley)
Liberated Girls Don't Cry (3:02)
(Clayton-Thomas/Riley/Smith)
Friday The 13th Child (3:35)
(Clayton-Thomas)
Professor Longhair (3:26)
(Clayton-Thomas/Smith)
Sugar Comes From Arkansas (3:18)
(Clayton-Thomas/Riley)
Drown In My Own Tears (6:53)
(H. Glover)

---
Lineup:
David Clayton-Thomas: Lead Vocals
Keyboards: Doug Riley
Drums: Bob Economou
Bass: Neil Stubenhaus
Guitars: Mike Stern
Percussion: Brian Leonard
Banjo: Hank Morris
Arco Bass: Murray Lauder
Trumpet: Randy Brecker
Trumpet: Guido Basso
Trumpet: Arnie Chycoski
Tenor Sax: Michael Brecker
Alto Sax: David Sandborn
Tenor Sax: Steve Kennedy
Alto Sax & Clarinet: Moe Koffman
Alto Sax: David Caldwell
Bari-Sax: Keith Jollimore
Trombone: Barrie Tallman
Bass Trombone: Bob Livingston
French Horn: Richard Berg
Mouth Harp: Jack Zaza
Strings: Dick Armin, Adele Armine, Paul Armin
Background Vocals: Bob McBride, Cal Dodd, Bob Farrar, Sharone Lee Williams, Debbie Fleming, Elaine Overholt, The Richardson Choir.
Produced by Jack Richardson

---

Chart History: Released 1978 (ABC AA-1104)

---

Jeremiah Rickert Writes:
This is probably my favorite David Clayton-Thomas solo album. Most of the songs are Clayton-Thomas originals, and they're really cool cuts, especially "Laying Down Rock and Roll," "Fooled Ya," "Sweet Sixteen," and "Professor Longhair." The guest musicians include both of the Breckers, David Sandborn, and veterans of Lighthouse Bob McBride and Keith Jollimore. A great record! "Laying Down Rock and Roll," would make a great BS&T tune.

---
Return to DCT solo page.