Steve Guttman Interview
ByJeremiah Rickert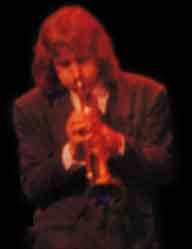 ---

Steve has been playing with BS&T for about 15 years, serving as the 2nd Trumpet and Musical Director of the group. He is the man behind the BS&T Symphony Shows. He agreed to answer a few questions for me.
---
JR: What is your background in music? How did you get started?
SG: I had the good fortune to go to public school in Irondequoit, New York (a suburb of Rochester) when an excellent music program was in place. I started trumpet in fourth grade and played in various ensembles until graduation from High School. These included wind ensemble, orchestra, and stage band. Our music teachers were great (Evan Bollinger and James Badger), the level of musicianship was quite high, and our school often did very well in state-wide competitions. By the time I was a sophomore the teachers were having me conduct from time to time; I conducted the orchestra for a couple of shows put on by the drama department, the pep band, and the stage band (jazz ensemble) for three years. There was also a private music school in Rochester called the Hochstein Music School where the "All City-All County Jazz Ensemble" was being led by Chuck Mangione, who was a professor at the Eastman School of Music at that time. I played in that band my last two years of high school. Chuck was a marvelous pedagogue and a tremendous inspiration to me. He would sometimes play his trumpet(!) to demonstrate things for the band, and I'll never forget his sound: clear, warm, and intimate. It was the first time I got the idea that the horn could be a vehicle for deeply personal expression. We played fantastic charts that he had written for the Eastman Jazz Ensemble, and a lot of Chuck's friends from the jazz world would sit in with the band, giving us close contact with some really heavy players. While in high school I also had a jazz trio in which I played piano and for which I wrote tunes. This kind of thing---leading a group---continued when I went to Oberlin College in Oberlin, Ohio. My freshman year there I started a group called the Oberlin Jazz Septet for which I wrote most of the music. At Oberlin I studied a lot of music (mainly theory, electronic music, and eurhythmics) in the Conservatory division of the school (although I was a Psychology major), and I studied trumpet with Gene Young. Junior year (1972) I spent one semseter in New York in order to study with Randy Brecker and Richie Beirach. When I came to New York after graduating from Oberlin, I had the good fortune to have more excellent trumpet teachers over a number of years: Carmine Caruso, Bob Summers, Bob McCoy, John Olivieri, and Vince Penzarella.
JR: Were you a fan of BS&T before you joined the band?
SG: Definitely! When I first heard BS&T (as a senior in High School in 1969), I was electrified. I loved the band, the arrangements, the playing, the singing, the entire conception. I played that record over and over and over.
JR: When and how were you recruited for BS&T?
SG: A sax player named Todd Anderson told me about some auditions that were going on. I went, and eventually I was asked to play with the band. This was in June 1985.
JR: You've apparently done a lot of work with latin music. Is that a genre that you have a great interest in?
SG: Yes, I have a great and enduring love for latin music. I have been lucky enough to play with some of the greatest latin bands ever (Machito, Tito Puente, Larry Harlow, Louie Ramirez, Hector LaVoe, Ray Baretto) and with some of the greatest latin musicians. I always jump at the chance to do a latin gig because I really love the music.
JR: I've noticed there's a Latin vibe in the instrumental interlude of "God Bless The Child" as it's been played in the live show, did you have something to do with that?
SG: No. This is based on the original recording.
JR: Do you have any influences as a trumpet player or an arranger?
SG: As a trumpet player, I suppose you could say that my major influences have been Miles, Lee Morgan, and Kenny Dorham. As an arranger, Nelson Riddle and Billy May.
JR: You have been the "muscial director" of BS&T for quite a while now. How did that come about? Did you have previous experience as an MD?
SG: Yes, as things turned out I have had quite a bit of experience as an MD. Besides the stuff I mentioned in my school years, my professional career in music has always consisted of a combination of playing, arranging and conducting. When I was playing in latin bands, for example, I did quite a few arrangements for the bands I played with (mostly Angel Canales & Sabor and Larry Harlow) as well as for other bands on the scene. When I was working with the disco singers Gloria Gaynor, Evelyn
"Champagne" King and Viola Wills, I often ended up writing out charts for the band for one reason or another. Sometimes I was hired specifically to do these things; other times the charts just needed to be repaired or improved, or the personnel in the band changed radically and new charts had to be written. This is basically what happened in BS&T: as the personnel changed over the years, my longevity became an asset, and I began to help by keeping the charts organized, contracting new players, scheduling and conducting rehearsals---that kind of thing. When I was on the road with a touring company of the Broadway show "Bob Fosse's Dancin'" (for 14 months in 1981 and 1982), the conductor left suddenly and I was asked to take over as conductor/musical director---basically a twist offate.
JR: Did you write the charts for the classic BS&T songs that are played in the live show, or are those still being played the same as they were 25 years ago?
SG: These are still very close to the original arrangements.
JR: Is there anyting in the BS&T catalog that you'd like to arrange and have the band play that you haven't been able to do much?
SG: Not really. The songs currently inour repertoire are quite challenging and rewarding to play.
JR: I've heard a concert from 1986 where the band opened with "I Can't Quit Her," which I thought sounded pretty darned cool. Any chances of hearing that songagain? I've always thought that could be adapted for the symphony shows.
SG: Yes, we used to open our set with "I Can't Quit Her", and it would be a good one to do with orchestra. Right now, however, we barely have enough time to rehearse the songs we do have arranged for orchestra at the 2 1/2 hour rehearsal generally allotted to us. So it'll probably be a while before you hear that one again.
JR: Speaking of the Symphony shows, when and how did those come about?
SG: These re-started (after a long hiatus) in 1990. The band had played with orchestras years before, but no one knew where the charts were, so we had to come up with some new ones. I volunteered, since I seemed to be the only guy in the band at the time with experience writing for strings and full orchestra. After Clayton and I discussed how to approach the project, we decided to try to utilize the orchestra as a co-equal ensemble with the band, a collaboration of two equally important ensembles, rather than to use the orchestra just for background pads and stuff like that. Because of the eclectic conception of the original songs---the "fusion" approach---a lot of the songs (and their arrangements) seemed to lend themselves to this. I tried to construct the orchestra arrangements around the original band arrangements, using melodic, rhythmic, and harmonic elements from them as building blocks.
JR: I'm a fan of the composer Aaron Copeland, and the symphonic arrangement you wrote for "And When I Die," seems to have a bit of a Copeland sound to it. Would you count him among your influences?
SG: Yes, Copeland was definitely on my mind while I was writing that chart.
JR: Any others?
SG: Some of my favorites are Prokofiev, Stravinsky, Tchaikovsky, and Richard Strauss.
JR: Do you think that the educational pedigree of the original BS&T composers and arrangers made the expansion to a symphony setting a logical step, rather than an incredibly difficult task?
SG: I don't know if it was their educational background or their innate talent, but their brilliant and inventive work made a great
point of departure for the orchestra charts.
JR: What kind of reactions have you had from some of the more presitgious symphonies in the country?
SG: Very positive: enthusiastic, cooperative, thoroughly professional.
JR: Have many of the symphony musicians professed to be BS&T fans?
SG: Quite a few come up to me at every symphony concert to tell me how much they have loved BS&T. They seem quite sincere and thrilled to be playing with us, just as much as we are thrilled and honored to be collaborating with them.
JR: You just added "You're the One," to the symphony set list. Have you had a chance to perform it yet?
SG: Yes, we have performed it twice: with the Louisville Orchestra and the Knoxville Symphony Orchestra.
JR: You've been with the group for about 15 or so years, which is longer than anyone else has stuck with the band except for DCT of course. How would you rate your time in the band?
SG: Playing with BS&T and working with Clayton has been---and continues to be---a great experience. I'll always consider myself lucky to have been part of this band's history.
JR: You and the rest of the guys played on Bloodlines. How were those sessions?
SG: It was a thrill to be in at the beginning of a new project---especially when it involved new songs by David Clayton-Thomas. There was an electricity in the air, a camaraderie, an excitement.
JR: Was it wild being around with guys like Randy Brecker and Lew Soloff and the rest?
SG: It's always a great pleasure to see Randy and Lew, two of the greatest trumpet players alive in my book, and great heroes of mine. The arrangements (By Doug Riley and Tony Klatka) were tremendous, and a lot of fun to play.
JR: Are there any tunes from Bloodlines that you'd like to add to the live show?
SG: All the tunes are really great. It just depends on what Clayton wants to sing and what he feels would be good for the live performance repertoire. We are also constrained by time considerations: to add new material would force us to leave something out which a lot of people are counting on hearing.
JR: DCT told me that Jon Owens just returned from a Broadway gig and Dave Stahl headed to one. Have you done any work on Broadway?
SG: I was lucky enough to do one broadway show: Damn Yankees (1994-95). The other two trumpet players in the band were fabulous and really inspirational to me: Dave Stahl and Danny Kahn.
JR: That's about it, thanks for your time, and I look forward to seeing the band again. You need to do the Seattle or Oregon Symphony again!
SG: I'd love to do more concerts with both of those orchestras! Thanks for your interest.
JR: Which pursuit do you prefer---trumpet playing, arranging, or conducting?
SG: I really love all three, and I'm very grateful to have had the chance to do all three throughout my career.

---
Back to the Interview Index