---
BS&T Band Members Interviews!

---
I've been fortunate enough to have the opportunity to interview a number of BS&T members, past and present. Here is the first bunch. There will be more to come. I've been in contact with four more former BS&T members, so watch this space!
---
Click The Picture of the Person whose interview you want to read.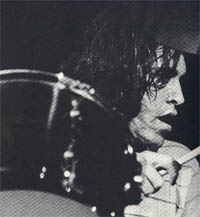 Bobby Colomby By Jeremiah Rickert
Founding Member, played Drums from 1968-1977,
Producer and Record Exec.



David Clayton-Thomas By Jeremiah Rickert
Lead Vocalist 1968-72, 74-Present. Still Fronting BS&T.




Jim Fielder by David Callow
Bassist, 1967-1973 Founding Member



Steve Guttman By Jeremiah Rickert
2nd Trumpet/Musical Director 1985-Present




Ron McClure By Jeremiah Rickert
Bassist, 1974-1976
Solo Artist and Professor of music, NYU.




Georg Wadenius By David Callow
Guitars/Vocals 1972-1976
Three-Time Emmy Award Winner




Tony Klatka By Jeremiah Rickert COMING SOON!
Trupmet/Arranger 1974-1978




More to Follow Soon!

---