An Introduction
to Larry Marder's
Tales of the Beanworld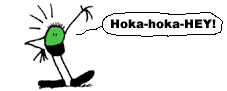 A most peculiar comic book experience.
---
"HOO-HOO-HA
and a
HOKA-HOKA-HEY!"
I'm Mr. Teach'm. You'ze might be unfamiliar with this Beanworld. Let's see what we'ze can do to introduce you.
Lots of folks who stop by here have questions. Here's a few I'ze gets a lot.
---
So what the heck is the Beanworld, anyway?

The Beanworld is unclassifiable.
It's a comic book, but it's unlike everything else. As its creator puts it:
This ain't 'jes another funny animal comic book!

Heck no! Beanworld is different. It's a weird fantasy dimension that operates under its own rules and laws. Beanworld is about the affinity of life. All the characters, whether they are friends or adversaries, understand that ultimately they depend on each other for survival.

It's not just a place, it's a process!
---
What are these things on this page?

They're Beans, the inhabitants of the Beanworld.
The story follows the Beans as they live, learn and explore.
For a taste, here's a page from issue 5, The Float Factor.
---
So what's this?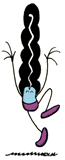 This is the BeanWeb!
It's an introduction to and celebration of the Beanworld.
There are all sorts of things here:
character information,
issue summaries,
Do-It-Yourself Beanworld,
a Beanworld glossary,
links to other Beanworld resources on the Internet,
and a lot more!
For best results with a graphic browser,
allow the page to set colors, or use a pure white background.
---

All copyrights reside with Mr. Marder. "Beanworld" and "Tales of the Beanworld" are trademarks of Larry Marder.