From Oregon
Volume 3, Number 1: Spring 1998
Here I am in Corvallis, Oregon.
It's almost summer, and here I am just starting on the latest issue of From Oregon. All things in their time.
Actually, it's not a bad time to start this. I'm in the middle of two or three other projects, there's only one day's dishes in the sink, laundry was done two days ago, and my checkbook balances. My desk is neater than it's been in a while.
---
Okay, here's the big news: my employer and I parted company in March. About the best face I can put on it is that the feeling was mutual. Over the course of two years, I watched the company's slogan "Do the Right Thing" become an empty platitude.
For me, working there came to a head on a day in February. The project team was frantically trying to get a beta release out that afternoon. Late that morning, I was told that someone in town had been gay-bashed. A rally for him was planned downtown that afternoon at four.
This put me in a quandary. We needed to get that beta out, but there was no way I wasn't going to the rally. In the end, I asked myself the question "What's more important: this job, or taking a stand against violence, prejudice and ignorance, and for civil rights?". With the answer in hand, I walked into my supervisor's office and told him of my dilemma. He responded that the beta had been pushed back several days anyway, so go to the rally.
What didn't hit me until later was that he didn't say "Go to the rally.". It was okay to go to the rally because the beta wasn't going out.
To me, this was a case of not "doing the right thing". Over that, and a number of other issues, we parted ways.
---
So I'm unemployed. It's not a bad thing. Just before I left I exercised all the stock options I had and took home a decent lump sum. Since I live reasonably frugally, I've been able to put aside a pretty good amount. I could take the next year off without a problem, though I don't think I will.
This leaves open the question of what I want to do next. I'm pretty sick of the software business. Watching Rogue Wave cut corner after corner to satisfy unrealistic schedules was very frustrating. What was funny was that the stock lost half its value not long after I left. After cutting testing to get a product out, they still didn't make their projected earnings. C'est la guerre.
What would I like to do? I'm not sure. I'd like something that involves computers but doesn't always require the latest and greatest. I must be dreaming. Something that has a social conscience would be nice. Then there's always travel.
---
This trip actually happened in December, when I was still working. Goat and I spent a week together on Short Mountain, and I took a side trip to Atlanta to see my good friend Ryland. It was a great to see Goat again. We worked on the house when we could. We even went to see Titanic together. My favorite moment in the movie came when we first see the grand staircase. Goat leaned over and whispered that the paneling wasn't period. This is one of the reasons I love him. Who else would notice?
Somehow I ended up lugging too many books back from Atlanta. How did that happen?
While I was gone, it had snowed on the mountain. I returned to a world of white, and tossed a snowball to (not at) Goat.
---
Getting back into the Portland airport on Sunday night was a frantic experience. My friend Cary was flying in as well, and we needed to catch the 11 PM shuttle to Corvallis. My flight ran late and got in about 10:50. Cary met me at the gate, and we hurried to baggage claim, but my bag didn't arrive in time. We made it to the shuttle in time, fortunately.
Cary and I spent the next few days hanging out. We went to more movies in a few days than I'd ever seen, including Jackie Brown and As Good As It Gets. It was unusual to walk into a theater without even knowing what was playing. Cary likes to do things, so it got us out of this small apartment.
On New Year's day we drove down to a hot springs outside of Eugene. There was snow up in the mountains. We hiked into the springs and settled in. There were a few people there soaking, and one guy who was redoing the rocks in one pool. I assumed he was hired by the Forest Service or something.
After a while (an hour? Two?) I took a walk. On the way back there was shouting near the pool. The active guy stomped by me up the trail. As I came into view, some people in the pools started yelling "Get out! We don't want you here!". I was totally confused. I pulled down my rain hood, and people realized that I wasn't the guy who had just left. There had been an altercation and he had pulled a knife. Nobody was hurt, but it put a weird spin on the new year. It was all uphill from here.
I settled back into the hot water, letting the cool rain fall on my head.
Cary later kept me calm and focused during an important call to my HMO. More on that later.
---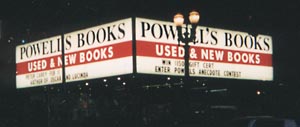 Beth and Eric made a return visit to Corvallis over Presidents' Day weekend. There was much good time spent. On Sunday we headed up to Portland and they were introduced to Powell's Books. Our visit was far and away the longest I've ever spent in there. While Eric and I wandered around, Beth methodically made her way through the long SF/Fantasy section. After a while she was sitting on the floor, checking out books. When she was done with one set of shelves she'd just push the handbasket down a few feet. It was amusing.
By the time we were done, they'd filled to overflowing two hand baskets. It might have been better to have a grocery cart. The bill was rather astounding ($286.37!), but not bad when you consider it was for over fifty books. Even the check-out clerk was impressed. When the alarm went off as we were passing through the exit, they just waved us through. The prospect of de-rezzing all those books again must have been too daunting.

After that we walked down the street to the 24 Hour Coin Operated Church of Elvis, but it was closed. We'll get there eventually! Really! I promise!
It was great seeing them again.
More pictures:
(Photos ©1998 Eric Zuckerman, of course.)
---
So - travel!
Last year I went to the Texas Bear Round-up II in Dallas and had a surprisingly good time. Now that I had some time free... yes, it was time to go for III. The only problem was that it was college spring break, and flights to Dallas were extortionately priced. Even horribly inconvenient flights to Oklahoma were bad.
That left one small chance. I'd been corresponding with someone in Atlanta. Perhaps we could go together from there. I called Hal, and to my surprise he said yes. So we were off on an adventure: visiting Atlanta, then driving to Dallas for the event. Little did I know.
The other great thing about going to Atlanta was getting to see my good friend Ryland again.
My flight to Atlanta was a red-eye that got in around 6 AM. Oogh. It was impossible to catch more than a few minutes of sleep at a time. Hal was at the gate, and we finally met after corresponding for a few months.
The first order of business was either a nap or food. They were both important, but I can't remember now which was first. I was zonked from the trip, a state which lasted for several days. One of these years I'm going to go to a Round-up fully rested.
That afternoon Hal and I drove to Athens (home of the B-52's and R.E.M.) to get a bathing suit for me. It wasn't just any old suit; this was a nineteenth century style striped men's two piece suit. It was worth the trip. I was ready for the pool party in Dallas!
Hal and I had dinner with his friend Greg and my good friend-of-many-years-and-cities Ryland. Ryland and Hal spent some time talking shop, and Ryland regaled us with stories from his workplace.
I was itching to get on the road early, but Hal didn't fit my pace. It was a long drive (800 miles), and I wanted to have as much leeway as possible. I didn't realize that Hal was such an experienced driver until he started thoroughly checking over the car (a Ford Taurus SHO - the one with the monster engine). After that I relaxed somewhat. We got on the road a bit after 9 AM and drove almost non-stop, using the time to get to know each other better. The most noteworthy occurrence came at a gas station on the way. When we stopped I strongly smelled gasoline. The pump nozzle in a nearby car was overflowing, and gas was spilling onto the pavement. It was quickly stopped, but I was glad to get out of there.
We made it to Dallas and the Bear Round-up in time to get registered, and then went up to the hospitality suite. The elevators were actually working this time around.
The big surprise of the evening was my friend Tom. His beard had been severely denuded! Apparently it had something to do with a friend of his in hairdressing school. It was on its way back, though.
That night I caught up with most of the people I wanted to see again: Tom, and Charles, and Scot, and Nigel, and - well, the list was long. That evening I stayed with Gordon, my host last year. I was still zonked, and slept downstairs in the living room on an air mattress - a wise choice.
Saturday morning had the traditional big breakfast buffet. We got there late but had a good time. The rest of the day is something of a blur. I remember computer shopping and the Bears Online party. Somehow I missed the pool party for the second year in a row. Dinner was Hal, me, Ogham, Charles, and Brian. On Brian's recommendation, we went to a place which served fantastic steak. It was incredible.
Quote from that afternoon, from a guy changing his clothes:
These aren't my sister's - these are my mom's.
After that, we went over to the gay neighborhood and hung out. Brian had to go to work tending bar, and the others wanted to try some microbrews. I hung out in a book store, and then just on a street bench, watching the crowd. After a while I was approached by a friendly young man who eventually engaged me in a theological conversation. Neither of us was able to budge the other.
Later we went over to the Eagle (or was that Friday night?). Eventually we got back to the host hotel, where I lost track of Hal. I ended up crashing in the house of a friend of a friend.
Ahh, Sunday! The morning bear feed at the dance bar! It was more crowded than the previous year. Eventually everyone else trickled in, and we all found out where the others had been the previous evening. That's one of the things I like about events like this; you're arranging the weekend moment by moment.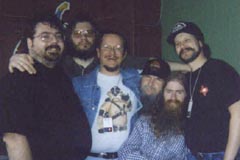 Bears at brunch
Tom, Wayne, Jim, Hal, Mark, Scooter
[Image courtesy Gordon E. Peterson II]
Charles entertained us with Welsh tales over brunch barbecue.
That afternoon was the Bear Beer Bust at the Hidden Door. They've got a huge outdoor patio which is great for us non-smokers. We spent hours there, and I was definitely over my zonkiness. Instead I was on overload. It was okay, though. The main reason I went to Dallas was to see friends I'd made the previous year. I was able to give someone an extended lesson in beard appreciation, though.
Finally, everyone in our group got together for dinner. We went to a place which specialized in regular food - meat loaf, beef brisket, etc. - but they did it very well. It was great to see Jean (Tom's wife) again, too.
By this point Hal wanted to head back to Atlanta, rather than waiting until morning. So off we went, driving back through the night with a mixture of memories.
Hal drove until the sun was up. I was supposed to spell him, but he looked at me and we got a hotel room. After a few hours' nap and showers, we were ready to get on the road again.
As we crossed the Mississippi, we were both hungry. Hal drove us to one of the floating casinos on the eastern shore. We had a cheap but good buffet lunch in the restaurant, and then Hal showed me the casino proper. I've never been a gambler; the odds aren't in my favor. In the end I broke down and tried one of the slot machines. I didn't win.
What surprised me was how subdued the place was. Granted, it was early Monday afternoon, but the place was dead. The few people at the slots just sat there. Drop coin. Press button. Repeat. Even video games were more interesting than this! Nobody looked like they were having any fun except Hal and me.
Later, a headlight went out. We stopped at a station to get a replacement. The young clerk behind the counter asked if I was part of the Rainbow family. I politely said no, and went to the bathroom. When I came out he was enthusiastically talking with Hal about tattoos. He showed the 5" sun he'd "just had done", and Hal showed his impressive backpiece of a tiger. Point to Hal on that exchange.
Hal later saved our bacon with some fancy driving to avoid an unexpected road hazard. He's good!
We got in and went to bed, I think. I was tired.
Did I jinx Hal's car unintentionally? First the headlight, then...
We went out and got breakfast. Then we got my stuff together and prepared for my departure. When we got to the car, we found the battery dead. A jump got us going. A few miles later, a tire blew out. I got to the airport without a problem, but it did make me wonder if I was a bad influence on the Taurus.
So I left Atlanta. Hal and I had not only spent 1600 miles together, we were better friends than when we started. I got to see almost everyone I wanted in Dallas, and Hal made some good friends too. Yup, it was a good trip.
---
The next trip I took was to New York and New England, to see family and friends. Two weeks was almost enough time to squeeze in everything.
Living in Tennessee and Oregon made me see New York in a different way. The best example of this came one day when I was walking downtown. The road passed what probably used to farmland but was now forest. I'd never thought about it when I lived there, but this time I looked at the forest and thought "That's second or third growth". There were a lot of crowded young trees and no mature ones. Rather than just seeing "forest", now I saw the history of the land: a farm that disappeared, its fields reforested.
Walking around downtown Goshen was wonderful. There are so many beautiful houses there from the last century: painted ladies, Georgian, all sorts of styles.
I spent some time with my parents, and some with my brother's family. My oldest niece is now over her pogonophobia, I'm glad to report. They've also added another girl: Allison.
My parents were kind enough to loan me a car for some side trips. The first one was to visit my friends David and Pete in southeastern NY. Dave and I met in a diner, and we hung out that evening. The next afternoon we had lunch with his folks and friend Susan. Dave's mother is the queen of tangents. We had to stop her a few times and nudge her back to the main thread of her story, which had something to do with being locked out of the house.
Later that afternoon, I headed north to visit Pete. We caught up and had a good time just hanging out and going to dinner. Then it was back home for a day and a half.
On Monday I headed to Albany for four days. My first stop was my former workplace, the Department of Social Services. There I had lunch with Cathi and Mark, and found out that nobody knows what's going on there. Every time the top brass turns over, projects get canceled without notice. A project Mark was working on when I left for Tennessee had been scrapped after they had a working prototype. The people there were doing well, though. I spent the better part of three and a half hours visiting with them. It made me late for my meeting with Mardi, my host for this visit.
It was as if I never left. We went off to Jeff's Pizza and met Ellen. The next few days Mardi and I hung out, talking about this and that and doing whatever came to mind. We had fun riffing on adjectives that end in -ical. (Take the word "graphic" - an adjective - and add -al to get "graphical", which is redundant.) We had a terrifical time walking around Thacher Park and visiting places around town. I picked up a new backpack from Tough Traveler to replace the slowly dying one I've had for years.
Somewhere in there we ended up discussing Carpool Tunnel Syndrome, which is what happens when you get stuck in the middle of rush hour. Oh - never mind.
The oddest moment was seeing someone working at Borders who I think was someone I knew in college. I remember him as being opinionated to the point of abrasiveness, but this person was working at the information desk. Hmmm.
There were lots more visits and meals with Brian, Hope, and Stefan.
Lunch with Spencer and Mark G. was a surprise. When I showed up at Mark's office, there were two people I'd worked with at the Department of Social Services. Tom P. and I finally discussed Richard Brautigan's Trout Fishing in America, which he'd recommended years ago.
The best part of the trip, of course, was visiting everyone.
The low point of the trip came when I finally visited the ever-expanding Crossgates mall. Coming down an escalator, there was a store that had humorous bumper stickers on display. One of the first I saw was:
QUIT HONKING, I'M RELOADING
That one just got to me. Why didn't it come right out and say "I WILL KILL YOU"? I turned around and left the mall, depressed. After a final dinner with friends at Jeff's that cheered me up, it was back to Goshen for a day.
It had been years since I was in Massachusetts. Myth was my host, and I spent the better part of four days with him. It was a nice, reasonably quiet time where the two of us got to catch up on what's happened in our lives.
We had dinner with Frank Hunt one night, and later we went to see Lost in Space with Frank and Holly. It was fun to do an MST3K on it, since the theater was almost empty. "Evil nose, evil!" The movie itself was just like an episode of the original series - about 23 minutes of enjoyment. I'm still trying to figure out the physics of the "dive into a shattering planet gravitational slingshot effect" maneuver.
On March 19, over dinner, Holly came up the following quote:
The Science Center employs a large number of folk of unusual lifestyle.
All I could think of was The Princess Bride's ROUS (Rats of Unusual Size). So Myth and I were FOUL, were we? Hmm...

That evening she presented me with a lovely print she'd done of a longhaired, bearded deer centaur. However did she know?
The most amazing event was having Sunday brunch with elusive Kelly Hoffman. Yes folks, I can attest to the fact that she's still alive and happy with Uncle Steve. It was good to see her (and everyone in Worcester!) again.
After a final lunch with Myth and Alex, it was time to return to New York.
Within two minutes of arriving back in Goshen, I was on the phone to my friend Sonia. She keeps me informed about my friends from high school. We made plans to get together the next evening. As soon as I got off the phone my mother told my brother wanted me to have dinner with his family the following night. Amazingly, I was able to do both of these. After a good dinner with Marty & Ann, Sonia and I talked until well past midnight.
And the next day it was time to go home again. Or to one of my homes. Goshen, Short Mountain, and Corvallis all feel like home. I'm fortunate to have three.
---
This seems to be my year for getting sick. First it was January, with a cold that wiped me out for a week. I could barely get out of bed. Fortunately, it only lasted a week or so, and I was back to normal pretty quickly.
A week after returning from New York, I got hit again. One cold in a year is unusual; two is darn rare. But down I went again.
This time around was a bit different. I had a variety of symptoms, but the worst one was lethargy. Even after I wasn't feeling particularly ill, I had very little energy. Riding my bike a few blocks to the grocery store would tire me out so much that I had to lie down. I got to know the NPR schedule well. I read books. I played on the computer a little, though I didn't answer email much. Finally, the apartment started driving me nuts. I'd been in it so long it gave me cabin fever.
That lasted for several weeks. It took a long time to build my energy level back up.
Once again I learned what having good friends means. Several friends made sure I got chances to go to the store. Thanks, friends.
---
Would you like to own a bagel shop here in Corvallis? You can!
The owner of the local bagel place, the Kinetic Bagel Institute, wants out of the business. He's holding an essay contest, and if he gets enough entries the winner gets the place. It costs $125 to enter the contest, though most of that will be refunded if he doesn't get enough entries. The subject of the essay is "Why I Want to Own a Bagel Shop".
C'mon, enter today! Corvallis is a great place to live. Check out the rules. (The contest ends in a few months, so this link will eventually be dead.)
---
I have a new bike. It's a bright red Gary Fisher Wahoo that's a lot like my previous bike. That one, a lovely blue Tassajara, was stolen downtown one evening while I was watching the movie Boogie Nights. My brain must have been clouded that evening, since I only locked the front wheel. I've still got it.
That evening, the police told me the statistics for bike recovery. By the next afternoon I'd ordered the Wahoo, and it was ready two days later. The only unfortunate thing is that I can't find a bell similar to my old one.
It hit me soon after the theft that buying a new bike every year or two is still a lot cheaper than owning a car. Once the new bike was ready I quickly stopped peering at every blue bike on the road to see if it was mine. I got over it surprisingly quickly. I'm locking the Wahoo more securely too.
I didn't like the movie, either.
---
There are two, actually; they're variants of each other.
I'dn't've and I'd'ven't
They're the longest contractions I've seen. The first is "I would not have" (= I wouldn't have = I wouldn't've = I'dn't've) and the second is "I would have not" (= I would've not = I'd've not = I'd'ven't). Serial contractions are colloquial, but don't violate any rules of English that I know of. If they weren't real words, I'dn't've mentioned them!
---
There's a partial explanation of why it took me so long to recover after the last cold. Two weeks ago a blood test showed elevated blood sugar, and I was diagnosed with type I diabetes. It's a complication of cystic fibrosis. My pancreas has been slowly digesting itself, and its ability to produce insulin has finally dropped below the level needed to be self-regulating.
That's the bad news. The good news - well, there's a fair amount of it. I don't have any of the risk factors for complications (high blood pressure, obesity, high cholesterol, poor health habits). My brother - hey Marty! - is a pharmacist and certified diabetes educator. I'm finally starting to deal with my phobia about needles. It took me a few days to stop quietly freaking out, but it happened.
I'm not on insulin yet, but will be eventually. The biggest change in my life right now is diet.
Once again I owe a big THANKS to all the people who've really helped me: George, Julie and Lars (the unofficial Corvallis MLI Support Squad!), Goat, Marty, and Ryland. You are the best.
---
Last year I had a series of dreams of performances by some of my favorite musicians. Lately I've been waking up from dreams with odd words in my head.
25 May - A dream on the rocky Mediterranean Coast. In that clear light, a gracefully curved ceramic boat dock is built by slave labor. It looks like a spinnaker's sail with a small shelf just above the waterline for boats to dock at. Its off-white surface is painted with striking geometric figures in ochre and black. It is an abaque. I have never heard the word before. When awake I look it up; it is apparently French for "abacus".
31 May - I do not remember the dream but the word remains: buttertooth.
19 June - A butler's name: Malmlimby.
In what might be the last hurrah from last year, I had a nice dream recently of chatting in a garden with the SF author Robert Silverberg. When I woke up I realized the guy didn't look anything like him, even though it was.
[Added 21 June] The Dream Performance Series seems to be reviving. This time around it was being gofer for the Grateful Dead, though no one seemed to have anything for me to do. The dream ended just as they went on stage.
---
Warning: HMOs can be dangerous to one's health. Specifically, Pacificare.
That's my experience. It started last September when I sent in a prescription for Creon 20, the digestive enzyme I take with meals. Normally, going through the mail order pharmacy takes three weeks. This time, it took three and a half months.
It all comes down to the fact that there's a generic equivalent to Creon 20 available now. The HMO's policy, if there's a generic available, is that the patient either takes the generic or pays for the difference. That's what they wanted me to do - about $570 worth. This started a long series of phone calls.
My doctor didn't want me to take the generic, since they've had bad experiences with their patients not tolerating it. My weight is low to begin with - I'm 5'6" and about 109 pounds, on average - and it's not the kind of things you want to take chances with. They faxed a letter to the HMO requesting an exception from the generic-or-difference policy.
After literally a month and a half, I'd gotten several different stories from Pacificare. They beat me down, and I finally asked my doctor for a prescription for the generic. By now it was late November or early December. The drugs didn't arrive, and I called to find out what was happening. I was told that the pharmacy was out of stock on the generic, and that they didn't know when they'd get restocked.
In the end, I was told that Creon 20 was covered after all, because "the generic is so hard to get".
By this point I was traveling to Tennessee to see Goat. I asked them to ship the drugs there, but they didn't arrive while I was there. When I got back to Oregon, a friend helped me calm down and greatly assisted me in making the final phone call to Pacificare.
The order of Creon 20 was finally shipped. It arrived in Tennessee in mid-January.
I recently sent in a refill order. I called Pacificare to make sure that everything would go smoothly. Their representative repeated the generic-or-difference policy, and it looked like I'd have to start at square one again. My doctor faxed them the letter again. After three days of phone calls it worked. They got their petty revenge by removing the discount for mail order.
It's just crazy that one prescription took three and a half months before it was filled and delivered. I ran out of the drug in the meantime. Is this what managed care is about? If this happens again I'm going to end up in the hospital, which will cost the HMO a heck of a lot more than $570. In a month I change HMOs. Wish me luck.
---
(By now I have to look at my notes to remember which trip this story came from.) I was flying home to Oregon from Atlanta on a jet with three rows of seats, sitting in the left aisle seat of the middle section. Just a bit behind me by the windows were a 30ish woman and a 13ish girl. They weren't flying together, but they got into a great conversation. The older woman had a great knack for drawing the young woman out. It was a pleasure listening to them talk.
Not too long before the in-flight movie, they were talking about Romeo and Juliet. The older woman asked what Romeo's friend's name was. Neither could remember, nor could I. I haven't read that play since high school, but I felt that I should know this. It drove me crazy for a while, but I eventually was able to concentrate on the book I was reading (James Tiptree Jr.'s Crown of Stars).
Oddly enough, there was a story that was a pragmatic fairy tale of two star-crossed lovers. Instead of their families keeping them apart, it was their governments. Somehow, reading this story must have resonated with Shakespeare's doomed lovers - Mercutio! Romeo's friend's name is Mercutio!
Now how do I tell them? The older woman was asleep, and the young lady was looking out the window. I really wanted to pass a note to her so that she could surprise the other, but I couldn't get her attention. Just as I was about to throw a folded-up note over to her, a waitress woke up the woman in between us. I passed the note to her instead, and we had a laugh.
---
Two months ago one of the celebrity magazines in the supermarket checkout had Leonardo DiCaprio on the cover. I was standing there, not really paying attention to anything until the thought hit me "Isn't he dead?". It was as if he'd already died from a drug overdose or car crash - you know, a celebrity death that cements one's fame. Needless to say, the thought really woke me up. Is this the price of fame?
---
This section will be tiny this time around. If you want book reviews, go to my Web site; you'll find reviews of every book I've read in 1998. There are some random album reviews linked from the CD catalog page as well.
Here's a funny thing. While talking one evening with a friend, I was idly looking at my bookshelves. The spine of the paperback of Nancy Kress' "Beggers in Spain" caught my eye. Hey, I thought, that's not how you spell "beggars", is it? I pulled it down and looked at the cover. Sure enough, the spine misspells "beggars"! Ms. Kress must have been thrilled when she found out. Hey, Tor Books! Get an editor!
So here are some recent recommendations:
---
Some thoughts bear repeating.
What we have we prize not to the worth
Whiles we enjoy it, but being lack'd and lost,
Why, then we rack the value, then we find
The virtue that possession would not show us
Whiles it was ours.
"Much Ado About Nothing", Act 4, Scene 1
Je t'aime toujours, mon buc.
---
Goat's working on the roof of his house now. It's happening.
---
Previous: From Oregon vol. 2 ··· Next: From Oregon vol. 3 #2