From Oregon
Volume 3, Number 2: Fall 1998
Here I am in Corvallis, Oregon.
Here's to the folks at DSS who still read this newsletter and send their encouragement. Cheers folks!
---
27 July - A flashback to 1997's Dream Performance Series. In the overgrown front yard of a two-story house, Teller (of Penn & Teller) provides me with a running commentary on a magic performance by magician and debunker extraordinaire James Randi.
---
Or, The Return of Pudding
Monday's to-do list:
Get prescriptions at hospital
Meet Glacier & pick up car
Get CDs on order
Drive to Portland for CF appointment
The day started fine. The sky was blue, the humidity was low, the temperature was temperate. No problem.
Had breakfast, took the last of my diabetes medication, did therapy. Went downtown, got the mail (nothing important). Took the bus to the hospital. I'd called to get the prescriptions the previous week. Had to take the bus with the long route, since I'd misremembered the schedule of the good one. At the clinic, they couldn't find the prescriptions. They had mailed them, though I hadn't received them. After waiting half an hour, they gave me several weeks' worth of samples. I wasn't in a good mood.
Tried to call Glacier, who was working. The number I had was wrong, and it took a while for the receptionist to find his number. Eventually we connected, and he came and picked me up.
From there I headed downtown. Got some CDs on special order: Blondie's Eat to the Beat and The Vapors' Anthology. The Vapors CD had the entire album with "Turning Japanese"[1]. The Squeeze CD I wanted still wasn't available yet. But who cares? Swag was here!
Got lunch makings and gas and hit the road. With tunes cranked up, flew up I-5 to Portland. Got to the hospital with plenty of time. Ate some lunch in the parking garage.
Went into the hospital to find that my clinic had been moved. It was now located in the new children's hospital across the street. Drove over there and waited in a nice waiting area that was filled with kids. Finally got to see the doc. Had dropped a few pounds, but my lungs were fine. The doc talked about diabetes. Apparently CF-induced diabetes doesn't always progress quickly. There's a chance I might not have to take insulin for a while yet.
They sent in the dietitian for a short chat. It was rather odd. She seemed to know about CF diabetes, but she had some incredibly unrealistic goals. She was very surprised that I wasn't taking insulin. She looked at my height and mentioned that I should be 140 pounds. Ideally, perhaps, but I've never been above 115. She seemed willing to settle on that as a goal.
As for diet, she strongly advised me to eat fats (lots of butter and whole milk). Sugar isn't as bad as I thought, it just needs to be eaten with fat or protein. So I can eat pudding again! YEA! I just have to eat it consistently. No problem!
They asked me for a pulmonary function test, and they ended up sneaking one in. Isn't how people deal with the insurance bureaucracy great?
With the visit done, and feeling good, I drove into Portland. Glacier had asked me to pick up a computer book at Powell's Technical bookstore, so I headed downtown. After finding the book, I visited the main store a few blocks away. I only got five books for myself, so that wasn't too bad.
Headed back home. Got to town just around 7 PM and went to Local Boyz, a Hawai'ian place that makes a good sweet chicken dish. Picked up some to go and checked the comic book store next door. The latest Zot! collection was in, and a new Beanworld t-shirt! Swag indeed.
When I finally got home, found out that The Golden Globe, the new John Varley novel, was in at the bookstore downtown. Yes! More swag!
The whole day was one big Exswagaganza!
On the next day, an online friend wrote and said that a friend of his had just sent him a CD. It was Music for The Knee Plays, a David Byrne album that was never released on CD by his label. In a weird coincidence, on Sunday I had finished putting Talking Heads' double record The Name of This Band is Talking Heads - also never released on CD - onto CD. So I hope we can trade.
Mondo swagola!
---
Yes, I went to Texas again this year. No, wait, I can explain!
As you undoubtedly know, I left my old job earlier in the year. One of the reasons was that the work didn't mean anything to me except for a paycheck. That's not a good thing. Fortunately, I wasn't the only person in this situation. Bill, a friend of a friend, had left his job three years ago for the same reasons. We had been corresponding, and idly talking about taking a wandering trip together: no destination, just deciding each morning where to go that day. This appealed to my sense of adventure.
Before we had made any real plans, a mutual friend in El Paso sent out invitations to a weekend gathering at his house. It seemed like a good idea: we could drive to the weekend, then wander back west. Along the way we could compare notes on what we wanted out of life and employment. Bill was interested, so we began making plans.
Unfortunately, our schedule was a bit constrained. My brother was coming to the west coast for a conference on the previous weekend. His plan was to stop by my place beforehand and stay for two days, before flying to San Francisco and on to Monterey. There was no way I was going to miss him! He'd never been out here. But it made scheduling tight. In the end I decided to fly with my brother down to SF when he left. Bill lives in SF, which made it doable. That left three days for Bill and me to twelve hundred miles. That wasn't too hard, at 400 miles a day with 75 MPH speed limits. So the plan was a go.
On Sunday the 20th I took the shuttle up Portland and met Marty at the airport. He surprised me by sporting a trimmed goatee, but he was still my brother. We got a rental car and headed out to meet our cousin Elaine. She lives in Portland, and we wanted to meet her for lunch. She was off chaperoning a school trip, though, so we had to keep calling to see if she was back.
After about half an hour of phone tag, waiting, and checking out a CD store, Marty finally spotted her across the street. We hopped in the rental and headed for Esparza's, the best Mexican food in town. Lucky us - they're closed on Sundays. Elaine suggested a place on the east side of the river, but they didn't open until 6 PM. After what seemed like a long time driving around, we headed over to the west boho street. We grabbed some Escape from New York Pizza, then had ice cream. I got sucked into the kite store and walked out with a Minergy Deca (a tiny 4-line kite) that had been on sale since my last visit there months before, as well as a No-Jive yo-yo. Swag redux. It was fun hanging around with Elaine, who I haven't seen since whenever.

Back to Corvallis. Marty and I spent the next day and a half talking, walking around Corvallis, and traveling out to the coast. We walked on the beach and tried to fly the kite, which was a little devil. It was really good to spend so much time with Marty. It's something we haven't been able to do in years.

One funny thing: he'd brought a small box of old Star Wars trading cards with him. I bought them when I was a kid, when the first movie came out. I distinctly remember giving those cards to a cousin, though. How did Marty have them?
As it turns out, the cards weren't the full sets, the box was full of duplicates. A pity; the original sets would have been worth about $350.
The next morning, we drove up to Portland and caught the flight down to San Francisco.
We met Bill at the airport. Marty and I said goodbye, and he headed off to his connecting flight. Bill and I got on the road and started south.
At a Denny's, we plotted the first leg of our route. Since we had three days, we had some leeway. Our first decision was to drive down the coast. I'd never been south of SF, and had never seen much of the coast. Off we went. It was quite a pleasant drive. The weather was great, and the coastal scenery was interesting. We had to stop a few times for construction, but made good time. We stopped at an overlook and looked at the rocky shore far below. The sound of seal barks came drifting up. Once we spotted them, we realized there were dozens.
That night we stopped in a forested campground near Big Sur. It turned out to be the only night we camped on the entire trip.
The next morning we continued down the coast and then cut over to Bakersfield. From there we headed to Barstow, taking I-40 eastward. Barstow was something of a landmark for me; it's on old route 66, and it's where Harry Partch died. On the way eastward we passed through a few fields of oil derricks. I haven't seen much of them since I left Oklahoma almost thirty years ago.
All the way through the west, Bill and I talked about this and that. We both left jobs and don't quite know what we're doing next, so we discussed that a bit. Web sites and the Internet was another; Bill runs his own at http://www.choisser.com/. The other big topic was identity. Bill's had some unusual experiences in the past few years, and he's been re-inventing who he is. We spent a good deal of time comparing notes about being gay longhairs. Bill's written an extensive Web site about face blindness, a rare neurological condition he has. It's very difficult for him to distinguish between different between people by looking at their faces. The thing that helps the most is if the person has long hair and facial hair. So the weekend at Jim's, which was to be mostly longhairs, was a unique chance for Bill to meet people that he could identify with.
When we entered Arizona, it was like entering another country. I finally began to appreciate the sparse look of George Herriman's famous comic strip Krazy Kat. Flat land that stretched for dozens of miles, with low mountains on the horizon. It was a dream landscape. Coconino County is a real place! What would it be like to live there, dozens of miles from the next town, hundreds of miles from a city?
I kept thinking I should send Spencer a postcard, but the opportunity didn't present itself.
On the way to Winslow, we stopped at the one place I really wanted to visit: the Barringer meteor crater. It's a huge crater sitting in the middle of that dream land. From a distance, it looks like a low rise. When the meteor hit, it raised the strata surrounding it, so it's not just a hole in the ground. You can't tell it's a crater until you're practically at the rim.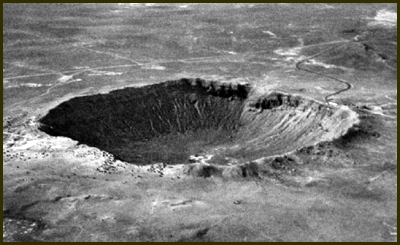 This might not look that big, but you could fit several football fields at the bottom of it. Try looking for the museum and observation point. They're so small comparatively that they're almost invisible. Look at the 2 o'clock position.
It was fantastic. Just imagine this huge scar being created in mere seconds... it boggles the mind. You can fit several football fields in the bottom of the crater. Barringer spent years there, searching for remnants of the meteor without luck. What persistence.
While we were there, Bill took a picture that I'd planned ever since we first discussed traveling through the southwest. A few years ago Goat passed visited the crater, and sent me a picture of him at the rim. So I had to try to match it.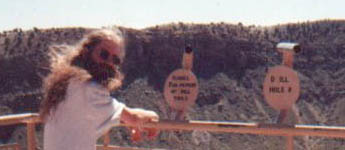 The next day, we went to see Bill's favored destination. It was Chaco Canyon, New Mexico, a national park which holds some of the most extensive native American ruins in the southwest. The road there isn't maintained by the park system, so we drove over twenty miles of rocky, bumpy, rutted roads. Bill's eyesight saved us more than once.
We got there and I had some breakfast. Unfortunately, while I was eating, a pre-migraine headache started. If I medicate immediately, they tend to incapacitate me for an hour or two, then I'm generally okay. I was able to see the nearest ruins, and some petroglyphs, but couldn't accompany Bill to see the most extensive sections. I sat in the car with a bandanna over my eyes. Nuts. Some day I'll get back there. It's worth it.

After driving the twenty bumpy, slow miles back to the main road, we headed south. We passed through Socorro, which evoked memories of Zenna Henderson's stories. We reached Las Cruces early in the afternoon, so we spent a little time driving around the neighborhood that Bill had lived in when he went to college. His former apartment was still there. The college has expanded, but they tend to do that.
That evening we entered El Paso.
Cast of Characters:
Jim, host, native of El Paso; his picture is in From Oregon vol 3. #1
Peter & Quartz, friends who motorcycled in from Austin
Thomas, flew in from Boston
Mark & Larry, partners of many years, Fort Worth folks
Bill & Mark, friends on the road
Pat, friend of Jim
We were greeted by Jim, our host. Mark & Larry had already arrived. We unloaded some gear, then went to dinner at Alexandro's, a Mexican restaurant just a few blocks away. Jim obviously goes there a lot; all the staff knew him. It was the first time I'd ever been in a place where the dominant language was Spanish. I dredged up what I could from my high school classes, and managed to understand some. Speaking it was out of the question. Tip: Alexandro's has good flan. After dinner, we went back to Jim's and hung out talking for the rest of the evening. Sometime during this, a few of us went to the airport and picked up Thomas. We finally went to sleep. The bedroom was reserved for non-snorers, while the rest of the house was for the snoring contingent. I slept on a foam mat in the bedroom.
Saturday dawned late and tired. Jim had managed to wangle tickets for a tour of El Paso's historic missions, but it left at ten o'clock or so. I wasn't ready for it. Instead of going, I slept in.
During the night, Quartz & Peter arrived. They'd motorcycled for hours and hours, dealing with mechanical problems along the way. They got in hours later than they expected, not too long before dawn. Amazingly enough, they went on the mission tour.
While everyone was gone, I slept, got up, had breakfast, then read. The book I was reading was a collection that had one of my favorite stories in it, Michael Blumlein's "The Thing Itself". I tried something different and read it aloud. It was a real challenge to get the voices and inflections right, but it was rewarding. I was so psyched by it that I wanted to read the story for everyone that night.
Everyone returned in mid-afternoon. I finally got to meet Peter and Quartz, and we spent a convivial time.
Shortly, we departed for a restaurant that Jim recommended. It's a steakhouse called The Cattleman, and it's east of the city. We drove out there in two cars.
The place was amazing. It's on its own property, with no near neighbors. There were a number of outbuildings, and a desert garden. Inside, it's huge. There were plenty of round tables that could seat eight easily. And the food! Steak, steak, steak. It was delicious. Over our wonderful meal, several of us who have lived in harsher climates reminisced about fall and winter. The crunch of your boots in crusty snow! The colors of the leaves! The joy of a cup of a hot chocolate after an afternoon outside!
Jim looked at us like we were nuts. We laughed.
The evening ended with Jim discussing the idea of having an email salon. We spent the rest of the night discussing some weighty issues. I never got a chance to read the story aloud, but who cares? The conversation was stimulating.
Sunday started with a bit of confusion. A friend of Jim's had dropped in after I went to sleep, and spent the night. When I left the bedroom in the morning, I was surprised to see Jim asleep in a chair in the living room. Wasn't he in the bedroom...?
The day was pretty low key, with time spent talking and most people preparing to leave. Mark & Larry left just as I got up. In the middle of the afternoon, we dropped Thomas off at the airport. His plane was delayed, but we had to get back to the house so Peter & Quartz could get underway. After all that, we met Jim's cool friend Pat for dinner at Alexandro's. He works in radio, and Bill had for some time, so they got along well.
One odd thing during dinner: there were two televisions in view. For the first part of the meal, they were showing the movie George of the Jungle. When that ended, the scene changed abruptly to a man playing chess with a boy. Suddenly the man was shot in the head. It was the opening to The X-Files. It made rather a strong contrast.
We ended the meal with that good flan again.
As we approached the house, we made out a figure on the lawn. It was Thomas. His plane had been delayed again, then finally canceled. He must have just missed us when we went to dinner. He was a bit upset, but was handling it pretty well. We went inside and spent another pleasurable time in conversation.
Y'know, it's funny. Before this weekend, I'd hadn't met anyone except Bill before. Jim had described Thomas, but I didn't think we'd have much to say to each other. We got along fine, and I felt that I got to know him better than anyone. Life is full of surprises.
Monday was leave-taking day. We got Thomas to the airport, then left after sharing breakfast with Jim.
Thanks, Jim. It was fun, and a great way to meet people.
We said goodbye and got underway. By this point I'd been without my therapy devices for six days, and I was starting to feel it. Bill and I decided to take the direct, boring route home of I-10 to I-5. We didn't get much sightseeing in, but there were a few spots.
The most interesting part was southern Arizona. Bill was hankering to see the border town Nogales, so we headed south. The land really surprised me: rolling low hills covered in grass and trees. A sign said "wine country", though no wineries were in evidence. Among all the desert, this seemed like a patch of California. It was cooler than the surrounding regions, and quite pleasant.
We had dinner at a local restaurant before taking off. A memorable moment: Bill translating my order into Spanish for the waiter, and me translating the waiter's rapidly-spoken accented English into clearer English for Bill. Between the two of us, we managed to do pretty well.
Nogales itself wasn't too much to speak of. The most notable thing was a big structure sitting in the middle of the town. The building was, of course, the customs station.
After dinner we headed northward to pick up I-10 again. For a while the road signs had distances in both miles and kilometers. That got us talking about the seventies, and Carter & Ford.
The next day we got started bright and early, and the search for a post box began. I had to mail a check that day, so we cruised the next city, looking for a post box on a street corner. There didn't seem to be any. The best I could figure, no one in their right mind would want to walk outside during the day to post a letter. We ditched the city (Tucson? Phoenix?), and stopped at the next crossroads town on I-10. Sure enough, there was a post office right there - another thing not obvious in the city.
From there it was clear sailing into California. Goodbye again southwest, sweet land of saguaro, where Krazy Kat dreams of Ignatz.
Somehow in all this travel, we managed to spend time on Route 6, Route 66, and Route 666.
On, into southern California! Is it true - does anyone walk in L.A.? We could find out! Our route took us by Palm Springs, past giant wind farms and palm trees. As soon as I saw the first Knott's Berry Farm billboard I was reminded of that scene in "Wigwam Bam" in Love & Rockets where Maggie reminisces about going there on Lettie's birthday. After that, the whole journey through the outskirts of L.A. kept reminding me of the comic book. Is that weird?
We skirted the northern side of L.A. rather than driving through it. I wasn't upset. My image of L.A. comes from movies like To Live and Die in L.A., Jackie Brown, and Boogie Nights, comic books like Love & Rockets and "Gravity Sucks" (Beautiful Stories for Ugly Children #29), and music. Wall of Voodoo came from L.A.! (And what about the Doors?) But after producing all that good stuff, I have little desire to see what's got to be the largest urban area in the country. It just goes on and on and on. Going into it would be like doing an autopsy on America out of curiosity.
As we left, all I could think of were the mountains afire.
Then it was a straight shot up I-5 to San Francisco. It took a while - the valley might be great for agriculture, but not for sightseeing from a car. We stopped for dinner and got to Bill & Larry's around 9 PM. Hopping on the Web, we discovered that the best way for me to get home was the train. It ran once a day, and had left not long before.
There I was in SF with a day to kill. Beth and Eric were attending a friend's wedding on the east coast, so lunch with them was out. Suddenly I realized something: San Francisco is the home of Ralph America, the Residents' mail-order business. The idea of thanking the people who worked there in person bloomed in my mind like a giant flower. So downtown I went.
The place is in a building on Mission St. downtown. It's the kind of place that has a locked door and an electronic directory. Before I punched the button, I suddenly got really nervous - what if they were busy? What did I have to say to them? Et cetera. On the other hand, I couldn't leave without trying. So I pressed it and babbled something incoherent to the voice that answered. They replied that they couldn't hear me, so they were buzzing me in anyway. Chalk one up for nervous mumbling.
Upstairs, the door to Ralph America opened and a face peeked out. It was Molly, one of the two people who worked there. In a small, crowded room she had been entering orders onto a computer. We introduced ourselves, and she recognized my name from previous invoices. Then she showed me around the two-room operation, and convinced me to pick up $55 of CDs and a rude new Wormwood t-shirt while I was there. We had a great time riffing on religion, and the next thing I knew I had a sick idea for a t-shirt. I think I fell in love in ten minutes.
On the way back to Bill & Larry's, I stopped in two stores and walked out another $70 poorer. This is what is known as the San Francisco Splurge.
That evening, it was time to head to the train. Bill gave me a final token, and I went from bus to subway to bus to train station. Amtrak's Coast Starliner was supposed to leave at 9:30 PM, but it was delayed. And then it was delayed again. And we waited some more. I sat and read.
Eventually I got hungry and bought a candy bar from a vending machine. Okay, so it didn't give me my change back. I should have learned, but the machine was the only game in town.
Later, I got thirsty and for some reason got a Cran-Grape. This was really stupid, since it's a sugar bomb, and I shouldn't drink it. So it just sat in my bag while I waited and read some more.
The next move was to get some pretzels. It was probably around 11:15 by now. I put in the right coins, and the pretzels moved forward to the front - but didn't fall. Shaking, banging - no good. The corner of the bag was held in place by a corn chip package, which I didn't want. I walked away.
Now, this might seem like a trivial matter, and it is. But when you're waiting in a train station, there's not much else to focus on.
Back at my seat, I overhead a couple talking about food. Since it wasn't going to do me any good, I offered them the Cran-Grape. It turns out the husband has diabetes and can't drink it either. Well, I tried.
Finally I went back to the vending machine. Heck, I'd eat the darn corn chips. Now being out of change, I fed a dollar bill into it - which it promptly rejected, asking for exact change. I gave up.
The train got underway about midnight.
Taking the train was relaxing. It was a little hard to sleep in the seat, but when I awoke in the morning I didn't feel too bad. It was a lot better than a plane; there's plenty of leg room, and the seats recline a lot farther.
In the early morning we were in northern California. I went and shared breakfast with Bob and Billie, a retired couple. We discussed our families and travels. After that I sat in the observation car, marveling at the fabulous view of Mt. Shasta and Shastina.
Many hours later, the train arrived in Albany. My friend Miranda picked me up, and we hit the comic book and post office in Corvallis before she dropped me off. In the mail was the latest ZBS serial. Randi also gave me Rhino Records' '70s Party Classics Killers CD as a birthday present - swag-o-rama!
Once again, it was good to be home. It was odd, though, to know that I'd be going back to SF in only a few weeks!
In an odd postscript, a friend informed me that her uncle was the person who started that wonderful steak restaurant east of El Paso. It's a small world, indeed.
---
11 October - Malevolent, shape-changing aliens appear. One is a semitransparent cube of feathers and eyes, much like a cubic version of Madeline L'Engle's cherubim in A Wind in the Door. The aliens are known as the Flarion.
16 November - Had dealings with the Pertina megacorp. Awake, investigated anagrams: ten pair, ripe tan, a net rip.
---
365 Bible Promises
for Hurting People
This was in the "inspirational" section of Safeway's book offerings. I had to go back and look at it again to make sure I wasn't hallucinating.[2]
---
Within a few blocks of my apartment, there have been three things that have really piqued my interest.
The first was the public library's Halloween scarecrow contest. A friend and I happened to walk by the night before, just as they were setting the last ones up on the front lawn. There was a great variety of entries, but one in particular caught my fancy. It was entirely made of organic material: leaves, branches, nuts, flowers, and indian corn. The face was a dried sunflower with seeds removed that made eyes and a mouth. I was charmed by this man made for the birds. Several weeks later, it's still in front of the library.
The second neat thing is a species of tree. I've been looking at tree identification guides, but can't find it; I suspect it's an oriental import. The leaves are palmate, 4-5" long, serrate, alternate, and have a texture like rough velvet. What's intriguing is the trunk and branches. The branches point down and outward, forming a dome of thick leaves. The trunk is thick, gnarled, and very twisty. The closest of the three nearby trees has something I've never seen on a tree: the branches actually make a loop! A good-sized branch grows back into the branch it came from. The other trees are notable for having really thick trunks at the base. I suspect that they're huge burls.
The last thing happened about two weeks ago. There's a vaguely Japanese-style house around the corner that is undergoing some reconstruction after having its porch replaced. The porch's columns have a facade of stones cemented together. These are being replaced, and the owner has a large pile of smooth stones by the street. The sizes range from two inches to a foot. While riding by one morning, I noticed that the pile had changed. Someone had made a number of little stone towers, with smaller stones balanced on top of larger ones. These little towers were scattered throughout the pile, generally no more than four stones high.
There's something about those stone towers that I found charming. Was it the work involved? Was it the use of natural materials? Maybe it was the idea of someone sneaking up under the cover of night, stacking stones, and leaving them to be found the next morning by the surprised homeowner.
This morning as I rode by the stone pile, the owner was pulling a tarp over it, obliterating the towers. Sic transit gloria mundi. Goodbye, delight.
---
Last year, the offbeat musical group the Residents played five nights at the Fillmore in San Francisco. To more than 99.9999% of people in this world that wouldn't matter, but it did to me. They have toured just three times in their 26 year existence, and rarely perform otherwise. I really wanted to see at least the show, but couldn't take the time from work.
My one hope was that they'd do the same thing this year. They did: three consecutive nights at the Fillmore, the last being Halloween. I was going to be there.
As the plans became more real, I was able to rope some other friends into it: Beth & Eric (long-time friends who moved from Albany, New York to Albany, California years ago) and Dan & Matthew (new-found online friends). Dan was the only one who knew who the Residents were, but then again he's got pretty eclectic tastes. So at the end of October it was time to hop on the plane down to SF again.
Thursday's arrival was pretty uneventful. My friend Cary was coming into town for that night's concert - unfortunately, the rest of us had tickets for Friday. We eventually met at the airport, though it required some paging. We spent the rest of the afternoon together, hanging around the Haight. Eventually we went downtown, where we met Beth. She showed us the fabulous view from her downtown office's terrace. Cary headed off to the concert, and Beth and I went back to the east bay. We had dinner at a nearby Thai place, then hung out with Eric back at their apartment.
The next day got off on an odd start. Cary was going to call, then we were going to get together and hang out. The phone didn't ring, and it didn't ring. I was pretty engrossed in some comic books I'd wanted to read for a long time, so I wasn't upset. Eventually I figured Cary wasn't going to call, so I went to call another friend (Drum) to see if he wanted to join us for dinner. When I picked up the phone, I heard the telltale buzz of two computers communicating. Aha! The phone had been busy all day. Oops.
Arrangements were made for dinner, and I headed for the Castro, where all of us (except Cary) were meeting for dinner. I met Beth and we headed for the restaurant. Drum and his friend Ray showed up, and somehow we got on the topic of most memorable vomiting stories. It seems everyone has a good one.
Dan showed up, and we finally got to meet after months of electronic friendship. Matthew arrived not long after (from parking their car), and last but not least Eric. We ordered and ate as the conversation continued. Spilling water seemed to be the meal's theme: there were two spills and one near miss. Maybe we were all just distracted, seated near so many bearded men. On the other hand, that might just have been me.
Near the end of the meal, I grabbed my backpack and handed each of that evening's concertgoers a specially made commemorative t-shirt.
Dinner ran late, and we rushed off to the Fillmore. On the way, someone in the MUNI car recognized me from Tennessee. He'd been at Short Mountain Sanctuary when I was there. He looked quite different; the last time I saw him, he had dreadlocks. Now his hair was quite short, and purple to boot.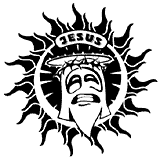 We made it to the concert just as it began. Since there wasn't any seating to speak of, we spent most of the concert standing near the back. It wasn't too much of a problem for Dan & Matthew, since they're both over six feet tall. The rest of us had a harder time seeing.
The concert started with the theme to Jesus Christ Superstar. This was entirely appropriate, since the concert was based on their latest release, Wormwood: Curious Stories from the Bible. The curtained opened, and there they were: people in dayglo costumes. (The Residents never appear out of costume.) The songs were sung by two main singers, with narration from Mr. Skull. He'd introduce a song or two, then the singers would come out with a painted face on a pole depicting that song's character. For each song, the singer had a different costume and props. For example, the song "Fire Fell" (Genesis 19) was sung by Lot. He had a black bodysuit with fabric strips hanging off it. At the climax, he stood over a hidden floor fan which blew the strips up, revealing their flame-colored undersides. Each song was a little spectacle, with props like knives ("Kill Him!" - Abraham & Isaac, Genesis 22) or a rolled up rug with feet sticking out ("Tent Peg in the Temple" - Jael & Sisera, Judges 4-5). The huge "magic finger" was hilarious ("God's Magic Finger", Daniel 5).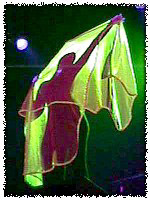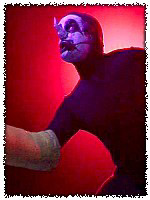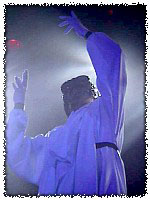 How to Get a Head / God's Magic Finger / Judas Saves
[images from the RzWeb, the semi-official Residents Web site.]
After the intermission, the curtain opened to reveal a surprise. To the right of the stage was a whole group of people in costume! At first I thought they must be a children's choir - it would be so tacky, and so appropriate - but no, it was an actual gamelan ensemble! They played for three songs, including the mysterious and darkly beautiful "Bathsheba Bathes" (2 Samuel 11) and "Hanging by his Hair" (2 Samuel 13: 20-30; 16: 20-22; 18: 9-15). The set closed with a white-robed Mr. Skull singing the only new testament piece, "Judas Saves" (Mark 14: 17-46). It ended with the redemption of Judas - after all, wasn't Judas just as important as Jesus? Without the one the other wouldn't have been important. His singing of "Jesus loves me / This I know / Cause the bible / Tells me so" was ironic, and strangely touching.
The concert ended with an encore: "Smelly Tongues", "Picnic Boy", "Moisture", and a personal favorite, "Walter Westinghouse". It was fun, and wonderful to see this strange and fertile imagination at work.
As we left, we snagged concert posters. Eric sold his right outside the door. (I'm hoping to frame mine; I know right where it will go.) Dan and Matthew had to get home, so we took two pictures and then said goodnight. It was really fun getting to meet them in the flesh.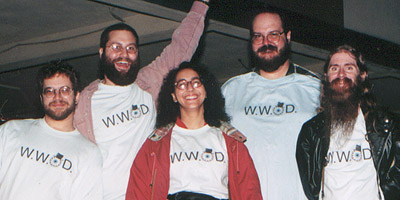 Eric, Dan, Beth, Matthew, Mark
wearing spiffy t-shirts
All in all, I had a great time.
The evening ended on something of a sour note. On the BART train back across the bay, we were seated across from an obnoxious guy. For a while his companion kept him in check, but she got out before he did. Eventually he got up and went to another car, but not before pissing us off.
Saturday started slowly, with all of us sleeping in. In the early afternoon we decided to follow our (individual) blisses that day. Cary and I were to meet that evening. There was a concert of the Kronos Quartet and Diamanda Galas that he wanted to see if he could get tickets for. From what I'd read in the paper that morning, I thought Kronos was going to perform one of my favorite pieces they do, Steve Reich's Different Trains. In the meantime, I wanted to attend an informal gathering of Residents fans.
It wasn't hard to find the fellow freaks. Kimba and Fu were both there, and Fu had brought a special CD called Wormwood Evolution which contained early/alternative mixes from Wormwood. Everyone wanted a copy, but he was adamant. He claimed to have sold his soul to the Cryptic Corporation to get it. Thanks for bringing it, Fu. And thanks to the hosts, Jay and Theresa. You guys laid out a wonderful spread that was really appreciated by the ravenous me. Lasagna, no less! You really made us feel at home. Thanks again!
I caught up with Cary in the Castro. He was studying, wearing a form-fitting black and silver dress, lensless cats-eye glasses, and a pink feather boa. And hiking shoes with white socks. It was Halloween in the Castro, after all.
We grabbed some dinner, then headed down the concert hall. We got there over an hour early, so we went for a walk. Tickets for the show were hard to come by; there were at least a dozen other people looking for them. Cary's had lots of practice at Grateful Dead concerts, though, and he was able to find some without too much problem.
The concert was... unusual. I say that in full knowledge that I just saw the Residents - the Residents - the night before. The show opened with a spotlight on a solo piano, stage center. Diamanda Galas came out and sang about death, lost love, and anger. Think lower octave chords on the piano. Then she did her trademark controlled banshee wailing... whew. She was intense and dark. She gave two encores.
After the intermission, the Kronos Quartet came out. When the lights came up, there were two violins, and viola and a cello suspended equidistantly across the stage by wires. The quartet members picked them off, and began playing a piece by George Crumb. It involved much percussion, and employed unusual techniques like bowing gongs and tuned water glasses. Unfortunately, it was only 25 minutes long (though it seemed about 10!), and that was it. No encore. It seemed that they weren't responding to the audience, and left me a little cold.
I'll give them their due, though. They were in the middle of four nights of concerts celebrating their 25th anniversary. If I had only known - on Thursday they'd performed Different Trains and a piece by Terry Riley. Now that I would like to have seen.
After the concert, Cary and I met up with Drum and Ray in the Eagle. We spent a while there hanging out, then ventured down the street to the Lone Star. It was quite a bit more full. We didn't spend too much time there either, as Cary and I had to get back across the bay. In the end, we got a cab back, so we could have spent more time. Next time I'll be better prepared.
Funny - we almost completely missed the Halloween crowd. Next time.
After all that, Sunday was a quiet day. While Eric went to his Aikido, Beth and I drove up to Point Reyes. We'd planned to do a short hike, but I kept getting us lost. We ended up at the Point Reyes lighthouse, and had lunch there. It's actually something of a short hike in itself. To get to the old lighthouse, it's a 308 step staircase that is very windy. It's not hard getting down, but coming back up is something else.
We kept wondering how they got the oil and coal to the lighthouse. Donkey teams? It must have been a real challenge in inclement weather. It must have been hauled overland, or else brought to a beach and then to the lighthouse. Either way it must have been punishing work.
Back in civilization again, we met Eric and went to a good lunch restaurant for dinner in Berkeley. Ask them; I don't remember the name. It's not far from Amoeba.
After that, my mind is a complete blank.
After three trips, I'm finally getting used to San Francisco's public transportation system. Getting to the airport was no problem, and a lot cheaper than last time.
The trip back seemed to be full of waiting. My plane got into Portland just a few minutes too late for me to make the shuttle back to Corvallis, so I had to wait for two hours for the next one. When I got back to Corvallis, the cab took about forty minutes to arrive. If I hadn't the luggage, I could have walked home in that time.
It was nice to be home. And no, I have no plans for any future travel!
Beth & Eric: I'm sorry I ate all your cereal. What else should you expect from me?
---
Sunshine is dangerous
Sugar can be poison
And love - well that's obvious
Beware of too much happiness
"Sunshine is Dangerous" -- Timbuk 3
Things are going okay. Really, that's it. I'm used to what I need to do to control it, and the oral medication is working fine for now. My diet's almost what it used to be. What more could I ask for?
Actually, the situation's a little unusual. CF-related diabetes isn't type I or type II, so there's not much information out there. Nobody seems to know too much. Guess I'll just play it by ear from now on.
---
Stephen Jay Gould, Full House: The Spread of Excellence from Plato to Darwin

Gould corrects common misinterpretations of data through vivid examples. In one, he discusses why baseball players don't hit 0.400 anymore. He also shows why the common view of a direction in the fossil record toward greater complexity is something we invent, not a trend supported by data. It's an interesting short book that makes for a good caution about the subtleties of statistics and slanted interpretations.
The Opposite of Sex

Christina Ricci is a 16-year-old runaway who moves in with her gay brother and his younger lover. In the introduction, she says, "I don't have a heart of gold now, and don't expect me to grow one later on.". She proves this immediately by seducing the lover, becoming pregnant, and... but that would be telling. Wickedly funny. Oddly enough, I ended up being moved by the drama surrounding the other woman, the brother's ex-lover's sister. Good stuff.

Pecker

Here's a movie to please everyone. John Waters' latest is the tale of Pecker, a counter clerk and amateur photographer. When his pictures of friends and neighbors are discovered by the New York art crowd, his world changes rapidly. Can he survive?

An appealing hero, delightful characters (Christine Ricci (again!) as his laundromat dominatrix girlfriend, Martha Plimpton as his trade queen sister), and honest-to-goodness REAL SETTINGS make it a joy to watch. All of us had fun.

Pi

Lynch meets Cronenberg for a lunch discussion of mathematics? That's a fair assessment of Pi's look. Our protagonist, a reclusive, brilliant mathematician beset by debilitating headaches, is about to make a breakthrough. Somehow others have discovered this and are trying to enlist his aid in helping them: a cabalistic Jewish sect and some unidentified thugs. The grainy look harkens back to Eraserhead, while the visceral imagery is straight out of Cronenberg. I give it a qualified thumbs up, though the ending wasn't what I'd hoped. It didn't talk down to me, though I caught some mathematic and electronic blunders.

Warning: the other four people I went with gave it anywhere from "enh" to thumbs down. Maybe you have to have been a math major to like it.

Pleasantville

Not so for Pleasantville. Thumbs up, but in a Hollywood sense. It's better than most of what they put out, but doesn't quite go far enough. Ostensibly about transcending roles, it lightly touched on education, sexuality, and fascism. The painting was the most wonderful part, though. You could tell the creator had grown up on movies and television, with subtle references to works like The Wizard of Oz. Once again, I found the story of the mature woman in the film to be the most engrossing.
Elvis Costello, The Very Best of Elvis Costello and the Attractions

Picked up this collection for $5. Wow. There were some power pop songs that immediately grabbed and held on ("Pump it Up", "Watching the Detectives", "(I Don't Want to Go to) Chelsea"). After I'd gotten them out of my head, some mellower others came back and started a whole new round of listening ("Shipbuilding", "Clubland", "Good Year for the Roses"). And now, later, I'm marveling at the complex poetic structure and lyrical dexterity of "Beyond Belief". Go find that song now!

The Firesign Theatre, Give Me Immortality Or Give Me Death
- a From Oregon EDITOR'S CHOICE -

It's the millennium, but you don't have to be there. Let the staff of RadioNow bring you all the latest from FunFun Town on the last night of the last day of the last year. With Dwayne the producer and Bebop Loco at the helm, Harold Hiphugger and Ray Hamberger on the news, Chump Threads bringing you Sports in Your Shorts, Danny Vanilla - celebrity stalker, Capt. Happy Panditt in the chopper, and of course Dr. O'Nann Winquedinque's Sex With My Hat, it's the end of the world we've needed for millennia. Princess Goddess, Unconscious Village, US Plus, and eyeball hats make for one powerful brew. Highly recommended. Go get it - now.

What can I say? It pulled my string!

Negativland, Happy Heroes

Go get this for "Jolly Green Giant"; the outtakes from Orson Welles' commercials are hilarious. (You might be familiar with them; they were the barely-modified basis for the Pinky and the Brain cartoon "Yes, Always". Except Orson won't make cheese for you.)

The Residents, Wormwood: Curious Stories from the Bible

This is one of those albums that on first listening isn't that appealing. But after a few more plays, it's much more interesting and memorable. From the beautiful and mysterious gamelan arrangement of "Bathsheba Bathes" to the twisted optimistic fun of "Burn Baby Burn", the eyeballed ones have created another successful work. In case you hadn't figured it out, the songs focus on some of the darker stories in the bible: murder, sex, exploitation and circumcision feature prominently. You'll go out humming the tunes. It isn't all dark; "Judas Saves" finds hope in the gloom. Put it on and scare your conservative friends.

The Reverend Horton Heat, It's Martini Time

Pull out that shaker, crank up the stereo, and get ready to dance it off with the Reverend. Get saved. Everyone loves the cowboy-meets-pardner song "Cowboy Love". It's a hoot.

They Might Be Giants, Severe Time Damage

TMBG live! Not that it's really too different from the studio. The fun material is the new stuff: five exciting songs and six bizarre live takes inspired by Planet of the Apes. This ape's for you. My favorite new songs are "Doctor Worm" and "They Got Lost". Exuberant.

The Vapors, Anthology

Yes, it's got "Turning Japanese" on it. But the other songs are what made me order this, years after I last heard it. The Vapors wrote in a bleak, J.G. Ballard-ian tone:

Maybe it's the noise in the streets and the car parks
Maybe it's the kids as they swan around
Maybe it's the tyres as the burn past my window
Maybe it's the corner where we all hang out

I got no idea
Where we go from here
Maybe that's why we're
Living in bunkers

- "Bunkers", New Clear Days

Anthology contains all of New Clear Days and four songs from their second album, Magnets.

Wire, A Bell is a Cup Until it is Struck

And here they come
The Queen of Ur
And the King of Um

Wire's 1988 release just hit my chart. With two versions of "The Queen of Ur and the King of Um", it's just kidney bingos. Rarefied stream-of-association lyrics tumble before gentle yet insistent tech rhythms. Weirdly cool.
---
Not much this time around. Life is stable, Goat's mon buc, and eventually I'll have to get a job. Just not quite yet.
See you around sometime!
Welcome, Joshua.
---
[1] I thought that would never come out on CD! Oddly enough, it's on the One Way Records label, the same folks who put out the Blotto CD. They're even based in Albany, New York. Way cool.
[2] Author Alice Chapin, Tyndale House Pub., ISBN 0-8423-7049-8. What, do you think I could really make stuff like this up?
---
Last updated 5 August 2004
http://www.rdrop.com/~half/Creations/Writings/Bulletins/FromOregon_3-2.html
All contents ©1998-2002 Mark L. Irons except the following: Portland and coast photos ©1998 Martin J. Irons; El Paso trip photos ©1998 Bill Choisser; San Francisco group and lighthouse photos ©1998 Beth & Eric Zuckerman (though they only took the group shot). Residents performance images from smelly-tongues.com by way of Tzoq's marvelous semi-official RzWeb. All are used by permission. The Barringer meteor crater photographer is unknown and the photo is not used by permission.
Jesus graphic is ©1998 Poor No Graphics and is used without permission. Please forgive me. Jesus would.
Previous: From Oregon vol. 3 #1 ··· Next: From Oregon vol. 4