The Elgin grades 760 and 761 are automatic (self-winding) watches, designed and built in America by the Elgin National Watch Company between 1958 and about 1960. These movements are believed to be the only automatic movement ever made in the United States. Other Elgin automatics from this era are Swiss imported movements. These watches are relitively rare and parts are very hard to find.
The 760 is the base grade. It is a 30 jewel model. The 761 is a 27 jewel variation. Most parts interchange between the 760 and 761, but not with other Elgin models. Both movements feature sweep seconds, a Dura-Balance, and a unique non-regulator beat adjustment device.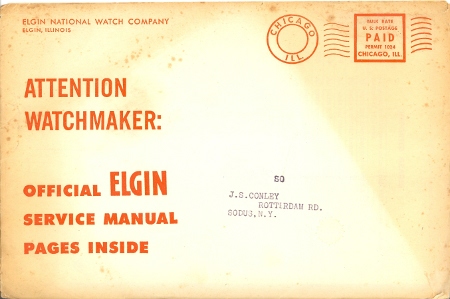 In many ways, the Elgin grades 760 and 761 were the last gasp of the Elgin company which was in decline in the face of mounting Swiss competition. Rather than create "cheap" watches in large numbers, the company created a new pinnacle of technology and proudly printed "American Made" on the dial. But these were among Elgin's final products. The company went out of business in 1968.
The 760 and 761 movements include many innovation features and are often refered to as forgotten masterpieces.
Elgin Service Bulletin Introductory Letter

Bulletin Section 6.8

April, 1960
Like to see more?
There's more information about vintage watches, more about the Elgin National Watch Company, and more photos on the ElginTime watch blog, here.

Like this site?
Your donation is very welcome, and will help make available more vintage Elgin information!