ABOUT THE AUTHOR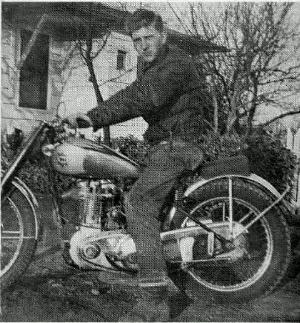 Albert Drake has been a practicing hot rodder since 1951, when he built a '29 A-V8 Ford roadster. But it was two years earlier, in 1949, when he became interested in the California dry lake time trials, and this interest has become an obsession. His most recent book Flat Out is the result of seventeen years of research, and he's glad it's finally finished. Over 300 of his articles have appeared in a variety of magazines, including Street Rodder, Street Rod Action, Rodder's Digest, Popular Cars, Hot Rod Mechanix, Street Rodding Illustrated, Street Rods Unlimited, Custom Car, Hot Rod and Custom (England), and many others. For the past sixteen years he has written a monthly column for Rod Action called "'Fifties Flashback".
His automotive books include Hot Rodder!, the first history of hot rodding from the 'Twenties to the 'Nineties; Street Was Fun in '51, the first book on historical hot rodding; A 1950s Rod & Custom Builder's Dream Book; Herding Goats and The Big 'Little GTO' Book.
He is also known for his poetry and fiction, including two novels: One Summer and Beyond the Pavement. The recipient of two National Endowment for the Arts fiction grants, he was also director of the Clarion Science Fiction and Fantasy Writing Workshop for several years. He is currently Professor Emeritus of English at Michigan State University.
---
Home - Portland Pictorial - Fifties Flashback - Flat Out - Hot Rodder! - The Big 'Little GTO' Book
Street Was Fun in '51 - Herding Goats - Beyond the Pavement - A 1950s Rod & Custom Builder's Dream Book
Order Form - Guest Book

Copyright © 2000 Flat Out Press. All rights reserved.
This page last modified: