Updated July 2008
Scroll Down For Older News
---
June 2008
BS&T Lives On for 40th Anniversary Tour with Steve Katz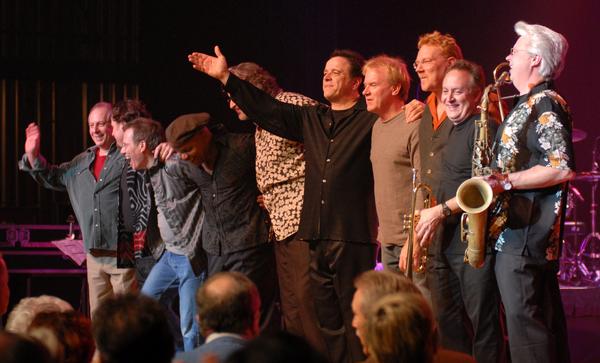 (pics by Steve Aldridge taken from the official BS&T Myspace Page)
Lots of stuff's been happening and I've been asleep at the wheel! Well, not exactly asleep. When your wife is supporting you as you go to college and you don't have kids, it's pretty easy to have the kind of time to dedicate to a fansite. Once life starts to intrude, well, it isn't quite as easy anymore! So my updates have been less and less frequent. I apologize. Also, when I first put up this site, there wasn't much about BS&T on the web other than Jorgen's site and I sort of felt like I had a duty to stake out some territory for BS&T out in cyberspace. Now there are plenty of sites who do a much better job (and a much nicer looking job) at getting information to the folks. Heck, there was a time when it was a challenge even do to something as simple as get a record cover scanned! (Get this: when I first started this site I had to take my vinyl to a friend who worked at a copying shop who shrunk the album covers down so I could run them into a sheet-fed scanner!) So the long and short of it is--I just don't have time to do updates, and there are plenty of other websites out there including something I never thought I'd see: An official BS&T website! As some of you know, for many years David Clayton-Thomas (the voice) had a business arrangement with Bobby Colomby (the guy who owned the name) so BS&T existed solely as a touring entity, playing a fairly standard set of songs as well as occsionally supporting some of DCT's solo work. Since DCT has retired from BS&T to concentrate on his solo projects, the band has had a couple ups and downs, but at least the performing band and the owner of the name are on the same page now, so we will be seeing a lot more things like official sites and merchandise, and perhaps even new material.
The POST-DCT era got off to a shaky start. I received a lot of reports from fans that they were not impressed, however all of that seems to have changed as a new band was put together around veteran singer/harp player Rob Paprozzi. I attended at BS&T show up in Astoria, Oregon a few months ago and I wasn't sure going in what I was going to see. I did, however, get a clue what I was going to hear, when my friend and I caught the distinctive sound of Steve Katz doing a sound check of "Sometimes In Winter" as we walked towards the theater. That got my juices flowing, for sure.
Here is the setlist that I saw:
Overture (CIFTTM on tape)
I Can't Quit Her
Hi De Ho
Go Down Gamblin
Sometimes In Winter
Down The Flood
And When I Die
I'll Love You More Than You'll Ever Know
Maiden Voyage
God Bless The Child
The Plunge
Spinning Wheel
Lucretia MacEvil
Smiling Phases
YMMSVH
Just from the setlist you can see that things are different. Three
Instrumentals (and they were rehearsing a fourth during soundcheck),
Sometimes In Winter (!) and Down The Flood. They also have Snow Queen
available as well in the repertoire, but didn't do it tonight. They also
mentioned Got To Get You Into My Life as a possibility.
There are three main things that have given me a change of heart here:
1. The songs are in the right key (i.e. as they were recorded).
2. There is a hammond B3 on stage with a Leslie.
3. They are playing the original arrangements.
The final kicker is the presence of Steve Katz, who not only gets to tell
some BS&T stories, but gets to perform Sometimes In Winter, and blow harp
on a few cuts as well.
So there is the good/bad of DCT's departure. Rob Paprozzi is not DCT, but
at least he isn't trying to do a DCT impression out there. He's doing his
own thing, and he sounds a lot better with the material than he did in the
first few outings that I heard tapes of. His voice is also about halfway
between DCT and Jerry Fisher, so he can handle just about any song in the
whole repertoire. He also carried the two Kooper tunes just fine (as DCT
had done in years past as well). That allows for a lot of leeway when it
comes to rotating the setlist around the catalog of music.
There is also a sense of band-cohesiveness that wasn't there before.
Previously, and this is only based on my own observations, it seemed like
people coming to work with the sole intention of using BS&T as a
springboard to other gigs. Tonight I observed a group of guys who seemed
to like each other, like playing together, and were acting more band-like
than before. One telling thing was that the whole band sat down at the
meet and greet tables and signed autographs. Before it was always just
DCT by himself.
So for those who are still skeptical (and I still have mixed feelings
slightly) I say give these guys a chance. As the anniversary tour rolls
on, you're going to see more and more (no pun intended) names from the
classic lineup showing up on stage.
I guarantee you that you will be won over by the energy level alone, not
to mention the return to how the music sounds on the album and a vastly
expanded setlist played by top-notch guys who are going to be with the
band more than the summer.
In previous years, I saw some amazing individuals playing with DCT and
BS&T, but the whole tonight was greater than the of its parts. It sucks
that with DCT out of the picture things like merchandise, and recording
albums, and DVDs suddenly aren't a problem anymore, it really does, but
also you get the return of Steve Katz, and maybe others like Tom Malone
and Lou Marini and Lew Soloff, and more.
I saw a nearly two hour show tonight with songs from 5 different BS&T
albums. Has there been another BS&T show like that at all in recent
years?
---
May 10, 2006
(Info and picture taken from DCT's official site) The new CD, "David Clayton-Thomas In Concert.... A Musical Biography" is now available in stores, at JustinTime.com or at the (Online Store) on this site. This is David Clayton-Thomas at his best, recorded live with his 11 piece big band at The Opera House in Toronto in October 2005. The album sizzles with energy and covers the entire Clayton-Thomas career, from his early compositions like "Spinning Wheel" "Go Down Gamblin" and "Lucretia MacEvil", to brand new songs written especially for this recording.
There is a delightful excursion into "world music" entitled "Me and Amaretto" with its South African "township" groove. A low-down and dirty blues called "Self Centered Woman". A funky Cajun tune, "Wild Women & Po' Boys" with the incredible Doc Riley on barrelhouse piano. There is David's beautiful, "You're The One" as you've never heard it before. "Gimme That Wine" the Jon Hendricks be-bop classic. "God Bless The Child" and "Don't Explain" from the Billie Holiday songbook, and of course, "You Made Me So Very Happy".
Also available is this DCT DVD at last!
(info and picture taken from DCT's official site)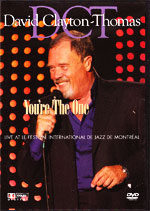 David's triumphant appearance with his 10 piece big band at the 2006 Montreal International Jazz Festival. All the great hits spanning his 35 year career, including some never before recorded songs and a surprise appearance by the mighty Montreal Jubilation Choir. Recorded in 5.1 surround sound and filmed for a Bravo TV Special this historic DVD it is a "must have" for DCT fans.
All of these as well as DCT's other recent solo works are available at http://www.davidclaytonthomas.com

---
September 2005
Timko debuts WWW.TOMTIMKO.COM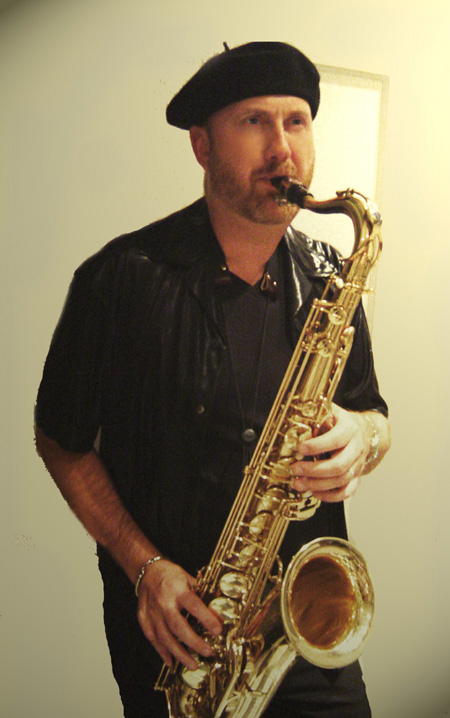 Former BS&T saxaphonist Tom Timko, who has also has recorded
and/or toured Gloria Estefan, Aaron Neville, Toto, TOP, and more, now has
a new official site on the world wide web, so check it out! Lots of good
pictures, and coming soon some sound clips from his Horn Dogs CD.
(see review below). Tom is one of the nicest guys in the biz that I've met
and a great player, so I encourage BS&T fans to check him out!







---
April 2005
DCT Releases Aurora, his fifth solo album!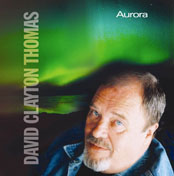 (Information taken from DCT's website) David Clayton-Thomas has begun a new chapter in an already legendary story. At an age when many are considering retirement, this big restless talent is more productive than ever... Shuttling back and forth between New York and his creative hideaway in Toronto, he has been colaborating with old friends on two new recording projects... a jazz quartet album called "Aurora" recorded in Canada with lifelong friend jazz pianist, Doug "Doc" Riley, and... a tribute to the sound of Philadelphia, recorded in New York with producer Billy Terrell.
"Aurora" was recorded for the prestigious Canadian jazz label, "Justin Time"and what a stunning piece of work it is. The trademark Clayton-Thomas voice is set in an accoustic jazz quartet. Freed from the the big belting brass sound of Blood Sweat & Tears, the singer reveals a depth of feeling that was often buried in the complex big band arrangements. The ballads are tender and evocative, the jazz tunes scat and swing with a wicked sense of humour and David's original compositions have a funky swagger to them that will rock the house. "Aurora" was released on March 16/05,
"The Sound Of Philadelphia" is the result of a longtime friendship with Philadelphia producer Billy Terrell, based on a mutual love of the great Gamble, Bell & Huff tunes that comprised the Philadelphia sound... Rythym & Blues has always been at the heart of the Clayton-Thomas style and Terrell recognized a kindred spirit. The Ojays, The Spinners, Harold Melvin and The Bluenotes... these are the artists that Billy and David grew up on and finally, after many years of discussion, they are recording this wonderful music. The Philadelphia album is in production and will be released later in 2005.


New City joins More Than Ever on Wounded Bird's reissue offerings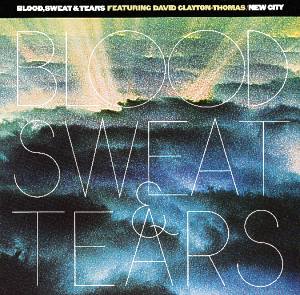 Wounded Bird Records has rereleased BS&T's More Than Ever on CD, making it the sixth of the regular studio albums to be given an offical release. (Child, BS&T, 3, 4, New Blood (Japan Only), and now More Than Ever). I received my order with a couple days and the package looks very well put together. The sound quality is excellent. It was nice hearing the quiet parts of "They" or "I Love You More Than Ever," without pops and clicks. Great stuff!! For those who aren't familiar with Wounded Bird Records (WEBSITE), they have done a long list out of print re-releases, including albums by the Butterfield Blues Band, Elecric Flag, Maynard Furguson, Oregon, Mahavishnu Orchestra, Dr. John, Richie Havens, and piles more. Previously, I ordered a copy of Butterfield Blues Band's Sometime I just Feel Like Smilin' and the quality of the product was pretty high. I would assume that if this re-release sells well, then perhaps we can get reissues of other BS&T albums!
New City has now been released by Wounded Bird. Orignally it was going to be joined by the first domestic release of New Blood (previously there was a Japan only release by Sony), but that has been delayed for the time being. That brings the total to seven of the original BS&T studio albums to be released oficially on CD. (Child, BS&T, 3, 4, New Blood (Japan Only), and now More Than Ever and New City) They have also stated that there are plans to release No Sweat and Mirror Image as well. Unfortunately Brand New Day (whose rights are not owned by Sony/BMG) does not seem to be on their future plans.

---
July 24th, 2003
Dave Bargeron Launches Official Website!
Looks like Barge will be burning on his own homepage. Http://www.davebargeron.com I'd encourage everyone to stop by and support Dave's projects! (Barge Burns, Slide Flies and Tuba Tuba. (And look for Tuba Tuba 2, which should be released soon)



---
Sept. 19th, 2002
Two Columbia Clayton-Thomas Ablums released on CD!
A European label is releasing two of the three solo albums that David Clayton-Thomas made in the mid 70s. I believe the label is Edsel. The albums are the self titled David Clayton-Thomas (the one with Magnificent Sanctuary Band) and Tequila Sunrise. The albums feature a some standout tracks, collaboration with Smitty Smith, and some accomplished guest musicians. I've seen two websites selling these, one of them is an importer, but CDnow has the CD for $5 cheaper. Click HERE for CDnow's page.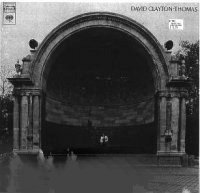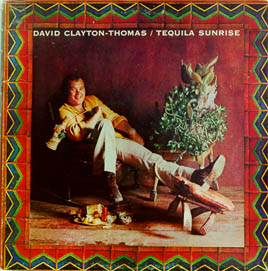 ---
Jan 12, 2002
Sure sounds a lot like BS&T...but it's not...
I've been getting a lot of messages asking which BS&T album the song that's being used in the new GM commercials is on. The song is "Vehicle" and it's by the Ides of March, the opening track of the album Also called "Vehicle." The Ides were a BS&T clone on the Warner Brothers label. They never seemed like a jazz-rock unit, per se, but more of a rock band that used horns on their first couple albums, but never again. The song "Vehicle" was one of the top hits of 1970 and was their only trip to the top 40. The album is currently in print on a French label, but the sound quality isn't all that great. I've been getting dozens of questions about this song, I hope this helps. If you are fans of BS&T, the first Ides album, and bits from their followup are actually pretty good. They are never as jazzy as BS&T, but the music is still fairly enjoyable. The main driving force of the Ides, Jim Peterik also played with the 80s group Survivor ("Eye of the Tiger," "Burning Heart"). He has a website http://www.jimpeterik.com

---
Mar. 12, 2001
Webmaster Update
Hey there everyone, just wanted to update my life story a little bit. My time has been reduced serverely, I'm trying to get into grad school now.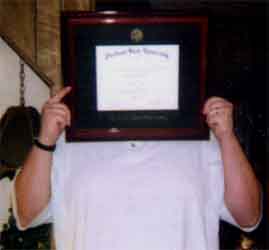 I earned my B.A. in English from Portland State Unviersity last December and I'm waiting to hear about my grad applications now. There's a lot of discussion on DCT's web-board to keep everyone occupied. I will still report news as I receive it, and keep the tour dates updated. (which they are right now, consequently). Hopefully when my school situation is better I can finish up all the projects I started, like the Member bios and the lyrics page. If anyone has the time to help out, I wouldn't mind help with the lyrics page. If you could pick an album and transcribe, that would be extremely cool. The band member bios project is another one that I've been trying to finish for a long time. I was going to use the bios from the allmusic guide (www.allmusic.com) and the discographies as well, for the guys who have them, and the rest of the stuff I'd fill in from my own stuff. If anyone wants to tackle some musicians and write up their bios and discogs, I wouldn't mind that either. Anyway...thanks for listening.
--Jeremiah

---
Nov. 25, 2000
DCT's Official Site Online
David Clayton-Thomas' official webpage is now online. It's pretty basic right now, but look for it to be expanding in the future. Click here to go to the site.
Sept. 25, 2000
---
BS&T Alumni contribute to Scarangella's Solo Effort
Former BS&T drummer Jack Scarangella has put together a pretty cool-sounding solo album that includes some big names from not only BS&T's past, but some other hot jazz, funk, and blues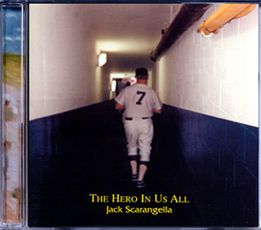 outfits. Joining Scarangella on drums is former BS&T trumpeter Lew Soloff, musical genius and reeds player Fred Lipsius, Soloff's backup man and the Blues Brothers' Mr. Fabulous, Alan Rubin, Tower of Power's funkafized bass man Francis "Rocco" Prestia. Playing Guitar and Center Field, Yankee's cleanup man Bernie Williams, on percussion and in right field, his teammate Paul O'Neill and coach Willie Randolph. Also joining in on vocals are Richie Havens, and Felix Cavaliere of The Rascals.
The album is autobiographical, describing how music and sports came together to shape Jack's youth and his adulthood. They seem like totally different worlds, but here they walk hand in hand, helping him to overcome a difficult home life.
The album features songs penned by Scarangella as well as songs by Freddie Lipsius, Harvey Brooks (of Electric Flag), Jimi Hendrix, Felix Cavaliere, and more. Click on the the album cover to go to the official site. There you can listen to song samples and read Jack's own words. I listened to the samples and the songs sound pretty hot. I recommend the album to all BS&T/Tower of Power fans.
---
Sept. 5, 2000
Sony Reissues...but with a twist.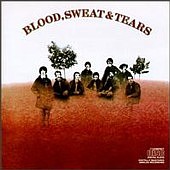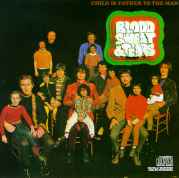 Sony/Legacy today released remastered versions of Child is Father to the Man, and Blood, Sweat, and Tears. Both albums are pretty much the same, but with a few bits and bobs for bonus tracks. Child contains most of the live studio tracks that appeared on the Sony Ultradisc version. While these are not totally new tracks, it's nice that Legacy is at least trying. They did a little bit better with the reissue of the 2nd album. There are two live tracks, "More and More" and "Smiling Phases." From what I've heard both are pretty hot, and "Smiling Phases" is the live version that has a totally different groove than what most fans are used to hearing. According to the liner notes, the tracks were culled from four recorded concerts. I'm sure I speak for all of us when I say RELEASE THE WHOLE CONCERT! I suppose we'll take what we can get, as usual. The sound is apparently rather good on both CDs, and they're still part of the Nice Price line, apparently, and can be found for $8.99-$12.99 each, or at CDNOW.
---
July 25, 2000
BS&T on Television!
I'm a little slow on the draw lately. I've been sweating out a horrid school schedule and attempting to deal with the death of my father, so I'm a little behind on the times. BS&T performed at the Wildhorse Saloon in Nashville for broadcast on the TNN program "Classic Rock." The program aired tonight (Tuesday, July 25th). The show was divided between BS&T and America. Included were interviews and stories about the various songs. The set list was pretty much the "hits" but hey, that's the name of the show, and it's just good to see BS&T on the tube. It was filmed a couple months ago. I'm not sure when it will be repeated, but I'll do my best to find out for those who missed it. The band sounded great and the crowd seemed really into it. There were short little clips of interviews with the people in the audience telling their BS&T or America stories. Except for the fellow who kept referring to "Spinning WheelS" as his favorite tune, they were all pretty cool. They edited out much of the instrumental break in "God Bless The Child," but they really only had so much air time to split between BS&T and America, so that's not exactly surprising. If you want to visit TNN's website, they might list future air dates for the show, or you can maybe email them and request a repeat. I'm sorry I didn't get it up on the page earlier. http://www.tnnonline.com Click HERE for more video-captures from the show.
Timko's Solo Album wails!
Those of you who have seen BS&T live recently, have probably noted the instrumental that starts off the show. It's called "The Plunge" and is the opening tune from BS&T sax player Tom Timko's solo CD, under the name Tom Timko & The Horn Dogs. The self-titled CD on
Ratamacue Records, features Timko on saxes and flute, Steve Jankowski (who also produced) on Trumpet, Flugelhorn, and EVI, Jeff Kievet on lead trumpet and flugelhorn, Randy Andos (who was with Spyro Gyra on several albums and with BS&T for a time) on Trombone, Ken Sebesky on Guitar, David Santo on Bass, Fred Wolcott on Percussion, and fellow BS&T Alumni Glenn McClelland, Mike Duclos, and Jonathon Peretz on Keys, Bass, and Drums respectively. The album has 9 very tight instrumentals. The arrangments are jazzy for the most part, but they definitely aren't afraid to rock and roll. "The Plunge" and "Telemark Landing" are probably the two hottest cuts. "Breakfast at Nats" definitely has a hint of Tower of Power in it, "Augusta Street" sounds a little like early 70s Chicago, and "Thru The Roof" reminds me of Klatka's chart for "Rock and Roll Queen" on BS&T's Brand New Day. All in all, it's great stuff! The players are all top of the line, grade-A musicians. I wholly recommend this to BS&T fanatics. Ratamacue Records has a website where you can read more about the album and listen to sound samples. CHECK IT OUT!! http://www.tomtimko.com/
Bloodlines Update
Since this is the single thing I get the most email about. Bloodlines was originally pressed in a limited run for sale at the BS&T shows and the CD has sold out its initial run. There will be another run with some slight changes, so those of you who have the 1st printing will have an instant collector's item. One of the notable changes will be with the packaging, which the printer messed up slightly. (the back of the CD and the inside flap of the insert got reversed). DCT is also going to go back into the studio and fine tune a couple things before the next print run. From the way it sounds, the 2nd pressing should be happening around Christmas time.

---
March 5, 2000
Soloff releases 7th Solo album.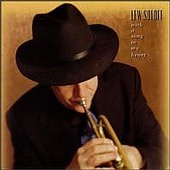 Actually this has been out for almost a year now, but I didn't find out about it until recently. It's called With A Song In My Heart and it's on the Fantasy/Milestone Jazz label. Other than Lewie on trumpet, it features George Mraz on Bass, Victor Lewis on Drums, Mulgrew Miller on Piano, and Emily Mitchell on Harp. Sorry Lew for dropping the ball! There are Real Audio samples on the CDNOW page for the album.
To Read a review by the All Music Guide, Click HERE.

---
February 12, 2000
Bloodlines Pressed, Waiting for Distribution.
By Jeremiah Rickert
The Bloodlines CD is printed and pressed, and will be available at concerts. The distribution deal is still being hammered out, but watch for national and international distribution later this year.
---
January 26, 2000
Clayton-Thomas on the Future of BS&T
By Jeremiah Rickert
The year 2000 has brought with it some realizations for BS&T front man David Clayton-Thomas. For diehard fans, some of this is going to be good news and some of it is going to be bad news.
The good news is that DCT and crew have designed a completely new show for the new year. Instead of the same songs in virtually the same order night after night, there is going to be a more free-flowing attitude on the stage.
DCT: "The set opens with an instrumental, featuring the band, there are three different tunes featuring new writing by band members like Gary Foote and Tom Timko...the idea is to not play the same show every night, ie; make the opener a forum for the band to explore new instrumental writing."
DCT feared that constant touring with the same set made it too easy to become complacent on stage, and it was obvious that it was becoming a little stagnant for the band and the fans.
DCT: "The hits of course are scattered thru the show and "happy" is no longer the encore but closes the show...we are playing Go down Gamblin' again...and from Bloodlines: Mornin' Blues, Verbal Abuse, and N'awlins Gal. From Nuclear Blues we have added "Fantasy Stage.' The encore will now be different each night. The whole idea was to NOT have a regular setlist but to keep the set fresh by changing it up every night."
Clayton-Thomas also wants to make it clear to fans the direction he is now heading musically. He concurs with Bobby Colomby that Blood, Sweat, and Tears had its day, and that day is now passed.
DCT: "There will not be a BLOODLINES II...the album was meant to be a tribute to all the great players in the band over the last thirty years and in a sense is a finale, a coda... I'm already writing my next project which will be a departure from the classic BS&T sound, incorporating more of my electronic writing...I have just updated my midi studio and will be doing much more production here at home before taking it to BEARTRACKS for final touches...I now have a Mac G4-400 with full digital audio capabilities...a CD burner and can now collaborate with my guys...Steve, Danny, Gary etc...by exchanging ideas by CD or even sending ideas...'files' by email. I am determined not to do another "nostalgia" album...the next one will be cutting edge both in technology and in composition. BS&T was thirty years ago, the record industry isn't interested in "oldies"...the band is getting younger and the audience is getting older every year and I am still as creatively active as ever. Bloodlines will be sold at concerts this year and will be distributed internationally...but it is indeed the end of the era. There will not be any more BS&T albums. I hope you and your web friends like the new direction, it's something I must do for my creative sanity. I ask that you all keep an open mind."
DCT really wanted me to make sure to communicate his intentions, that way people don't feel shocked or surprised. After 30+ years, you can imagine how confining trying to write music to fit a certain expecation can be. We're still going to have BS&T concerts to attend, and there will still be some of the old in with the new. Speaking as someone who likes Nuclear Blues a lot, which is an album that at the time was pretty cutting edge, I can say that I look forward to the next step. Just think, what if the Beatles chugged out "I wanna hold your hand" clones for 30 years. They just wouldn't be what they are to our culture.
© 2000 Jeremiah Rickert

---

December 29, 1999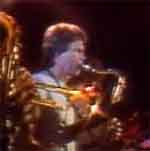 Sax Player Seymour Passes Away
Former BS&T reeds player Earl Seymour, who was with the band from around 1980-1982, and recorded with the band on Nuclear Blues, passed away on September 28th, 1999 of lung cancer. He also performed on the "Live From Little Club" video that was released in Japan and can be heard on the Concert CD "Live" which still is available on Rhino Records. Seymour played with a number of other groups after his work with BS&T. A full list can be found at http://www.allmusic.com

---

November 8, 1999
Bloodlines Delayed
DCT's album Bloodlines, which features many former BS&T musicians will possibly miss its planned early 2000 release date. I'll let you know when I have more information. For more information on the album, go to the Bloodlines page.

---

September 13, 1999
Convention Postponed!
Don Neumann, who was the heart and soul behind the planned BS&T convention has had an onslaught of work hit him blindly, booking him up for the next couple of months. Becuase of this the convention is being postponed until next year. The October 8th concert, though is still going to be attended by many of the people on my BS&T mailing list. If you want to meet up with people, mail to the list bst@agora.rdrop.com and let everyone know you're going and you all can discuss where you'd like to meet.

---

Happy Birthday David Clayton-Thomas! +BloodlinesUpdate

Also I learned today that Bloodlines is due for release on the Stony Plain label (the same one that released Blue Plate Special) early 2000. I'll have more information as soon as it's available. Everything about Bloodlines can be viewed on the Bloodlines page. Click here to view that.

---

July 13, 1999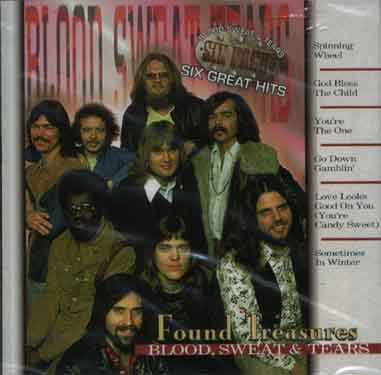 Yet Another Compilation from Sony
I've been made aware of yet another compilation album put out by Sony, this time as part of their 6-pack series. The CD is basically a six-track version of Found Treasures, I have no idea whether the tracks are remastered or anything. I personally always felt that Found Treasures sounded muddy compared to the regular Greatest Hits album from 1972. The track listing is as follows: 1. Go Down Gamblin' (BS&T 4) 2. You're The One (More Than Ever), 3. Spinning Wheel (BS&T), 4. Sometimes In Winter (BS&T), 5. Love Looks Good On You (Mirror Image), and God Bless The Child (BS&T.)

---

June 22, 1999

BS&T Reference on Game Show
I hope this doesn't sound too cheesy, but yes, our favorite band was a question on the gameshow Win Ben Stein's Money. Actually they were a category, they never got to the actual question, but I suspect it had to do with Winston Churchill's famous utterance. Here's a picture of the question, just because I know how much of a BS&T nerd I truly am.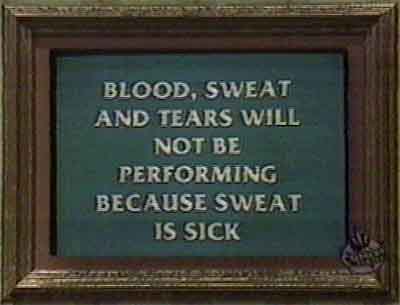 ---

June 21, 1999

Producer of No Sweat gets Showtime gig.
Steve Tyrell, who produced the BS&T's 1973 album No Sweat is listed as providing the music for Showtime's original series Linc's. Tyrell also was the narrator on the video called "Blood Sweat and Tears feat. B.J. Thomas" which was video of studio sessions for No Sweat and some of B.J.'s tunes. The show takes place in a Washington D.C. bar and stars Steven Williams (X from the X-Files) and Pam Grier (Jackie Brown, et. al.) The soundtrack is fairly jazzy and funky and really augments the flavor of the show, which is in its second season. Anyway, I really love the show, and it's cool that there's a BS&T tie-in to boot!

---

May 24, 1999
GOOD/BAD News from Entertainment Weekly's "100 Greatest Moments In Rock."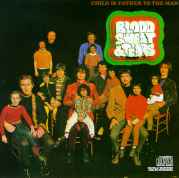 BS&T's debut album Child is Father to the Man, was recently included in Entertainment Weekly's 100 best album covers of all time. The list wasn't in any kind of order, but it was in some pretty good company. The issue was EW's "100 Greatest Moments in Rock" issue, which I read carefully of course, expecting Blood, Sweat, and Tears to be included somewhere, but other than the list of record covers, they were left out of rock history yet again. (just as the PBS series History of Rock and Roll neglected to mention them.) As usual the results seemed slightly edged more toward pop culture favorites, groups with retro-cool like Iggy Pop, David Bowie, The Doors, and Jimi Hendrix. I'm not trying to diminish the accomplishments of any of these people, but the fact they appear numerous times in the article, seems a bit overblown to me. Ah well.

---

May 12, 1999

AL KOOPER publishes memoirs
This has been out for eight months, but I only heard about it a couple months

ago. The book is still in print and for sale and all that and it features his life's story pretty much, from how he went from being a punk kid in Queens, NYC, to the musician's musician he is today. I have also been told that my website was mentioned in the book, in a somewhat negative light. Al makes a reference to my interview of Bobby Colomby and what he saw as misinformation. If you want more details on that, click here. Anyway, Amazon.com has the book, and supposedly his website does as well. Amazon.com or try alkooper.com
Another book that has a lot of interesting content for the BS&T fan is by former Columbia president Clive Davis. The book is called Inside the Record Business, and he talks a lot about BS&T. It's currently out of print however, so check your local library.

---

APRIL 20, 1999

SONY REMASTERS 1972 Greatest Hits ALBUM
Sony has re-released the 1972 greatest hits album, with totally remastered tracks. The track listing is the same, but two more tracks have been added: "So Long Dixie" from New Blood and


"More and More" from Blood, Sweat, and Tears. "Dixie" was a minor hit, peaking at #44 on the singles chart. "More and More" was actually the A-side of the "Spinning Wheel" single that spent several weeks at #2 in 1969. I'm not sure if I'm going to actually buy the remastered CD, but if someone does, please let me know whether the remastering was done well enough to merit repurchasing it. (it was the 2nd BS&T I ever bought after Found Treasures.) Again, I think I'm
speaking for most BS&T fans, when I say, enough with the compilations, bring on the unreleased albums!!
FAN CONVENTION MOVES FORWARD!
The fan convention idea that was brought up earlier seems to be moving along nicely. Many thanks to Don for all of his hard work in coordinating this thing. We now are planning for an October 8th-11th convention, most likely in New City, New York. All of the former band members we've contacted (guys from the first four albums mostly) have said they would be willing to make appearances as their scheduling allows. Also Don was contacted by some former members who wondered why they hadn't been contacted! Again, if you're interested, let Don know (his email is in the previous story, which you can scroll down to see.) If this comes off it will surely be cooler than cool.

---
February 11, 1999
BS&T FAN CONVENTION IDEA PUT FORTH
On the BS&T mailing list, many have expressed interest in planning and holding a Blood, Sweat, and Tears fan convention. The idea is to plan the convention around a BS&T concert that we would all attend, and then perhaps hold a get-together where we could all chat and what-not, and perhaps persuade a former BS&T member to participate. If planning around a concert wouldn't work, some have suggested we meet in St. Louis, Mississippi and meet at Jerry Fisher's restaurant. Others have said that meeting in an airline hub (such as Denver) might be cheaper for everyone. If you think you'd like to participate or have an idea of how we can go about making this thing work, email Don. don@neumann.net
---
December 13, 1998
BLOODLINES IS HERE!
That's right! The Clayton-Thomas solo project, which features Blood, Sweat, and Tears Alumni, that David has been talking about since Blue Plate Special was released is ready to go! DCT is currently shopping for a record label to release it. As soon as I know anything new, you'll all know. For the official press release on this album and a list of songs and personnel, check out my bloodlines page.
---
October, 1998


I recently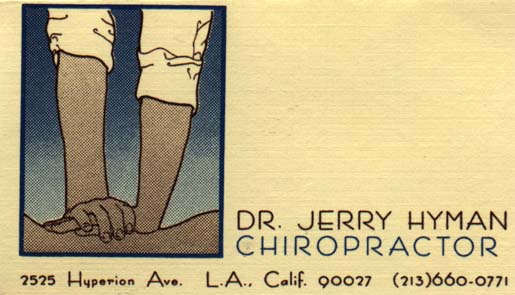 was in the Los Angeles area for a vacation and was fortunate enough to have a visit with former BS&T Trombonist Jerry Hyman. He is now a chiropractor in LA, and seems to be doing very well. I was able to chat with him and his wife Carol for almost three hours in his office. He even had a gold record for Spinning Wheel on his wall there, something he said that very very few patients notice. I think I noticed it the moment I sat down, but I have a funny way of being drawn towards BS&T related things. He told me about the people he knew in NYC, which is a rather large list of tremendous musicians. He talked about how he got into BS&T and showed me some hand-written charts that either Freddy Lipsius or Dick Halligan had written out for him. He offered to photocopy them for me, so they could someday soon be up on this very website. Anyway it was very cool, and I had a great time. Many thanks to Jerry and Carol if they read this for allowing me the time, it was very very cool ofyou both.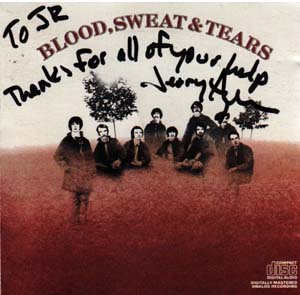 ---

September 9, 1998

I've just discovered an exciting rel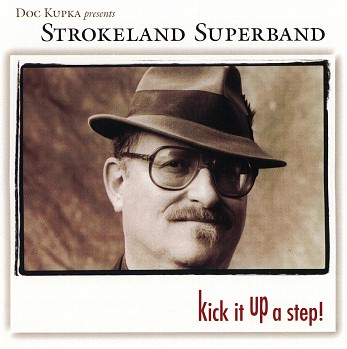 ease by Tower of Power's bari-saxaphonist, Steve "Doc" Kupka. He's put together what he calls the Strokeland Superband, and they've recorded an album. The lineup is incredible, featuring of course Kupka, former Tower of Power members Dave Garibaldi, Lenny Picket, and Mic Gilette (who used to play with BS&T in the 80s). Also in the lineup are Huey Lewis and Johnny Colla (of Huey Lewis and the News), Mickey Thomas, formerly of Starship, Bill Champlin from Sons of Champlin and of course Chicago, and a host of other great musicians. For more information, visit the Strokeland website at http://www.strokeland.com
There are sound samples of the song and they wail!!!!!
I just got mine in the mail, and I'm very impressed. The sound is different than typical Tower of Power. The vocals are strong on the entire album, and the musicians are incredible. I wholly recommend this to all BS&T fans.

---

August 18, 1998

Columbia/Legacy releases "Super Hits."
Well, our so-called "friends" at Columbia/Legacy released BS&T's "Super Hits" as part of their "Legacy Super Hits Series." It's another rehash of some songs that have been on about five compilations already, and only one track that isn't commerically available on CD in the United States. (Rollercoaster.) I will say, that it's at least somewhat nice that they included some of the better non-hits this time around, including "More and More." "Just One Smile," and of course "Roller Coaster." Still, rather than the same tracks again and again, I'd still prefer to see No Sweat, Mirror Image, New City, and More Than Ever finally released on CD. I'd accept minimal packaging...budget line all the way, just get them out on CD please!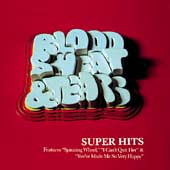 01. Spinning Wheel
02. You've Made Me So Very Happy
03. More And More
04. And When I Die
05. I Can't Quit Her
06. Something Goin' On
07. Just One Smile
08. I Love You More Than You'll Ever Know
09. Roller Coaster
10. John The Baptist (Holy John)

---

July 7th, 1998

Former BS&T Trombone on Broadway
Former BS&T Trombonist, Dale Kirkland, who only recently departed the band, has shown up on the New cast recording for the revival of the musical "CABARET." He plays Trombone on the album. The tradition of former BS&T members and session work continues.

---

5/9/98

NEW CD (Maybe it IS good news!)
DCT mentioned in the JAM! webpage's interview that he'd soon be recording an album tentatively entitled "Bloodlines" featuring DCT and several former BS&T members. At first, evidence gleaned from talking to a couple of former BS&T members (i.e., Bobby Colomby and Steve Katz) seemed to dispel this as a rumour, however, the latest word is that it is indeed going to happen! I have to say that I look forward to this release immensely if it gets recorded!

---

4/25/98

NO LIVE CD (THE BAD NEWS)
Apparently the new live BS&T cd is not going to be released after all. Clayton-Thomas told a fan at a recent concert that it was tied up in legal hassles and red tape and most likely would not be released. He did, however, hint that it may be available in a limited quantity in Norway. Stay tuned for more on that.

NEW CD (THE GOOD NEWS)
That same fan heard Clayton-Thomas say that the band would be entering the studio to record an original BS&T album on the Stony Plain label. As stated in his interview for the Jam! webpage. (which you can read on the Blue Plate Special Page. he plans to market and sell the new disc, and future recordings, over the internet. Hopefully this will come to pass. I can't count the times I've heard about new releases and then waited and watched as they were never released.

---

1/5/98

BLUE PLATE SPECIAL RELEASED
David Clayton-Thomas' solo album, Blue Plate Special, is now in stores. It was released originally in Canada and now in the U.S.A. on the Stony Plain label. For more information, check out my web page dedicated to the new release. Click for the Blue Plate Special Page.
---
Return to the BS&T mainpage.