Larry Marder's
Tales of the Beanworld
---
The Worst of Heyoka
---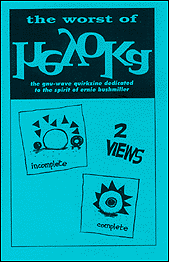 The Worst of Heyoka is a compilation of drawings from Larry Marder's "gnu-wave quirkzine dedicated to the spirit of ernie bushmiller".
Publication date: 1983, 1997
---
Synopsis
Synopsis? That would mean this ashcan had a story to tell. Instead, we have a 16-page grab-bag of offbeat, free-association drawings. In them we find the weirder side of Larry Marder's personality: puns, drawings inspired by the business world, sentient eyeballs, and a few beans. There are cameos by Uncle Xaspa and, of course, Heyoka.
The introduction explains the origin of this strange little 'zine. The story showcases the doing-it-because-it-makes-me-happy spirit of 'zines. For example:
I didn't sell Heyoka. I gave it away for free. I'd hand a copy to someone as they passed me on the street, like a nut or a politician handing out propaganda.
Now that's art.
---
Noteworthy
A number of elements from different drawings made their way into the Beanworld.

The cartoon about Heyoka may foreshadow her existence in the Beanworld.

Can anyone explain why the three cartoons from issue 3 all involve two of something?

Ernie Bushmiller created the unique comic strip Nancy.
---