Larry Marder's
Tales of the Beanworld
---
The Inspiration Constellation
---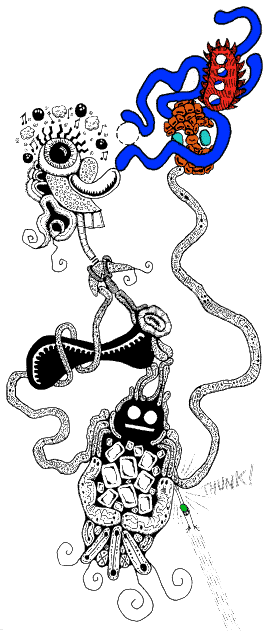 This is the Inspiration Constellation.
It's a place somewhere above the Beanworld. Heyoka ran into it on her journey in issue 19's Tales of Heyoka. As a matter of fact, you can see her down at the bottom, falling upward.
As Heyoka passed through the Inspiration Constellation, it asked her an odd question:
How do you know what'cha don't know?
The answer was given immediately:
And with that, Heyoka fell upward, leaving the Inspiration Constellation behind, but not forgotten.
---
The parts of the Inspiration Constellation correspond to influences and inspirations of the Beanworld's creator, Larry Marder. From the top to the bottom:
The Fantastic Four

Robert Crumb

Marcel Duchamp

Native American Kachinas
If you can explain the popcorn, musical notes and bowling balls, please do!
---